Blue Origin launches Captain Kirk to space making science fiction a reality
Launch marks second human spaceflight for Blue Origin
Science fiction met real-life Wednesday when Blue Origin launched William Shatner and three others to the edge of space, solidifying his legendary role as Captain James T. Kirk.
The New Shepard rocket launched Kirk, Blue Origin vice president of launch operations Audrey Powers, two paying customers, Planet Labs co-founder Chris Boshuizen of Australia, and Medidata co-founder Glen de Vries.
After a few holds in the countdown, the rocket lifted off just before 10 a.m. CT from Van Horn, Texas, at Blue Origin's launch site surrounded by desert and mountain landscapes. 
Shatner described feeling nervous during the several delays as they waited in the crew capsule for liftoff. 
It was the 18th launch for New Shepard, only the second with humans on board.
The whole trip took just 11 minutes from launch to landing. The capsule flew to about 351,000 feet above Earth before coming back down, landing by parachute. 
New Shepard's rocket booster landed about 2 miles from where it launched.
Blue Origin completed its first human spaceflight in July. Bezos, his brother Mark, aviation pioneer Wally Funk, 82, and the first paying customer, 18-year-old Oliver Daeman, become the first to fly on New Shepard.
Blue Origin has not disclosed the price of the tickets to fly, but the first paid seat sold for $28 million through an auction earlier this year.
Ahead of liftoff, the four crew arrived at the astronaut village for training.
Bezos greeted the four crew at the launch tower. Wearing his blue flight suit, there was some speculation he might be hoping in and flying again, but instead, he closed the hatch. He was also there for the landing to open the hatch and welcome the crew back to Earth.
Bezos hugged the crew one-by-one and spoke with Shatner at length about the brief spaceflight.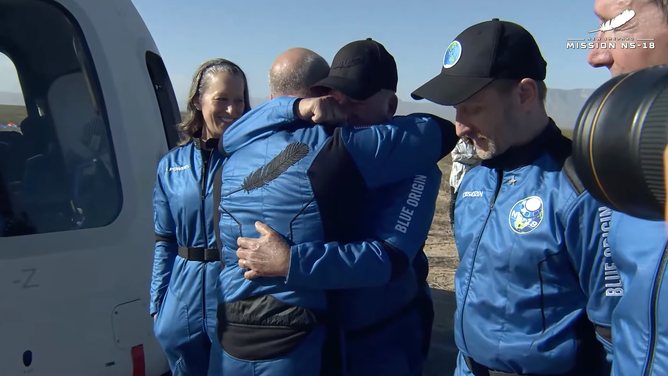 It was an emotional experience for the actor. Shatner was brought to tears describing looking to Earth.
Ordinarily chatty and full of jokes, the 90-year-old was quiet in the moments after he exited the capsule.
"What you see out there is black and what you see down there is light," Shatner said, describing the blackness of space and the blue Earth below. 
He said it was the most profound experience of his life.
"I hope I never recover from this feeling," Shatner said.
Video released by Blue Origin from inside the capsule shows the crew in weightlessness floating about the cabin. Throughout the 30-second clip, Shatner stayed captivated looking down at Earth through the large windows. 
The "Star Trek" leading man became the oldest person to reach space with his flight, Previously the record was held by Funk, who launched with Blue Origin in July and had waited 60 years to fly in space.
Shatner said he plans to write music about his spaceflight and believes more people should experience what he did.
However, it will be some time before spaceflight is accessible to everyday people. 
Other space tourism companies such as Virgin Galactic are charging $450,000 for a similar brief weightless experience.
SpaceX recently flew billionaire Jared Isaacman and three other civilians on a three-day orbit of Earth in the Crew Dragon spacecraft. Elon Musk's company also has an agreement with Axiom Space to fly tourists to the International Space Station. Those seats are estimated to cost millions of dollars.
Blue Origin plans to fly more paying customers in the coming months with at least six flights booked.
Post-launch, Blue Origin officials said they will fly one more crew in 2021.