Majority of climate change indicators show things got worse in 2021, scientists say
World Meteorological Organization's annual State of Climate report says the past 7 years have been the warmest on record
Four key climate change indicators set records in 2021 -- a year that was among the seven warmest on record.
Scientists outlined their findings in the World Meteorological Organization's annual State of Climate report that was released Wednesday.
LATEST CO2 RECORD DETECTED IN HAWAII SHOWS LEVELS CONTINUE THEIR DECADES-LONG CLIMB
According to the report, four of the seven indicators scientists use to describe climate change hit new highs -- greenhouse gases concentration, sea-level rise, ocean heat and ocean acidification.
"Our climate is changing before our eyes," WMO Secretary-General Petteri Taalas said in a statement about the agency's report. "The heat trapped by human-induced greenhouse gases will warm the planet for many generations to come. Sea level rise, ocean heat and acidification will continue for hundreds of years unless means to remove carbon from the atmosphere are invented."
MECHANICAL 'TREE' AT ARIZONA STATE UNIVERSITY BUILT TO HELP FIGHT CLIMATE CHANGE
Scientists also said that the past seven years have been the warmest on record. They said temperatures in 2021 were 1.11 degrees Celsius above pre-industrial levels, inching the planet closer to the 1.5-degree warming threshold scientists said will lead to major effects on the planet. A cooling La Niña event at the start and end of 2021 kept it from being the warmest year on record, scientists said.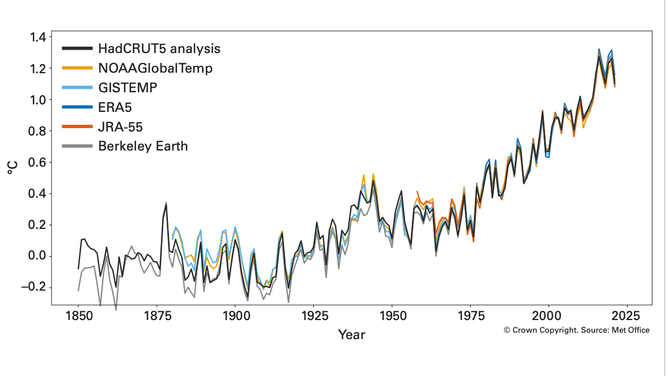 "It is just a matter of time before we see another warmest year on record," Taalas said.
50-50 ODDS THAT EARTH REACHES CRITICAL CLIMATE-CHANGE THRESHOLD BY 2026, SCIENTISTS SAY
According to the WMO, this report will be used as part of negotiations during the UN climate summit called COP27 in Egypt in November.