Latest CO2 record detected in Hawaii shows levels continue their decades-long climb
CO2 levels have hit a record-high weekly average at the Mauna Loa observation station, according to NOAA
Carbon dioxide levels hit another record last week, continuing a trend of increasing amounts of greenhouse gases in our atmosphere.
According to data from the National Oceanic and Atmospheric Administration's Global Monitoring Laboratory, the weekly average for atmospheric CO2 reported at its observation station on Mauna Loa in Hawaii reported a record high of 421.13 parts per million for the week of May 8-14. That value is 2.79 ppm higher than the weekly value a year ago and up 23.75 ppm from the weekly value a decade ago.
50-50 ODDS THAT EARTH REACHES CRITICAL CLIMATE-CHANGE THRESHOLD BY 2026, SCIENTISTS SAY
The Mauna Loa station started keeping track of CO2 levels in 1958. According to NOAA, this represents the longest record of direct carbon-dioxide measurements.
The latest peak continues a trend that shows an upward trend in the amount of CO2 levels since the pre-industrial era.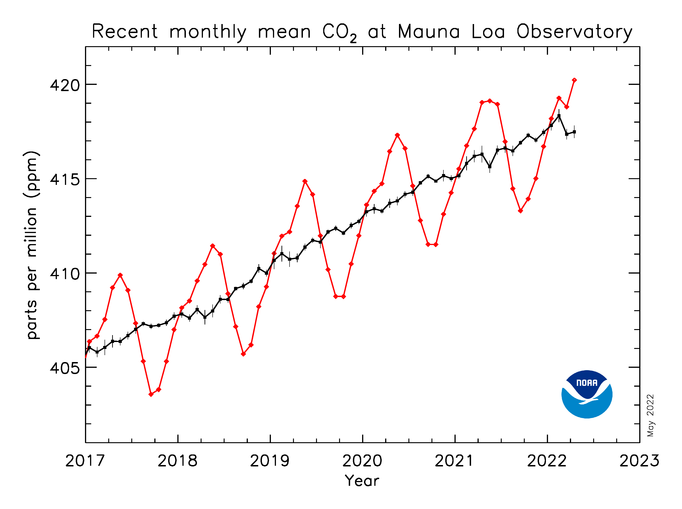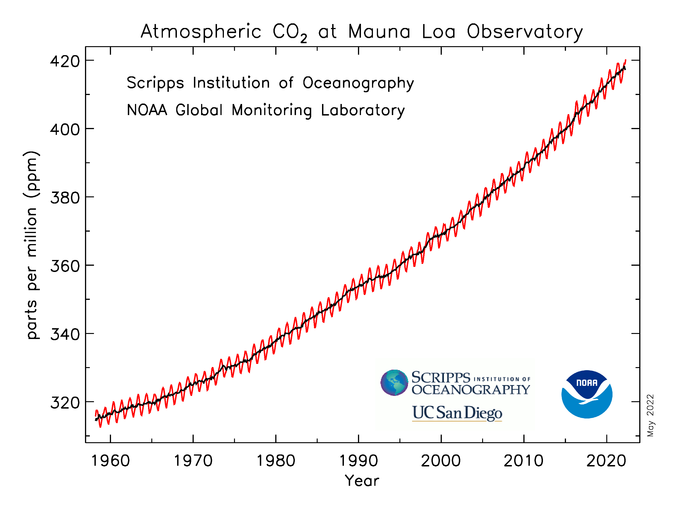 The fluctuations indicated by the red line in the charts above are the result of seasonal changes in CO2 levels caused by the growth of plants in warmer months and their death and decay in colder months. More plants mean more absorption of CO2, while fewer plants mean less.
2021 WAS WORLD'S 6TH-WARMEST YEAR ON RECORD
The black line in the charts represents the same data after being corrected for average seasonal changes.
Carbon dioxide is just one of several greenhouse gases that are tracked by scientists. Global data for methane, nitrous oxide and sulfur hexafluoride also show upward trends in recent decades.
WHY METHANE HAS TAKEN CENTER STAGE IN CLIMATE CHANGE PLANS
According to the World Meteorological Organization, levels of greenhouse gases are a key indicator when it comes to understanding climate change.
The agency is set to release its annual State of Climate report Wednesday that will outline other climate change indicators such as temperature, ocean heat, ocean acidification, sea-level rise, sea-ice glaciers and extreme weather.