Satellite images show dramatic changes to Montana landscape after unprecedented flooding
More than 80 people needed to be rescued from the floodwaters by the Montana National Guard
Satellite images taken high above the Yellowstone and Gardiner rivers in southwestern Montana give us a better understanding of how devastating catastrophic flooding was after days of heavy rain and rapid snowmelt across the region.
HOW TO WATCH FOX WEATHER ON TV
All entrances to Yellowstone National Park have been closed after flooding washed away roads and bridges and caused rockslides and mudslides that littered the area with debris.
At least 10,000 people became stranded in the park when the flooding began, and the Montana National Guard said they had rescued more than 80 people from the raging floodwaters.
SCOPE OF CATASTROPHIC DAMAGE ALONG YELLOWSTONE RIVER EMERGES AS HISTORIC FLOODWATERS RECEDE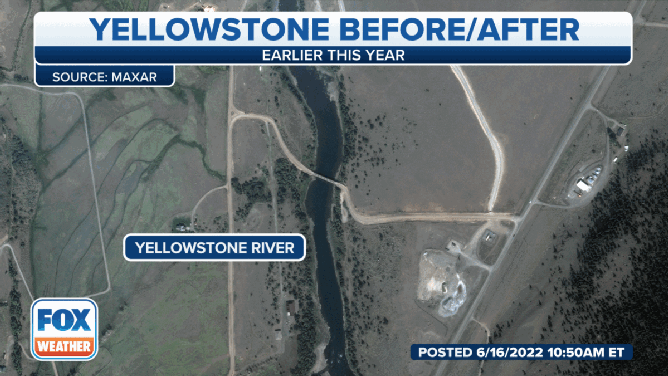 The satellite image above shows what the Yellowstone River looked like earlier this year.
It shows tranquil water flowing downstream and a luscious landscape filled with grass and trees.
An image taken above the area on June 15 shows a much different story.
The river is seen filled with mud, and the current is noticeably stronger.
'IT WAS JUST INSANE': HISTORIC FLOOD SWALLOWS HOUSING UNIT ALONG RAGING YELLOWSTONE RIVER
Take a look at the "before" image.
A bridge built around 1918 sits in the middle of the photo, but it was washed away during the unprecedented flooding.
In fact, the video above shows the moment when the raging rapids destroyed the bridge and started to carry it downstream.
The National Weather Service in Billings, Montana, said several areas of the Yellowstone River saw historic water levels before the water began to recede.
The river at Corwin Springs crested at 13.88 feet, which broke the old record of 11.5 feet set back in 1918.
Other areas along the river also say record crests.
The Yellowstone River at Billings crested at 16.5 feet, which broke its old record crest of 15 feet.
PLAN, PREPARE, PROTECT: HOW TO BEST COVER YOUR PROPERTY AGAINST FLOODS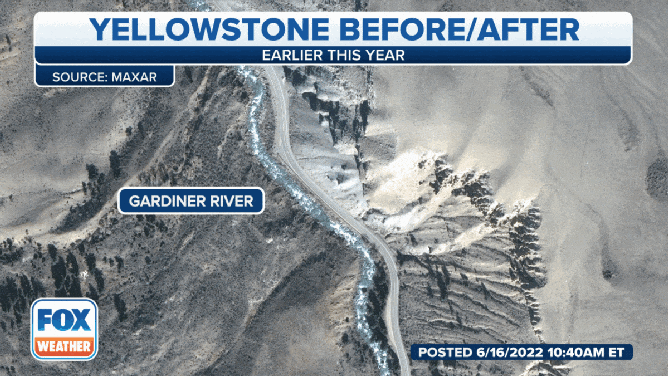 The Gardiner River forks off the Yellowstone River near the North Entrance to Yellowstone National Park, which also observed flooding this week.
The NWS in Billings said the river near Mammoth peaked at 5.76 feet, breaking its previous record of 5.09 feet on June 5, 2010.
CLICK HERE TO GET THE FOX WEATHER UPDATE PODCAST
The before and after image above shows US 89, which runs from Livingston, Montana, into Yellowstone National Park.
The flooding washed away and destroyed several sections of the road along the river, and it will take quite some time to make repairs to the roads.
As a result, the National Park Service said entrances to the national park are expected to remain closed well into the busy tourist season while recovery and repair efforts continue.