Yellowstone National Park to partially reopen after historic flooding
Yellowstone National Park park begin allowing visitors to access the south loop at 8 a.m. on June 22
After historic flooding closed Yellowstone National Park last week, a portion of the park will reopen on Wednesday.
The park will begin allowing visitors to access the south loop at 8 a.m. on June 22.
"We have made tremendous progress in a very short amount of time but have a long way to go," Yellowstone National Park superintendent Cam Sholly said.
HIKERS RESCUED BY HELICOPTER AFTER BEING STRANDED BY YELLOWSTONE FLOODWATERS
The park is instituting a visitor access plan to ensure the south loop does not become overwhelmed with visitors in which the National Park Service will actively monitor a license plate system. 
Sholly said the park is working tirelessly so that more parts of the park can open.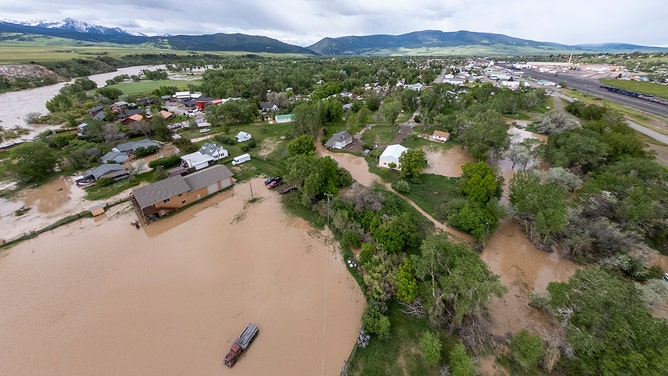 "We have an aggressive plan for recovery in the north and resumption of operations in the south," Sholly explained.
Yellowstone staff says they are working to determine what other potential sections of the park may reopen before roads close on Nov. 1. Decisions will depend on damage assessments and the safety of opening roads.
"We realize there is much challenging work ahead, and we will do everything we can to support the park, partners, concessioners, and gateway communities on the road to recovery," National Park Service Director Chuck Sams said.
Historic Flooding
National Park Service rangers closed off all entrances to Yellowstone National Park on Monday due to "heavy flooding, rockslides (and) extremely hazardous conditions."
SCOPE OF CATASTROPHIC DAMAGE ALONG YELLOWSTONE RIVER EMERGES AS HISTORIC FLOODWATERS RECEDE
Officials consider the damage to the northern part of the park to be significant and large sections of Yellowstone could be closed until well after the busy tourism season.
Montana Gov. Greg Gianforte surveyed the damage Friday, and President Joe Biden approved a major disaster declaration for the state of Montana which provides additional federal resources for the state as it recovers from the floods.
'IT WAS JUST INSANE': HISTORIC FLOOD SWALLOWS HOUSING UNIT ALONG RAGING YELLOWSTONE RIVER
More than 10,000 people were thought to be in the park when the historic flooding took place, but fortunately, there were no reported injuries.
The combination of several inches of rain and snowpack melt caused rivers near the park to reach historic flood stage levels, including the Yellowstone, Boulder and Stillwater rivers.
Be sure to download the FOX Weather app to track any storms in your area and receive potentially life-saving weather alerts issued by the National Weather Service. The free FOX Weather livestream is also available 24/7 on the website and app and on your favorite streaming platform. The FOX Weather Update podcast also provides weather information for the entire country.