Winter weather threat to return to heartland on eve of Groundhog Day
It is too soon to tell who will see the heaviest frozen precipitation.
As the nor'easter moves away from the East Coast, attention turns to the nation's heartland for the next winter weather threat.
Forecast models show a slug of moisture that will develop on Tuesday from eastern Colorado through the Great Lakes.
Rain, snow and ice will be possible depending on your exact location and how the cold air mass is.
SNOW, SLEET, FREEZING RAIN AND HAIL: WHAT'S THE DIFFERENCE
The precipitation is expected to expand in coverage on Wednesday, and many areas from Texas through the Ohio Valley could see either rain, snow or freezing rain.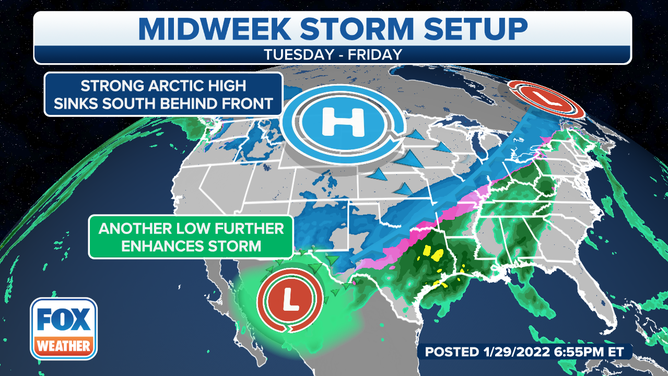 It is too soon to tell where the dividing will be between the varying types of precipitation, but meteorologists warn that several days of unsettled weather could lead to significant accumulations in the rain and snow gauges.
Tuesday forecast
Rain is expected to develop in the nation's heartland, and as temperatures drop, some of the liquid precipitation will transition into freezing rain and snow.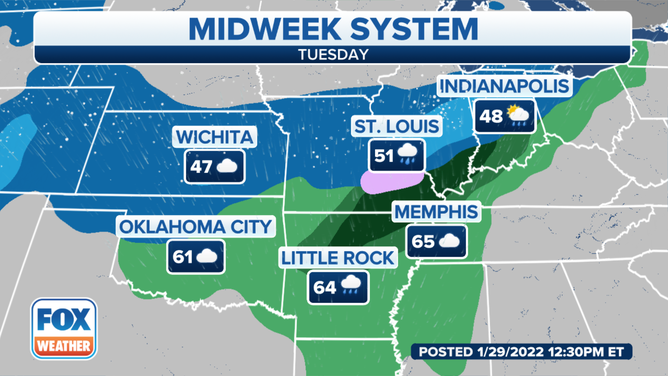 Forecast models show much rain and snow centered along the I-70 corridor from Kansas through Indiana.
Cities such as Wichita, Kansas; Kansas City, Missouri; St. Louis, Missouri; and Chicago could all pick up on a wintery mix and even snow by the end of the day.
Accumulations are expected to remain light for the first day of the winter weather threat.
Wednesday & beyond
Forecast models show increased moisture and energy should allow for the expansion of precipitation from the Plains through the Great Lakes on Groundhog Day.
Millions of people could be under the threat for seeing heavy rain, snow and even freezing rain that could stretch from the United States' southern border to the northern border.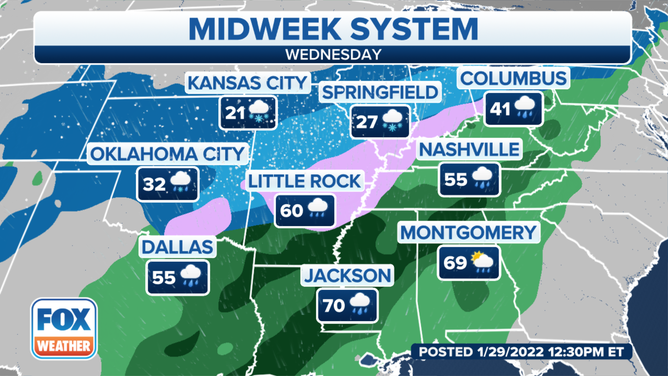 What each particular locale sees will be utterly dependent on temperatures.
TEXAS WEATHER REGULATORS SAY STATE'S POWER GRID IS MORE PREPARED FOR WINTER 'THAN EVER BEFORE'
And while it may be too soon to tell on the exact amounts of snow, areas from Springfield, Missouri through Toledo, Ohio could see the heaviest accumulations.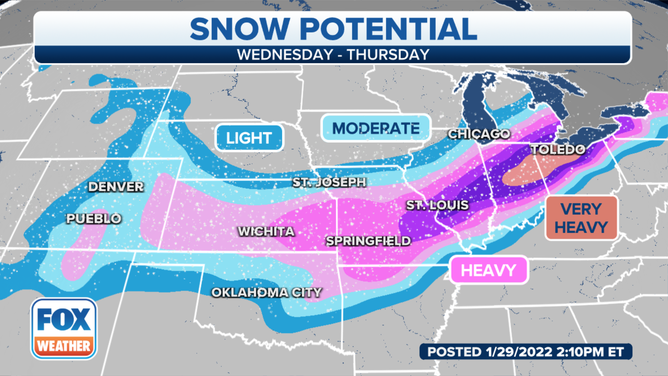 The storm system is expected to lift to the northeast on Thursday, leaving behind another round of cold air.
Expect further updates as the heartland gets closer to the start of the winter weather event.
Make sure to follow FOX Weather on social media for more videos, photos and coverage of the winter weather threat. Don't forget to tag us in your weather photos or use #FOXWeather.
FOX Weather on Facebook: facebook.com/FOXWeather
FOX Weather on Twitter: twitter.com/FOXWeather
FOX Weather on Instagram: instagram.com/FOXWeather
FOX Weather on TikTok: tiktok.com/@officialfoxweather
FOX Weather on YouTube: youtube.com/foxweather