Northeast braces for powerful, multiday nor'easter threatening to snarl travel along I-95 corridor
Washington has a snowfall deficit of more than 17 inches. Boston is more than 30 inches in the hole, and New York is around 2 feet below average.
NEW YORK – The FOX Forecast Center is tracking the potential for a powerful nor'easter to form off the New England coast that could severely impact travel and produce several inches of snow over the Northeast during the first half of the workweek.
Snow has been hard to come by for many, as cold air and moisture have not been in sync during previous weather pattern changes, leaving behind historic snowfall deficits.
A weekend storm system did produce scattered pockets of snow in the Northeast but large cities along the I-95 corridor generally missed out from seeing the frozen precipitation.
Computer forecast models show the upcoming nor'easter will be significantly stronger than the weekend event and produce rain, heavy snow and gusty winds and coastal flooding.
WHAT MAKES A STORM A NOR'EASTER?
Where is the snow now?
Occasional showers continued to meander along the coast overnight into Sunday morning, but the precipitation is associated with the system that departed the Northeast - not the incoming nor'easter.
The FOX Forecast Center expects rain and even light snow showers from the future system to start popping up on radars in the Northeast by late Sunday and early Monday.
A Winter Storm Watch will go to effect on Monday for a large portion of eastern New York,  Connecticut, Massachusetts, Rhode Island, Vermont and New Hampshire and southern Maine for the potential of heavy snowfall.
Here's a three-hour radar loop showing where snow and/or rain is falling in the Northeast.
(FOX Weather)
---
DRIVING IN LIGHT SNOW IS JUST AS DANGEROUS AS A MAJOR SNOWSTORM, RESEARCHERS SAY
Upcoming workweek nor'easter likely to be disruptive
The FOX Forecast Center is tracking the potential for a nor'easter.
(FOX Weather)
---
The combination of interior snow, coastal rain and wind could prove challenging for travel north of Philadelphia through Maine starting late Sunday and lasting into possibly Wednesday.
"The reason for it is because we're seeing a big dip in our jet stream by this upcoming weekend. That's going to allow basically is for a little area of low pressure to develop. And that area of low pressure could position itself in the right location," FOX Weather meteorologist Michael Estime said.
An abundance of warm air will likely keep snowfall totals in check for the major I-95 cities, but much higher amounts are expected to fall in the interior Northeast.
"I've been watching the computer models come in, and they're consistent with producing a strong storm along the New England coast. We know we're going to have a powerful low. We know it's going to produce rain along the coast. Certainly some heavy snow, wind and then some strong winds. That's going to produce major impacts in that late Monday night through probably Wednesday afternoon timeframe," said FOX Weather winter storm specialist Tom Niziol.
THESE ARE THE 7 SNOWIEST CITIES IN THE US
Nor'easter snowfall forecast
Due to the storm system's offshore trajectory, areas from north of New York City through eastern portions of upstate New York and into western and northern New England could pick up on substantial snowfall.
Computer forecast models show higher elevations in the interior Northeast, and New England could see at least a foot of new snow. Expected accumulations diminish drastically closer to the I-95 corridor.
At least 5 inches of snow is anticipated to fall in counties under a Winter Storm Watch and some totals could even reach double digits.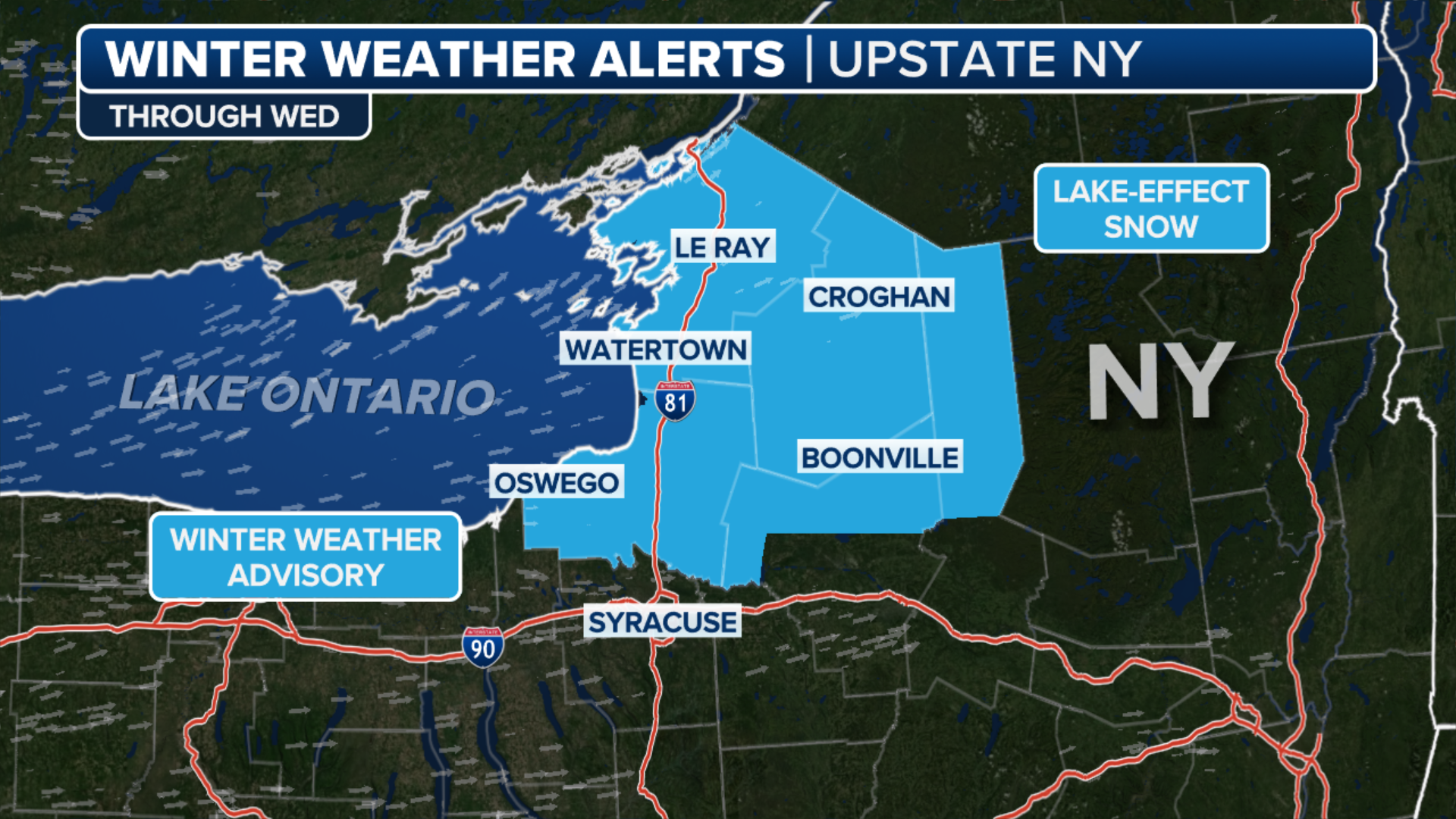 Winter Storm Alerts
(FOX Weather)
---
Substantially less snow is expected to fall south of Interstate 84, where a mixture of frozen precipitation and rain will help cut down on accumulations.
Due to the time of year, any snow that falls could be heavy in nature and create power outages and down trees.
The FOX Forecast Center said due to the expected rapid strengthening of the system winds of at least 30 mph were likely along the coast from Long Island through Massachusetts with occasional gusts being much higher.
The combination of the wind and snow will impact travel from Philadelphia and New York City northward through Boston and Portland, Maine.
The storm system will gradually pull away from the region on Wednesday and allow for a warmer weather pattern to settle in for a few days.
REMEMBER ALL THAT SNOW? HERE ARE THE MOST MEMORABLE NOR'EASTERS OVER THE YEARS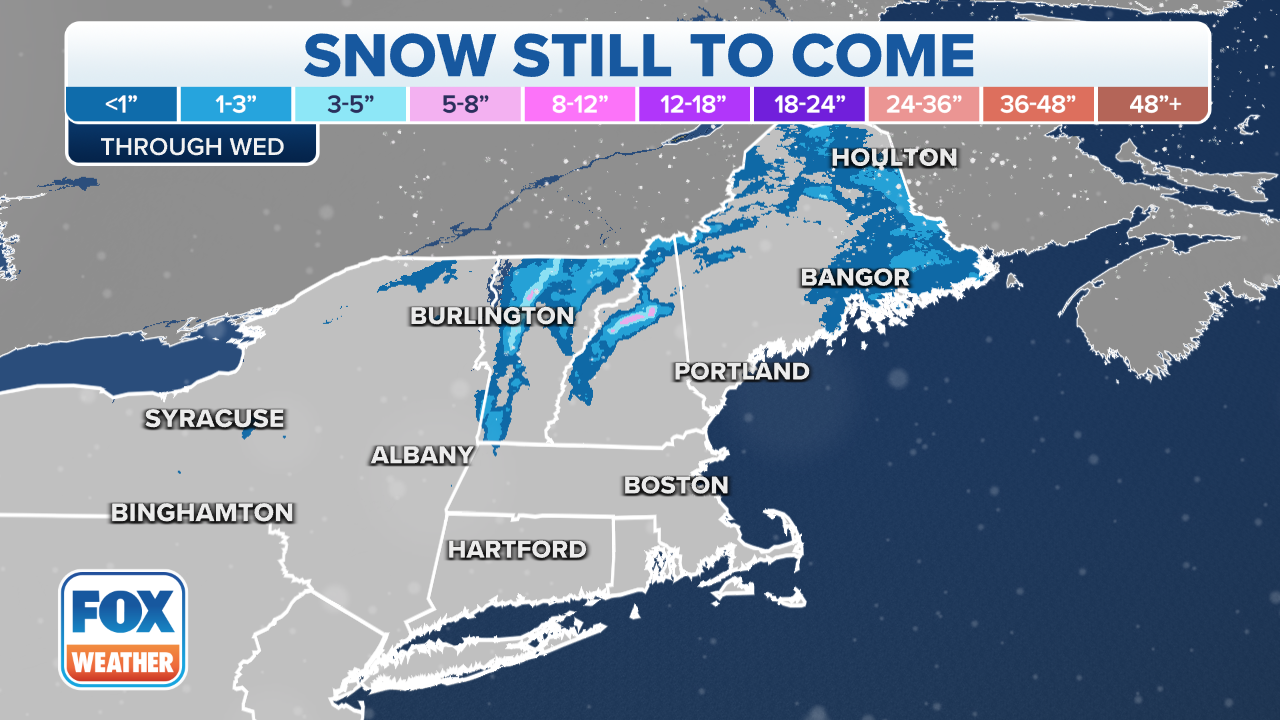 The FOX Forecast Center is tracking the potential for snow from a nor'easter.
(FOX Weather)
---
Strong winds, coastal flooding possible
The FOX Forecast Center says there is high confidence that the nor'easter will likely produce strong winds and coastal flooding once the powerful storm system approaches the region.
The wind gust forecast.
(FOX Weather)
---
Winds along the New England coast from Providence, Rhode Island through Boston and into Portland, Maine, could gust as high as 50-60 mph, with some stronger gusts possible on Tuesday.
And with those strong winds comes the risk of coastal flood as water continues to get pushed onshore.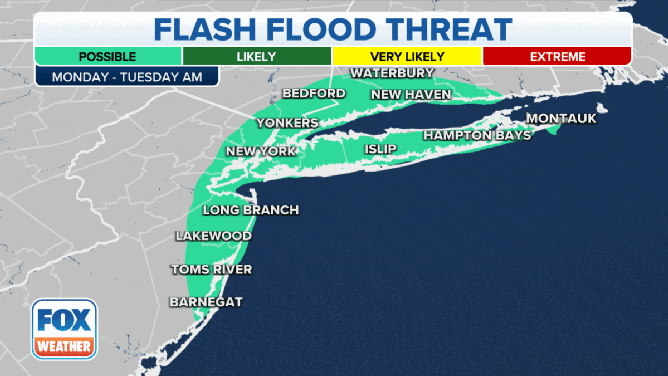 On Monday through Tuesday morning, millions of people from the Jersey Shore through New York City and Long Island, and southwestern Connecticut will be under the risk of seeing flash flooding.
That threat will shift further north along the New England coast from Rhode Island and along the Massachusetts coast, including Cape Cod, Martha's Vineyard and Nantucket, and up through eastern New Hampshire and into southern Maine on Tuesday.