Winter Storm Warnings in effect for Upper Midwest, Great Lakes
A blizzard warning is also in effect for the northeastern tip of Minnesota through Monday morning
Winter Storm Warnings and Winter Weather Advisories are in effect from the Northern Plains to the Upper Midwest and Great Lakes as a storm is producing snow and even potential blizzard conditions near Lake Superior.
The rapidly deepening low-pressure system is moving across the northern United States on Sunday, and that's producing snow from North Dakota east to Wisconsin and Michigan.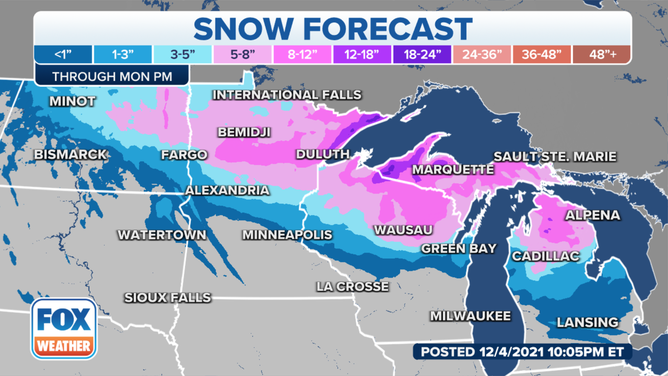 This storm could produce some impressive snow totals by the time the system moves out of the area.
Southeastern North Dakota is expected to pick up a few inches of snow, but northeastern North Dakota and northern Minnesota could see up to a foot of snow with some locally higher amounts.
Those snow totals stretch across northern Wisconsin and Michigan.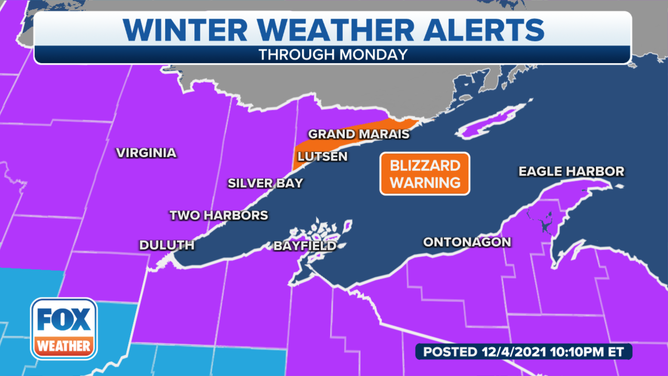 A blizzard warning is also in effect for the northeastern tip of Minnesota through Monday morning.
Forecasters say that area, which includes the city of Grand Marias, could receive up to a foot-and-a-half of snow.
Winds are expected to gust to about 45 mph, which will create dangerous travel conditions for the area.
Officials say travel should be restricted to emergencies only, and if anyone does need to drive, they're being advised to have a winter survival kit in the vehicle just in case they become stranded.