Winter storm temporarily closes Dallas-Fort Worth airport, causes travel delays across US
DFW reopened around 11 a.m. as conditions in the Dallas area improved.
DALLAS – The major winter storm slowly moving east across the U.S. forced airport officials to temporarily close the Dallas-Fort Worth International Airport Thursday and the same system has canceled thousands of flights.
Cancellation numbers were creeping up Thursday morning due to hazardous weather across the 2,000-mile path of the winter storm. According to airline tracker FlightAware.com, more than 4,500 flights had been canceled by 11:15 a.m. Chicago (ORD) and Dallas (DFW) made up about 1,000 of those cancellations alone. 
WEATHER WIRE: 2,000-mile area of snow, ice continues to crawl east creating major impacts
Departures to Dallas-Fort Worth were grounded until 10 a.m., and the airport was closed to all flights until 11 a.m. ET, according to the FAA Air Traffic Control System Command Center.  Crews were working all morning to clear at least one runway.
DFW reopened as weather conditions began improving. The first flight after the closure ended arrived from Cincinnati/Northern Kentucky around 11:30 a.m. ET.
Crews pre-treated the runways, bridges and roadways at DFW ahead of the storm. 
Southwest Airlines proactively canceled flights into and out of Dallas Love Field for Thursday.
Dallas Love Field Spokesman Chris Perry told FOX 4 Dallas crews will focus on keeping one open runway operational.
"Our director made the decision that we will go into our snow and ice prevention plan removal plan," he said. "Going into Friday as our carriers try to ramp back up, we want to make sure that we're ready to go."
Deicing operations to remove snow and ice were underway at Denver International, Salt Lake City and Albuquerque International airports on Thursday morning, according to the FAA. 
More than 100 million people in path of major winter storm's snow, ice from Texas to Midwest, Northeast
The same weather system is bringing snow and ice to much of the mid-South. An Ice Storm Warning is in effect, and freezing rain has begun to fall across the region.
Freezing rain was also beginning in the Memphis area, where flight cancellations were starting to add up Thursday morning. 
As much as 20 inches of snow has fallen in Colorado and New Mexico and 14 inches in parts of Illinois and Indiana. A quarter-inch of ice has fallen in Missouri.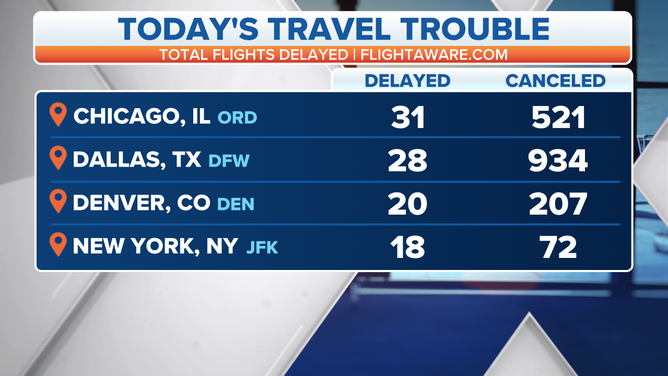 The next phase of the storm will take shape across the Southern Plains. By Thursday morning, it will extend from Texas to Indiana and Ohio. It will continue through the day before winding down Thursday night.