Winter kicks off for 'Icebox of the Nation'
The town of International Falls, Minnesota is the self-proclaimed 'Icebox of the Nation'
INTERNATIONAL FALLS, Minn. – The self-proclaimed "Icebox of the Nation" is in the midst of its first significant snowfall event of the year.
A large swath of the Northern Plains to Minnesota could see upwards of a half a foot of snow, with locally higher amounts.
For the residents of International Falls, Minnesota, seeing a snowstorm during November is not out of the norm.
According to National Weather Service Office data, the area receives more than 70 inches of snow per season, which lasts from the fall into the spring.
The town says the snow and cold weather is sometimes even beneficial to the economy. 

Several companies from the automobile to the clothing industries make the area a destination to test the endurance of their latest products.
HERE'S WHY 'BLIZZARD ALLEY' IS IN THE NORTHERN PLAINS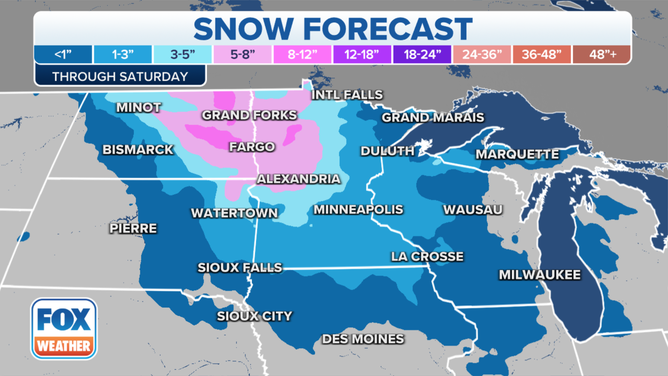 As of Thursday evening, several inches of snow had already fallen from the Dakotas to Minnesota, with several more inches on the way.
While areas of northern Minnesota and North Dakota could have some of the heaviest snowfall out of the storm system, parts of the Plains will see the worst of the winds.
The NWS issued Blizzard Warnings through Friday for northeastern South Dakota and adjacent portions of west-central Minnesota, where wind gusts could reach 55 mph.
The combination of falling and blowing snow could significantly reduce visibilities along the I-29 corridor.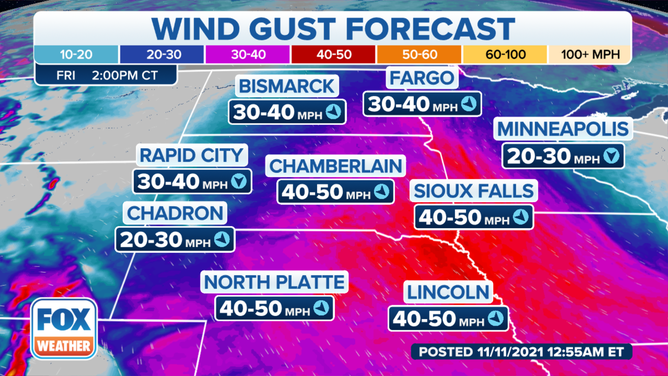 NORTHEAST BRACING FOR HEAVY RAIN, POSSIBLE FLOODING FRIDAY
Winds will remain gusty into Friday afternoon across much of the Northern Plains and upper Midwest, as the storm system continues its march eastward.
The strong winds were blamed for several crashes along South Dakota roadways on Thursday. South Dakota troopers warned winds will continue to be hazardous for high-profile on Friday.
The combination of the fresh snowpack and the gusty winds will help usher in cold temperatures.
Parts of the Northern Plains and Upper Midwest could see wind chills start out Friday morning in the teens and even single digits.