Winds up to 80 mph could fuel rapid fire spread in Montana on Monday
High Wind Warnings and Fire Weather Warnings have been issued for parts of Montana
High winds will develop across Montana on Monday, leading to an increased fire danger for much of the state.
As an upper-level disturbance sweeps into the region, it will cause the winds to quickly intensify across Big Sky Country. 
High Wind Warnings have been issued by the National Weather Service for a large portion of Montana, including the cities of Cut Bank, Great Falls, Havre and Helena. A Wind Advisory is posted for the Livingston area.
BATTEN DOWN THE HATCHES: WHAT YOU SHOULD KNOW ABOUT HIGH WIND WARNINGS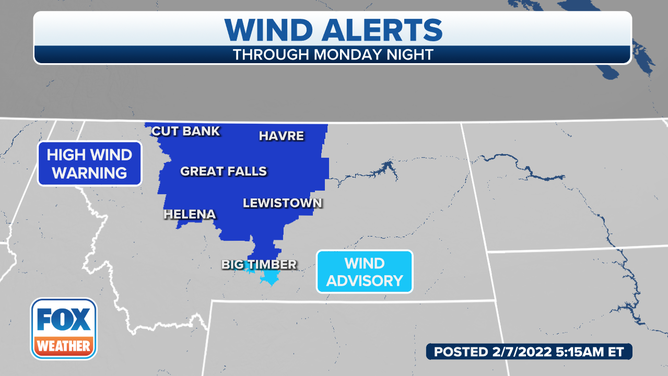 Wind gusts are predicted to reach 60 to 65 mph in many of the areas under High Wind Warnings and Wind Advisories. However, gusts up to 80 mph are expected along the Rocky Mountain Front, including all of Glacier County.
The high winds could blow around loose debris, damage property and cause power outages. Strong crosswinds will also make driving difficult, especially for high-profile vehicles.
Additionally, low humidity levels and unseasonably warm temperatures will make conditions favorable for the rapid spread of wildfires if any were to ignite. The relative humidity is forecast to be between 10 and 20% with temperatures peaking in the mid-60s.
WHAT'S THE DIFFERENCE BETWEEN RELATIVE HUMIDITY AND DEW POINT?
The NWS has hoisted a Fire Weather Warning for parts of eastern Montana until 6 p.m. Mountain time Monday evening. Any fires that start could spread rapidly to the east.