Northwest wildfire smoke sweeps east over Upper Midwest bringing poor air quality
Air quality alerts are in effect Wednesday for much of Idaho and Oregon, as well as parts of eastern Washington, western Montana and most of Wyoming.
The combination of hot temperatures and wildfire smoke has led to poor air quality across much of the West, and now it is filtering into the Midwest as the hot and dry fire weather conditions persist.
Wildfires have consumed more than 6.6 million acres of land so far this year, according to the National Interagency Fire Center, and the fire season is still not done yet.
Smoke from the Mosquito Fire, California's largest wildfire, and other blazes, including Oregon's Double Creek Fire and Idaho's Moose Fire, continue to push east.
The National Weather Service office in Reno, Nevada, shared this video of Mosquito Fire smoke from Central California sweeping into the Reno and Sparks areas Monday, eventually blocking the camera's view entirely.
Poor air quality in the Reno area prompted the Washoe County School District to cancel classes on Wednesday. Only schools in Gerlach and Incline continued with planned classes. 
On Wednesday, dense smoke and poor air quality will be pervasive from much of the northern Rockies to the Northwest and, by Wednesday evening, will extend into the Upper Midwest.
Air quality alerts are in effect Wednesday for much of Idaho and Oregon, as well as parts of eastern Washington, western Montana and most of Wyoming.
Much of Oregon's smoke and air quality concerns are from the state's Cedar Creek Fire near Oakridge, causing unhealthy air quality in Bend and Burns and northeastward into Missoula, Montana.
Cedar Creek Fire Deputy Incident Commander Chuck Russell said some rain on Tuesday helped firefighting efforts, but they still "have a long way to go."
For firefighters on the frontlines, the smoke conditions can be unforgiving. 
"It definitely affects everybody, the stinging eyes and the burning of the longs, but for the most part, we deal with this quite often in what we do and we just strive to have the best physical shape that we can on the fire lines, so it doesn't affect us as much," Russell said.
The incident commander said they try to rotate crews out as often as possible to get them fresh air, which depends on how the wind is blowing and elevation levels.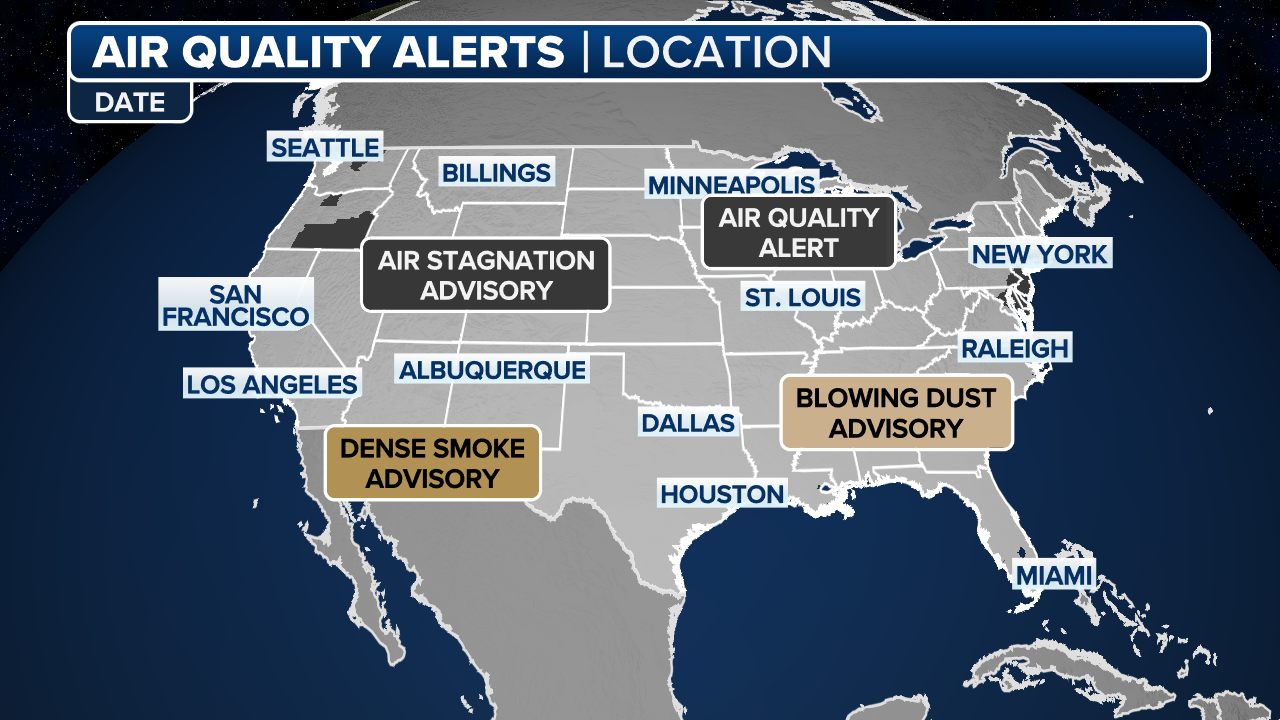 Air quality alerts on Wednesday.
(FOX Weather)
---
Communities under the influence of wildfire smoke are experiencing high Air Quality Index (AQI) values, and according to the U.S. Air Quality Index, anything above 150 is considered unhealthy air. 
Reno, Nevada's AQI was 403 on Wednesday morning, which is hazardous on the AQI. Several cities in Idaho, California and Montana had indices near 200. 
Smoke tracking across the Northwest has been driven by the influence of an upper-level ridge of high pressure – the same one that brought record heat to the region over the past week. Lightning from dry thunderstorms could spark new wildfires in parts of southern Oregon and Southwestern Idaho.
WHY DRY THUNDERSTORMS POSE WILDFIRE, DUST STORM RISKS
Wildfire smoke forecast for Wednesday.
(FOX Weather)
---
Weather pattern change spreading smoke farther east
A dip in the jet stream will allow a storm system to swing across the Northwest, transferring smoke to other parts of the country. The smoke is forecast to shift east, creating hazy conditions for parts of the Upper Midwest.
FOX Weather meteorologist Jason Frazer explained that the upper-level winds in the U.S. tend to move from the west to the east, which is why later Wednesday, areas as far east as Minneapolis-St. Paul will be seeing impacts from wildfire smoke.
Some moderate air quality alerts are already in place for Hot Springs and Rapid City in South Dakota.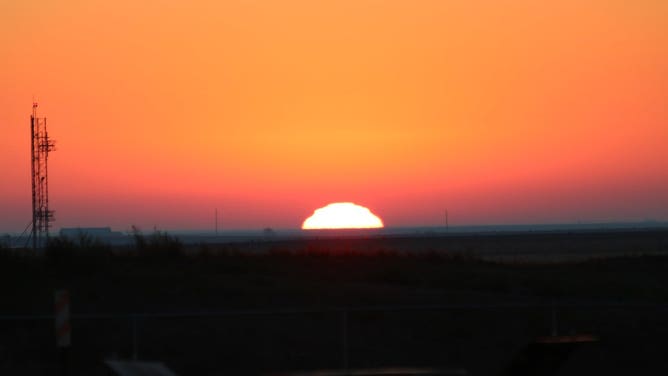 Early in the week, hazy but vibrant sunrises greeted the Dakotas, Kansas, Minnesota and Iowa. Unfortunately, it's because the wildfire smoke in the air is creating poor air quality.
"We see the poorest air quality conditions from smoke in the morning because we have very stable air in place that actually traps all of the smoke and pollutants down to the surface near where we are, and we're going to breathe everything in," FOX Weather meteorologist Britta Merwin said.
On Wednesday, Minneapolis-St. Paul and Omaha, Nebraska, could see smoke-influenced sunrises and sunsets. However, no air quality alerts are in effect for those areas just yet.
AIR QUALITY: WHO HAS THE BEST & WORST?
The FOX Forecast Center is forecasting the wildfire smoke to continue its journey eastward over the Great Lakes on Wednesday, eventually arriving in parts of the Northeast by Thursday.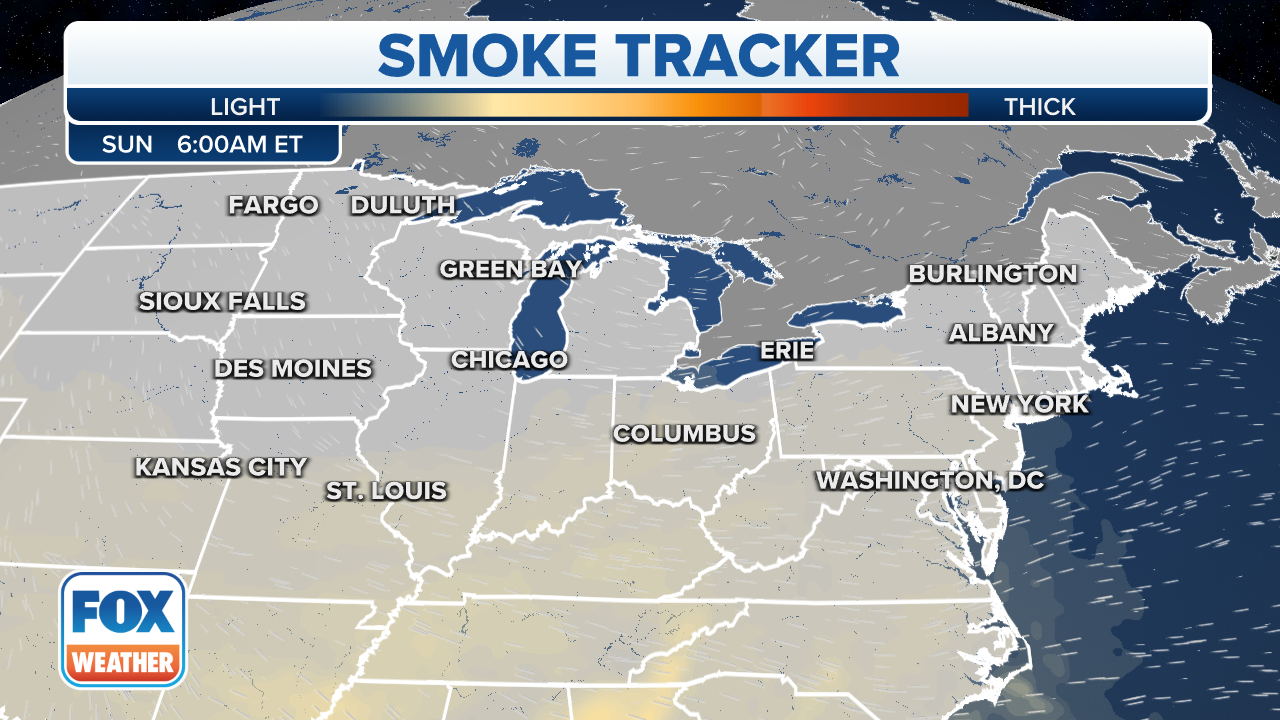 Midwest and East Coast smoke forecast.
(FOX Weather)
---