Wildfire rages in Big Sur, California during 'rainy season'
Hundreds evacuated as a January wildfire threatened Big Sur, California. The area has only seen 0.08" of rain this month.
BIG SUR, Calif. -- The Colorado Fire continues to burn across Big Sur, California in Monterey County and forced hundreds to evacuate. It has so far burned over 700 acres and is 40% contained.
"It's just not safe out there," said Cecile Juliette, Public Information Officer for the California Department of Forestry and Fire Protection (Cal Fire) to FOX Weather. "All the right conditions stacked up so that we had a fire of this magnitude in January in Big Sur… That's when it usually gets a lot of rain out here, but we just haven't seen that the last few years." 
Big Sur average rainfall versus 2021/22 rainfall:
November's average 4.47" versus 1.11" in 2021
December's average 7.51" versus 17.64" in 2021
January's average 8.52" versus so far 0.08" in 2022
February's average 7.86"
March's average 5.92"
California is in year two of a drought but drought conditions eased after the December rains.
CALIFORNIA DELUGE BRINGS MASSIVE DROUGHT RELIEF TO GOLDEN STATE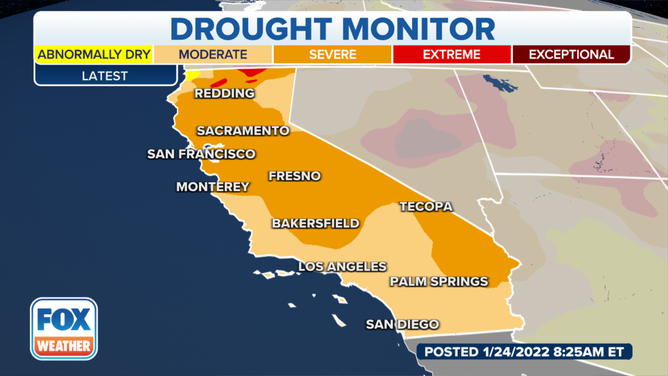 WESTERN DROUGHT SHOWED SIGNS OF IMPROVEMENT IN CALIFORNIA
"We did just actually have a lot of rain a few weeks ago, but that apparently just didn't make an impact," said Juliette.
No appreciable rain is in the forecast until February according to the Climate Prediction Center.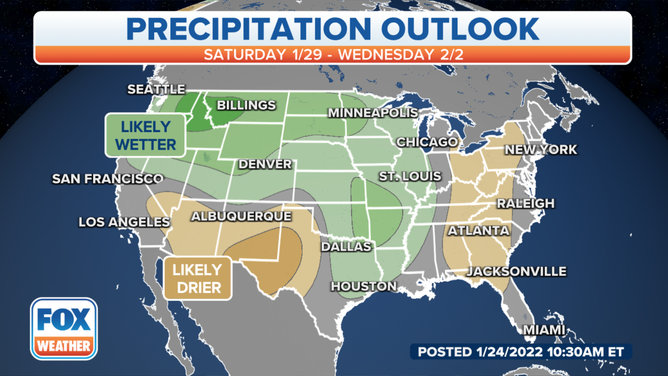 The wildfire started Friday night and quickly spread on strong, dry offshore winds. The Big Sur area saw gusts in the 50 mph range Friday and Saturday. Statewide, the National Weather Service clocked winds near 90 mph in places and up to 141 mph at a ski resort near Lake Tahoe. 
WHAT ARE SANTA ANA WINDS AND OFFSHORE WINDS?
"This is definitely a wind driven fire," said Juliette. "The cause is still under investigation that has yet to be determined, but I can tell you that the wind has been everything with this fire."
Winds have died down and the humidity increased with the start of the workweek, aiding firefighters. 
"Crews have been making really great progress," Juliette said. "But, we are in an area that gets a lot of wind right when the sun goes down and then it tends to dissipate when the sun comes back up, and that's what we've been dealing with."
The fire started in the hills around Big Sur and spread west across Pacific Coast Highway and just up to the north end of the iconic Bixby Creek Bridge. Cal Fire reported that crews now are strengthening control lines and mopping-up hots spots. 
"Even though a lot of the major flame front may be gone, there is still some active fire and it's just not safe yet. But we are working as quickly as we can to get everybody back into their homes," explained Juliette. "What happens with these vegetation fires is that the dirt actually burns, and once that burns, there's all sorts of roots in the ground."
When the roots burn, any rocks, soil and boulders formerly trapped by the vegetation can fall downhill on to roadways and homes.
The Pacific Coast Highway remains closed for 18 miles between Andrew Molera State Park and Granite Canyon Bridge with no estimated time for reopening.