Western drought showed signs of improvement in California, worse for Montana
The U.S. Drought Monitor just released their latest report showing most of the West in drought conditions.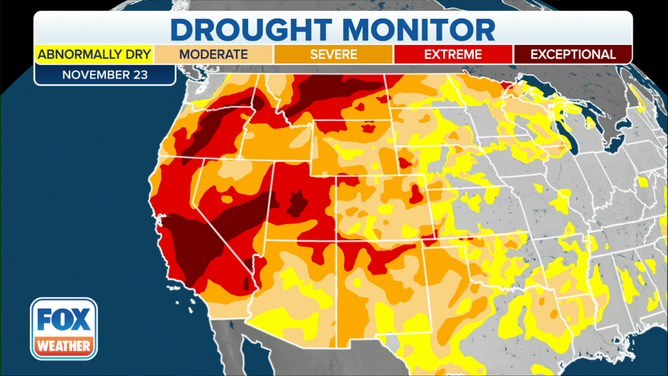 California's drought conditions improved according to this week's U.S. Drought Monitor.  Currently, 28% of the state is in exceptional drought which is an improvement over last month when 38.7% was under exceptional drought.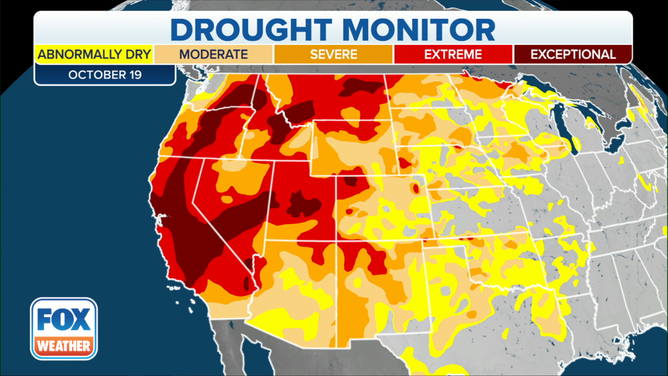 Northern California saw most of the improvement.  Drought observers reassessed snowpack and reservoir levels which were boosted thanks to the late October atmospheric river rains.  Despite getting very little rain in November, soil conditions continued to rebound. 
The Central Valley remains under exceptional drought conditions.  The valley supplies a quarter of the nation's food including 40% of the U.S.'s fruits and nuts according to the U.S. Geological Survey.  
The remainder of the Golden State was in severe to moderate drought.  The Governor issued a drought State of Emergency and all 58 counties have USDA disaster declarations making farmers eligible for assistance programs.  Drought.gov reported low vegetable yields and fields left fallow due to the drought.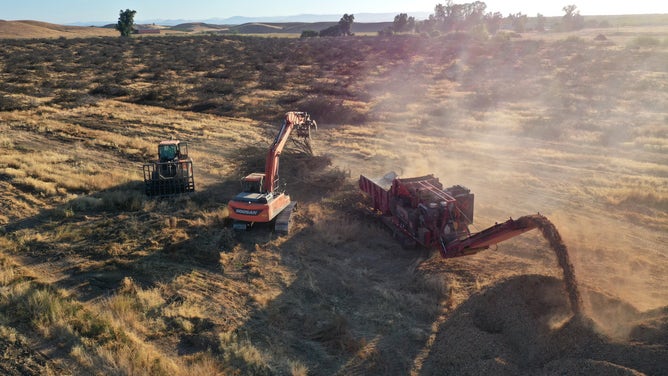 Montana
Conditions worsening for Montana where extreme drought conditions expanded to 33% of the state, up from 20% last month.  2021 comes in as Montana's fourth-driest year to date in 127 years of record keeping.  All 56 counties have USDA disaster designations.
U.S Department of Agriculture reported:
99% of topsoil is dry to very dry
99% of the pasture and rangeland are in poor to very poor condition
42% of the winter wheat crop is in poor to very poor condition
Drought.gov also noted widespread pasture and crop loss.
Oregon
Oregon's drought conditions have not changed much year-to-date.  Currently, 23% of the state is in exceptional drought and 68% in extreme drought despite the coast being soaked with several atmospheric rain events.  35 of its 36 counties have USDA disaster designation.
Drought.gov reported some farmers to delayed planting.  And caused low oxygen and high river water temperatures affecting fish.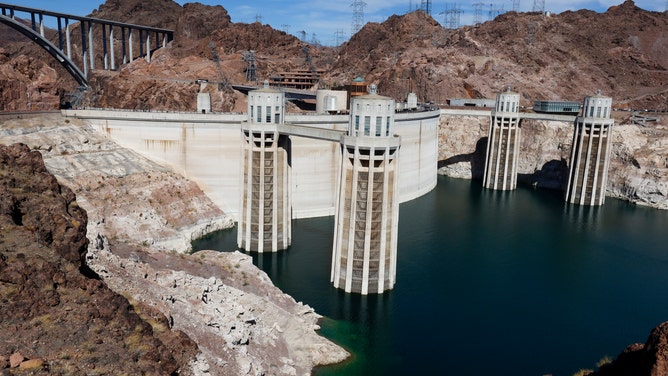 Nevada
Nevada had its fifth-wettest October on record but 25% of the state remains in Exceptional Drought. Low reservoir levels have led to a decrease in hydroelectric power production.  Drought conditions have not changed over the month.
Drought impact reporter scientists report low oxygen and high river water temperatures affecting fish.  Some farmers delayed planting.
December forecast
Meteorologists with drought.gov forecast drier than normal for the Southwest but wetter than normal for the Pacific Northwest and northern Rockies.
The U.S. Drought Monitor collects data from local observers, state climatologists, National Weather Service and hydrologists to analyze drought conditions.