Why rain in Seattle is suddenly big news up there
A rare-for-September strong atmospheric river event, rating a 4 on the new 5-point rating system, is set to bring a large plume of moisture to much of the Northwest Friday and Saturday.
SEATTLE -- Usually the forecast of "it's going to rain" in Seattle doesn't get much of a second thought with its well-earned soggy reputation, but the rain in the forecast for this weekend is the talk of the town.
Why? For many, it's like being reunited with an old friend you haven't seen in months.
While it does frequently rain for nine months of the year, summers are typically dry in the Northwest with few rainy days. But this summer has been much drier than usual.
Seattle has had only 0.13 inches of rain in the three months since June 15 -- by far a record for driest three month stretch for that period. There has only been measurable rain on five days, meaning nearly 95% of the summer days have been dry. 
It's been a theme of the entire West this summer. Eight states including Washington, Oregon, Idaho, California, Montana, Nevada, Utah and Arizona are all in varying levels of drought, with nearly 60% of the West in at least "Extreme" drought conditions. Nearly all of eastern Washington and a large chunk of central and eastern Oregon are in "exceptional" drought -- the worst rating on the five-level scale.
MORE: The U.S Drought Monitor Explained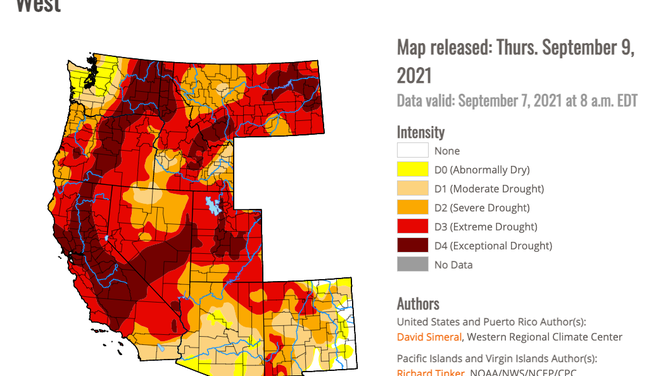 Strong atmospheric river on the way
But the incoming storm is set to change all that.  A rare-for-September strong atmospheric river event, rating a 4 on the new 5-point rating system, is set to bring a large plume of moisture to much of the Northwest Friday and Saturday. 
MORE: What is an atmospheric river? The planet's largest freshwater rivers are in the sky
#Seattle has had a whopping 0.13" since June 15th, the driest 6/15-9/14 on record by far. 

We will likely at some point get that much in an hour on Friday. Maybe multiple times over the weekend. Models still going ~1.75-2.50" around the Sound for weekend storm totals. #wawx pic.twitter.com/3aHwwaWclk

— Scott Sistek (@ScottSeattleWx) September 15, 2021
As much as 1-3 inches of rain are expected in the lowlands of western Washington and Oregon. For Seattle, it's likely the storm will bring enough rain in an hour at some point to match what the city has received in the past three months.
But even eastern Oregon and Washington will get in on the rain with a half inch in the lowlands and a bit more in the mountains.  And a quarter to half inch of rain is possible in Northern California where massive wildfires continue to burn.  All in all, the storm will be a boon to firefighters across the region.
Gusty winds to 35 mph and even some high-elevation snow in the Cascades and Saturday thunderstorms will add to the early taste of autumn.  Luckily rivers are running low off the summer dry season so widespread flooding is not expected, though local urban and stream flooding could be possible where storm drains become overwhelmed or clogged. 
Meanwhile, summer retains grip on Northeast
On the other hand, summer shows no signs of giving up its reign on the East Coast. 
The CPC's 6- to 10-day temperature outlook issued Tuesday highlights the entire Northeast and mid-Atlantic for an 80% chance of above-average temperatures during the period from Sept. 20 to 24, or next Monday through Friday.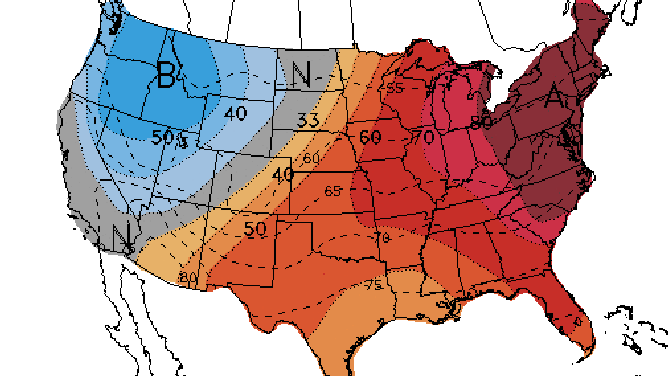 In fact, the entire eastern half of the nation into much of the South has 50-50 or better odds of warmer-than-average temperatures next week.
Highs on Monday are predicted to reach the 80s as far north as the upper Midwest, Ohio Valley and Northeast, with 70s reaching the Canadian border in the Northern Plains and northern New England.
Warmer than normal conditions are expected to linger in the East through the end of the month, so if you're looking for autumn-like weather as the calendar officially flips to autumn, head out West!