Who's having perfect weather conditions for the 'Perfect Date'?
April 25 has become a pop culture-induced "holiday" from a scene in 'Miss Congeniality' where Miss Rhode Island is asked to describe her "perfect date" and instead mused about great weather on April 25.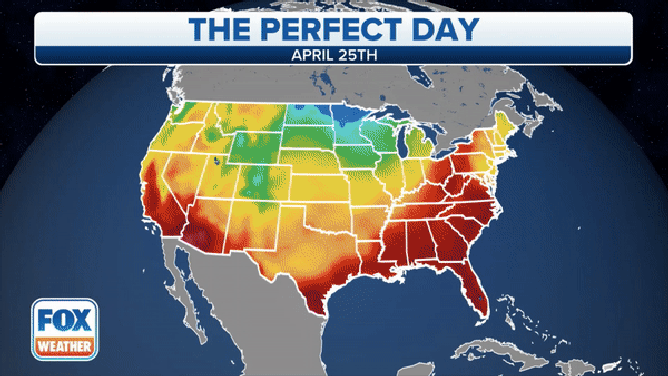 RENO, Nev. -- More than two decades ago, Miss Rhode Island declared April 25 the 'Perfect Date.' And what better way to celebrate the Perfect Date than with Perfect Weather?
The date has become a celebrated pop culture-induced "holiday" from a scene in the movie "Miss Congeniality," where Cheryl Frasier, a beauty pageant contestant from Rhode Island, is asked to describe her perfect date.
Frasier, played by actress Heather Burns, replied, "April 25, because it's not too hot and not too cold. All you'd need is a light jacket."
Now, every April 25, the social media world takes notice.
But who is celebrating in style on this Perfect Date in 2022?
And while we are doing a little baton twirling of our own, we thought we'd join with FOX Weather's Senior Weather Data Specialist Shane Brown to find where in the Lower 48 you would find a 'Perfect Date.'
So, we looked for places with highs between 62 and 68 degrees and less than 20% chance of rain on Monday – a temperature that we're arbitrarily declaring is not too hot, nor not too cold, and you could get away with a light jacket.
There is a wide swath of the Intermountain West that qualifies, along with a good chunk of the Southern Plains and even a bit of the Northeast.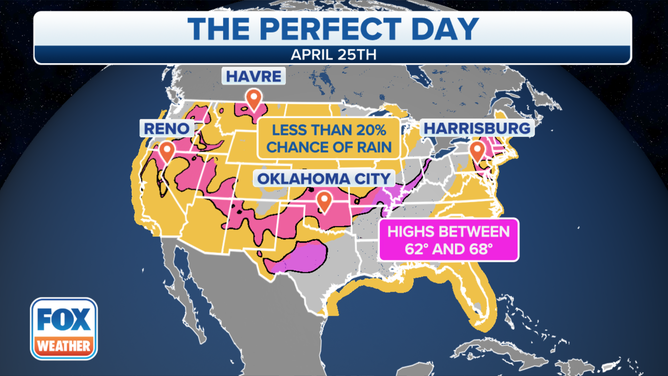 Brown found the cities of Reno, Nevada, Havre, Montana, Harrisburg, Pennsylvania and Oklahoma City are among those that qualify.
And while temperatures and opinions of perfect conditions may fluctuate across the country on April 25, I think we can all agree that we want the same thing – world peace.