Where's winter? Much of US to see mild temperatures Christmas week
Some areas are expected to see temperatures 20 to 30 degrees warmer than average this week
Tuesday might be the first day of winter, but much of the country will experience another week of warmer-than-average temperatures that will last through Christmas Day.
NOAA's Weather Prediction Center said that while unsettled weather in the Southeast and the Pacific Northwest will continue, a ridge of high pressure will allow for the above-average temperatures in the central U.S. before spreading to the East by the end of the week.
First day of winter is December 21: The science behind the winter solstice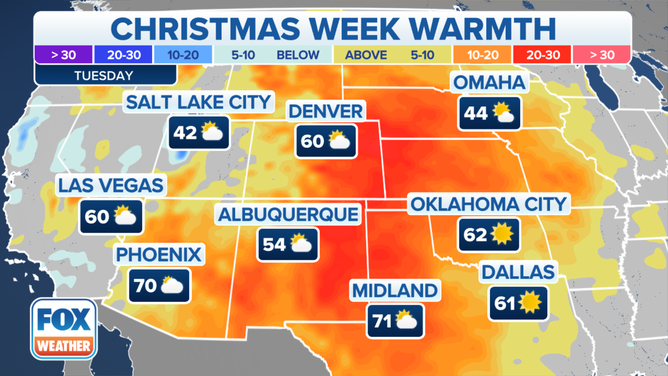 Temperatures between 10 and 20 degrees above average will be present across much of the central U.S. and Southeast on Tuesday. Denver will see temperatures around 60 degrees Tuesday. The same can be expected in Dallas and Oklahoma City, Oklahoma, where people will enjoy sunshine and temperatures around 60 degrees.
And while Omaha, Nebraska, will be chilly Tuesday at 44 degrees, that is about 10 degrees warmer than average for this time of year.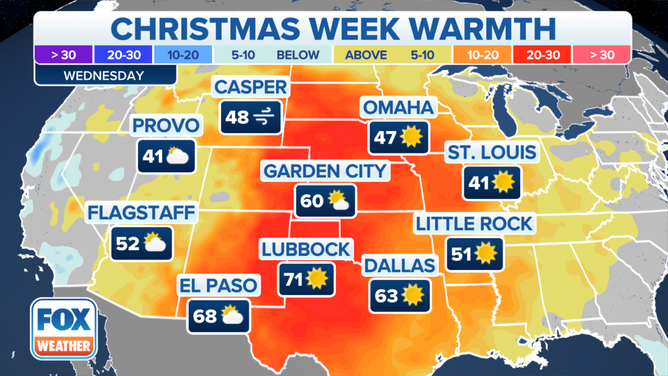 The mild temperatures will start to head eastward by Wednesday.
Garden City, Kansas, and Dallas/Fort Worth will be in the lower to mid-60s, while Lubbock, Texas, will hit at least 70 degrees with plenty of sunshine.
Temperatures in the Mississippi, Tennessee and Ohio valleys will only be a few degrees above average, but it will still be mild across those regions. St. Louis will remain in the lower 40s, while Little Rock, Arkansas, should get above 50 degrees.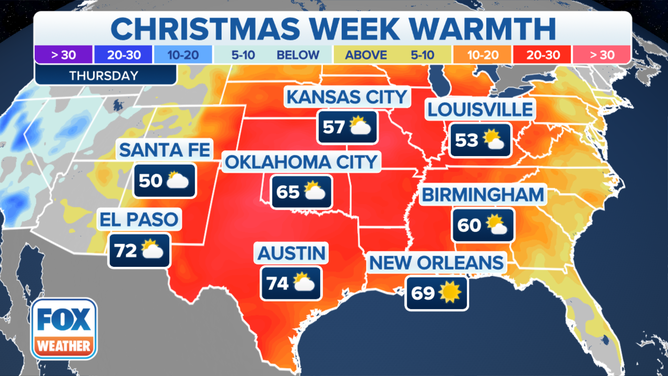 By Thursday, millions of Americans will be enjoying temperatures as high as 20 to 30 degrees above average. Areas along the Gulf Coast, like New Orleans, could be near or above 70 degrees. The same is true across Texas, where Austin will enjoy some sunshine and temperatures in the mid-70s.
The warmth will have spread north by that time, allowing for temperatures in the 50s for places like Kansas City, Missouri, and Louisville, Kentucky.
And while it may be a bit cooler for the Southeast, mid-Atlantic and Northeast, temperatures will still be about 5 to 10 degrees above average.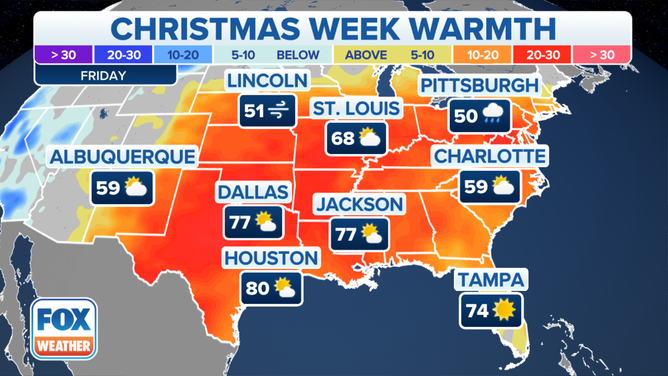 Santa Claus will be making his final preparations before heading out on Christmas Eve, although he may not need that heavy coat while flying above the Southeast, mid-Atlantic and Northeast.
Florida will see plenty of sunshine on Thursday, and temperatures in the 70s and 80s are expected there. That's also likely along the Gulf Coast. Places like New Orleans, Houston and Tampa, Florida, will also enjoy the sunshine.
More areas, like Dallas/Fort Worth, Jackson, Mississippi, and even up into St. Louis, will enjoy temperatures ranging from the upper 60s to the upper 70s.
Rain showers are expected in the Northeast, but areas like Pittsburgh will be in the 50s by Christmas Eve.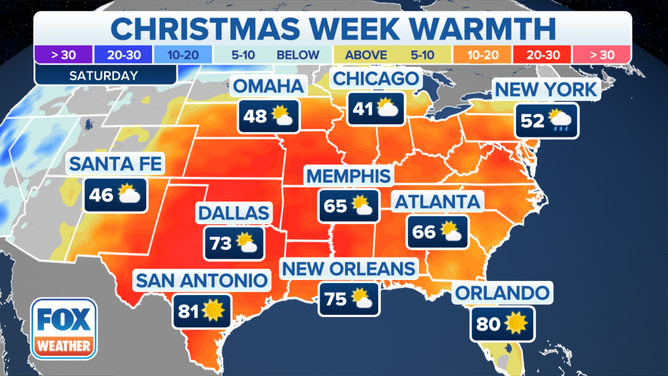 Many Americans will be disappointed if they were hoping for a white Christmas.
Christmas Day will be 20 to 30 degrees warmer than average from Texas to Iowa and Nebraska, eastward into New England.