What happened to spring? It's on the way Eastern US
April snow shocked Southerners this weekend. But, things are changing.
'Punxsutawney Phil 'said' six more weeks of winter on Groundhog's day. Now what is his excuse,' residents across the eastern half of the nation may be wondering.
HOW ACCURATE IS PUNXSUTAWNEY PHIL REALLY?
Early April snow fell across North Carolina, Tennessee and Kentucky over the weekend. So much for the Pennsylvania rodent indicating spring by mid-March. 
"Over the river and through the woods" seems like more apropos prose on Grandfather Mountain, North Carolina than the more timely "April showers bring May flowers."
And the horses in Franklin Tennessee may need a sleigh soon.
This veteran meteorologist may prefer snow, but even he agrees, it is cold in the upper atmosphere. He photographed snow and graupel in Roan Mountain, Tennessee. 
SOFTER THAN HAIL; HARDER THAN SNOW: WHAT IS GRAUPEL?
Change is on the way
Atmospheric conditions will flip-flop so that the record heat the West felt last week will finally take hold east of the Mississippi. 
SPRING SIZZLES: HEAT RECORDS SHATTERED WITH TRIPLE-DIGIT TEMPS IN CALIFORNIA, TEXAS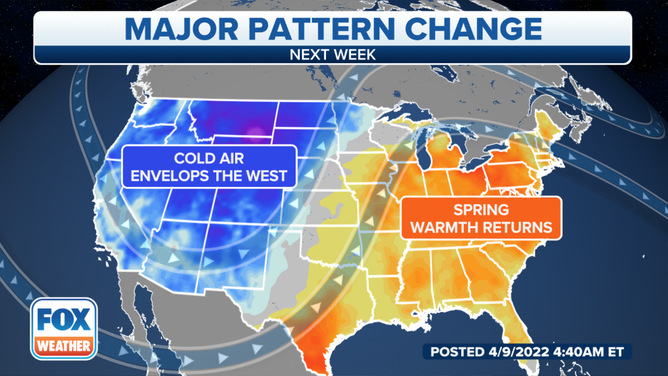 Check out the warm-up headed for the Southeast. Memphis, Atlanta and Charleston are in the mid to upper 70s while Raleigh, North Carolina hits 81.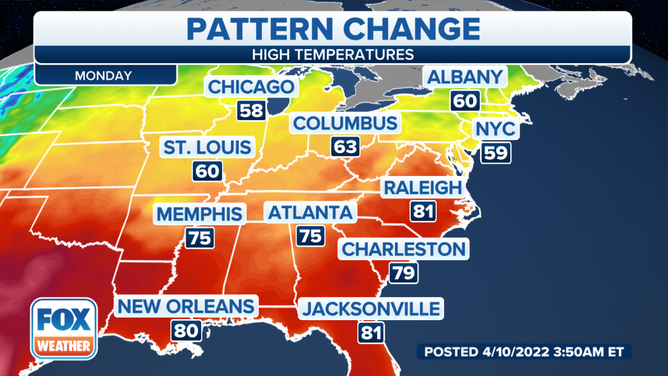 North Carolina, Virginia, West Virginia and Ohio are forecast to be 10-20 above normal high temperatures for Monday.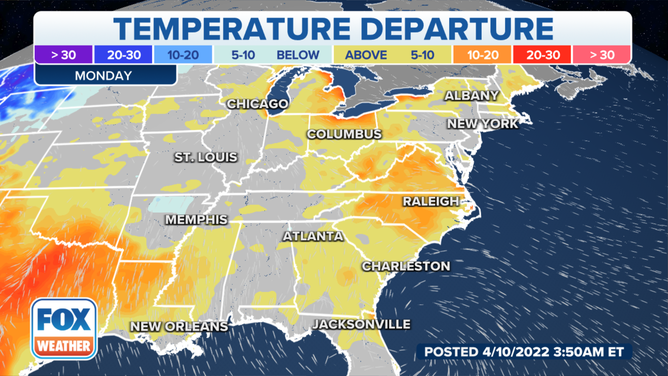 On Tuesday, New York creeps over 70 while the 80s take over the South through midweek.

Michigan through the Carolinas will be 15-25 degrees warmer than normal for this time of year for Wednesday.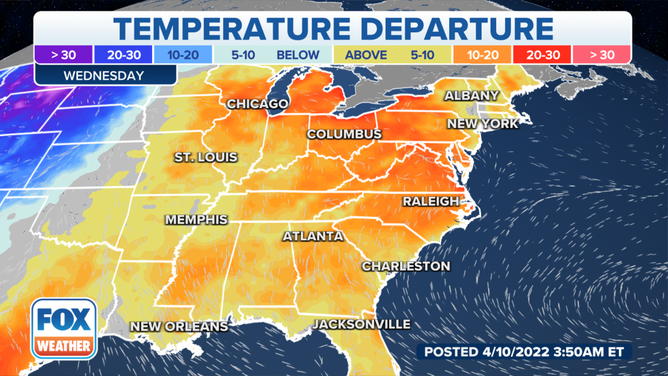 Northwestern states are now feeling the chill. The Cascades, Sierras and Rockies could see 1-2 feet of fresh powder for midweek.