Late-season snowstorm to blanket parts of the West
Heavy snow blankets the Cascades and heads for the northern Sierra Nevada on Monday as moisture swings into the region
A significant winter storm will bring heavy snow from the Northern and Central Rockies through the Northern Plains next week. 
While the Central and Southern Plains prepare for severe weather, the northern side of this powerful system started producing snow Sunday evening. 
The heaviest snow is expected to fall in portions of Wyoming, Montana, western Nebraska, the Dakotas and northern Minnesota. Many of these areas could pick up at least 6 inches of heavy, wet snow.
In some areas, high winds could overlap with the snow and result in whiteout conditions, making it extremely dangerous for motorists attempting to drive during the storm.
While it is not unusual to get snow in April in these areas, it is getting late in the season for such a widespread event. Be prepared for travel disruptions in this region at the height of next week's snowstorm.
Heavy snow will develop across the Cascades and the northern Sierra Nevada on Sunday and Monday as moisture swings into the region.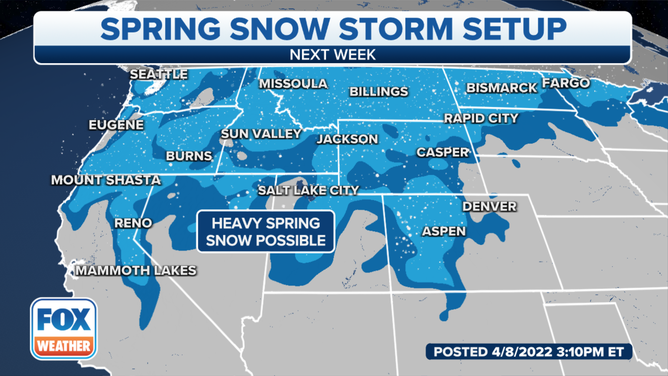 Snow will then spread across much of the Intermountain West and into the Northern Rockies by the beginning of the workweek. 
WHEN CAN YOU EXPECT THE LAST SNOW OF THE SEASON?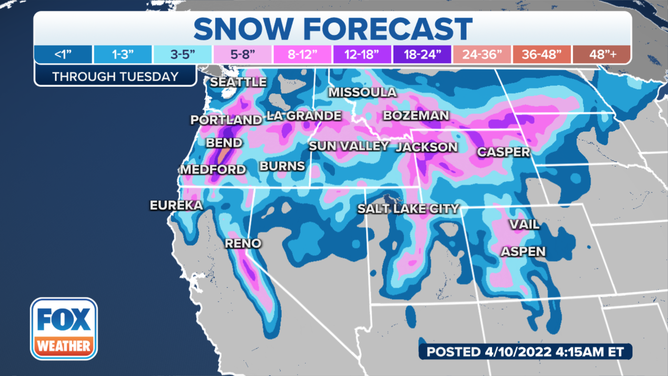 By late Monday, a surface low is expected to develop over the central High Plains and bring the threat of impactful snowfall to the northern/central Rockies and High Plains of Wyoming and Montana.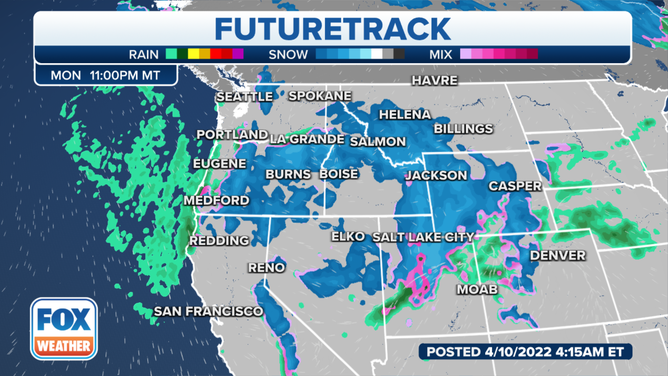 Heavy snow is most likely to extend into the Northern Plains on Tuesday and Wednesday.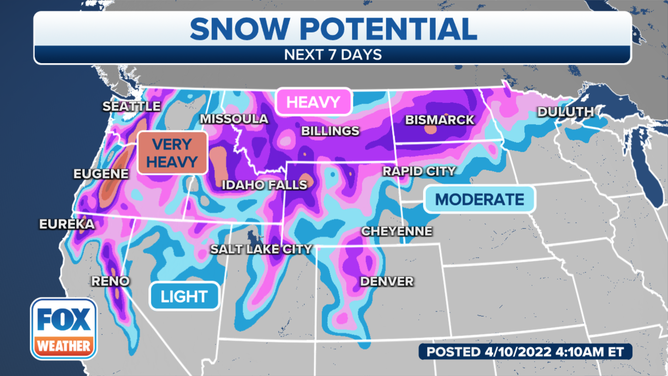 Very strong winds are also possible as the low pressure system deepens, which could create blizzard conditions for parts of the Dakotas and northern Minnesota.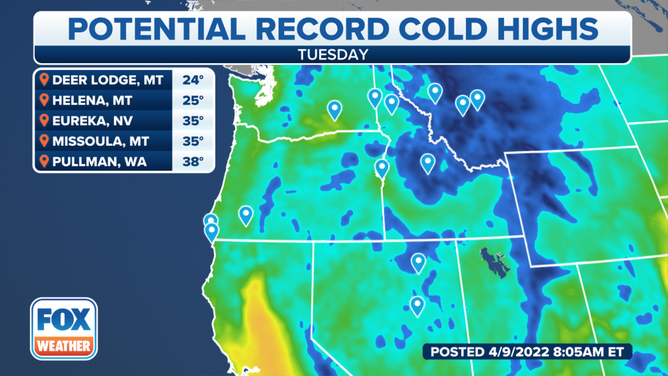 More than a dozen potential record cold morning lows are possible on Tuesday. The National Weather Service in Missoula, Montana, said most valleys will drop into the 20s each night, but teens and even single digits are possible on clear mornings.
Check back with FOX Weather for updates as we fine-tune the forecast for both the severe weather and winter weather threats in the days ahead. Be sure to download the FOX Weather app for the latest forecast and weather alerts for your exact location, plus the 24/7 livestream of America's Weather Team.