West Texas faces critical fire weather on Christmas Eve
Temperatures across parts of Texas will be 25 degrees above average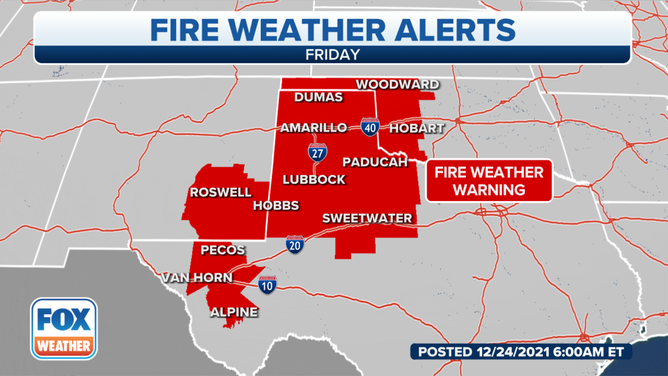 Parts of West Texas are inside a critical fire risk zone for Christmas Eve, which is being driven by southwestern winds and dry conditions.
According to the National Weather Service's Storm Prediction Center, West to Southwest Texas, 
Southeast New Mexico and West Oklahoma are inside an elevated fire risk zone.
According to the SPC, approximately 479,000 people will be under a critical fire risk on Christmas Eve, including Midland, Odessa and Sweetwater, Texas.
Conditions remain dry, with no precipitation expected over the Southern Plains. Dry conditions combined with 20 to 25 mph sustained winds increase the risk to critical across parts of Texas with the driest and windiest weather.
"No roasting chestnuts on an open fire as fire danger will be elevated across much of the region," the NWS Office in Fort Worth warned in a tweet.
The weather story on Christmas Eve is one of two sides. While the Pacific Northwest prepares for a surge of cold from Canada, the southern and Southeast U.S. will see above-average temperatures.
Temperatures across parts of Texas will be about 25 degrees above average for this time of year, with highs in the mid-80s.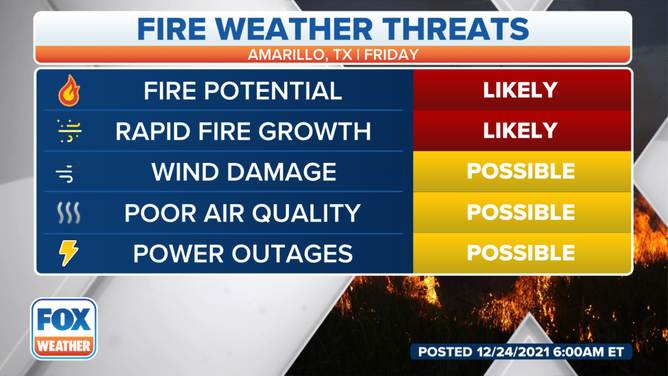 According to the NWS Office in San Angelo, Texas, a fire weather warning remains in effect for Big Country and the Northern Concho Valley from noon to 6 p.m. Central.
Relative humidity of 15% or less with wind gusts over 35 mph is the fuel for the high fire danger. Any fire that starts under these conditions will spread rapidly.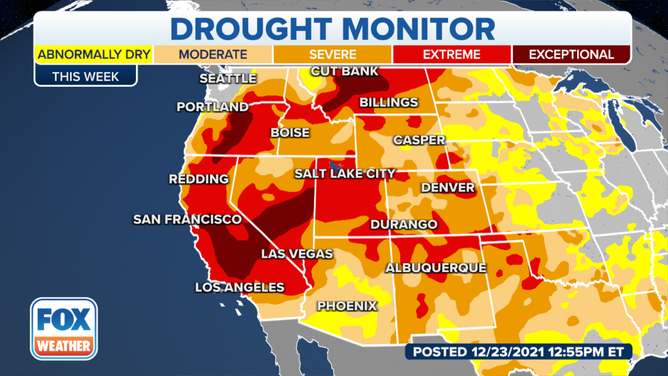 Mostly dry conditions will persist, and as temperatures climb, the fire danger is expected to increase in parts of Texas, Wyoming and New Mexico.
Drought conditions from northwest to southwest Texas continue to be moderate to severe. It's been 73 days since the last measurable rain in Amarillo, Texas.