Welcome back: 5 things to know about visiting Yellowstone National Park post flood
Entry to the park will depend on the last digit of your license plate
YELLOWSTONE NATIONAL PARK – After historic flooding closed Yellowstone National Park for more than a week, the popular destination is back open but with some changes due to damages in the wake of the floods.
At least 10,000 people became stranded in the park when Yellowstone River flooding began on June 13, and the Montana National Guard rescued more than 80 people.
The raging water destroyed roads and bridges within the park and in communities just north of the north entrance to the park. The entrance on U.S. 89 from Livingston was destroyed.
Despite the 500-year flood, Montana Gov. Greg Gianforte and other officials have encouraged visitors to keep their planned trips to Yellowstone.
If you plan to visit this summer, your park experience can still be memorable. Read on below to learn about changes to getting into the park and what you need to know about navigating potential delays as work continues to restore access to all parts of the park. 
How to get in and where to stay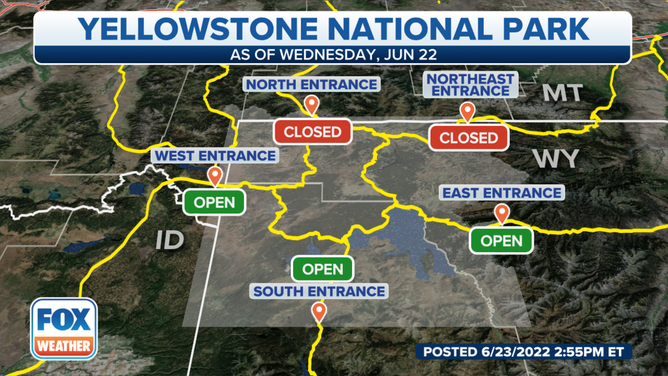 Access to the south loop of the park reopened on Wednesday, and visitors lined up waiting to be welcomed back to America's treasure. 
'IT WAS JUST INSANE': HISTORIC FLOOD SWALLOWS HOUSING UNIT ALONG RAGING YELLOWSTONE RIVER
While the north and northeast entrances remain closed, the ranger reopened the west, east and south entrances. However, the flood impacts can be seen even coming through these entrances. There is construction along the south entrance and flood damages after entering through the east and west gates. 
Less than 5,000 vehicles have entered the south loop on the first day back open. Typically, 10,000 or more cars enter the park through these entrances.
Parts of the park closed to visitors include attractions like the Albright Visitor Center, Mammoth Hot Springs and Roosevelt Lodge Cabins. 
The Roosevelt Lodge Cabins and the Mammoth Hotel will remain closed through the season, according to the website. 
If you plan to stay in the park, here is a list of open campsites and lodging. 
Using the new visitor entry system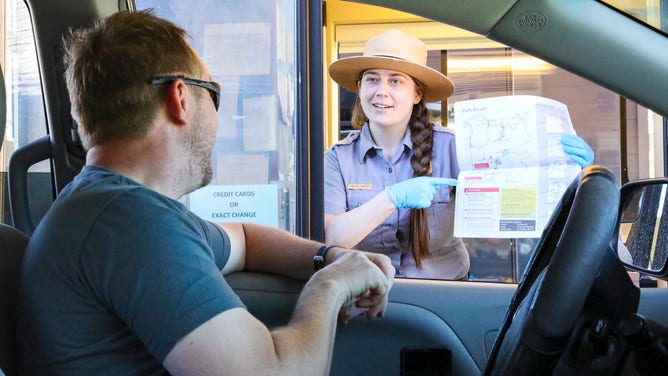 The park is instituting a visitor access plan to ensure the south loop does not become overwhelmed with the visitor traffic. The National Park Service will actively monitor a license plate system.
Here is how you can determine what days of the month you can visit Yellowstone:
License plates with an odd-numbered last digit can enter on odd days of the month.
License plates with an even-numbered last digit (including zero) can enter on even days of the month.
Personalized plates with a mix of letters and numbers that end with a letter will still use the last numerical digit on the plate to determine entrance days.
Personalized plates without numbers will be allowed to enter on odd days of the month.
Motorcycle groups of two or more traveling together where all license plates in the group don't correspond to the date may enter on even dates only.
Less than 1% of vehicles had to be turned around due to having the wrong license plate on the first day back open, according to NPS.
Yellowstone National Park superintendent Cam Sholly said the new system would allow about half of the 10,000-20,000 the park would see per day, usually during the busy summer season. 
When the entrances open in the morning, visitors should expect long lines as everyone makes their way into the park. 
"There's going to be substantial backups initially until that first flow of traffic gets into the park, and it normalizes a bit," Sholly said.
Forecast for the first weekend back open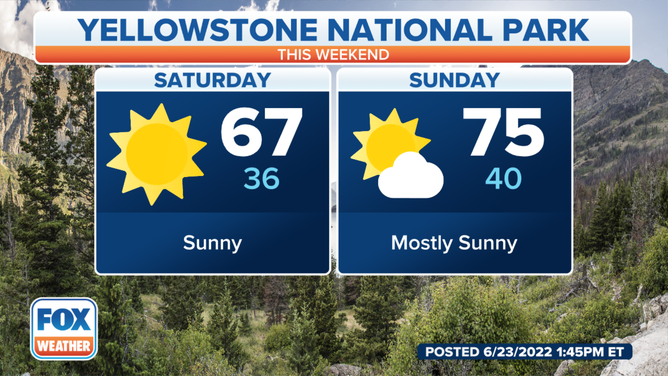 It will be a beautiful weekend to visit Yellowstone no matter which entrance you arrive through. The forecast calls for a sunny Saturday with cooler temperatures, including a high of 67 degrees. 
7 THINGS TO KNOW ABOUT YELLOWSTONE NATIONAL PARK
On Sunday, the temperature will warm into the mid-70s with partial cloud cover for the day. 
The best way to check the forecast for your visit is with the FOX Weather app. If you know the date of your visit, use the plan tab to create an event and get a future forecast for your upcoming trip to Yellowstone.
North part of Yellowstone to remain closed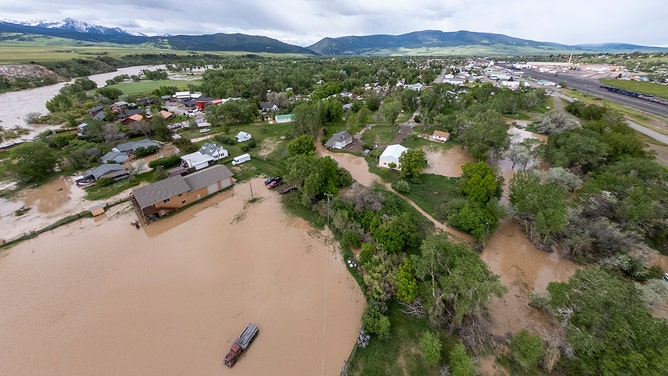 Park officials say the northern portion of Yellowstone will likely remain closed for a "substantial length of time" due to severely damaged, impacted infrastructure, including bridges and roads that are just gone. It could take years to rebuild some areas. 
The following entrances remain closed: North (Gardiner) and Northeast (Cooke City).
Yellowstone staff are working to determine what other potential park sections may reopen before roads close on Nov. 1 for the season. 
"We have an aggressive plan for recovery in the north," Sholly said.
Sholly said teams are working faster than people might expect to restore access to one of America's most popular destinations. 
What to do if you were/are impacted by the park's closure
When the unprecedented flooding occurred, approximately 10,000 visitors inside Yellowstone National Park were forced to evacuate at a moment's notice, with many people forced to leave personal belongings behind.
HIKERS RESCUED BY HELICOPTER AFTER BEING STRANDED BY YELLOWSTONE FLOODWATERS
So, if you were forced to evacuate and are looking for a way to retrieve those items, the NPS says to contact the Yellowstone National Park Visitor Services Office at 307-344-2107. They will confirm your campground or lodging reservation information and can help you get your personal belongings back.
In-park lodging and camping reservations have also been affected by the closure, and there are a few ways to get help if you've been impacted:
For people with in-park lodging or reservations at Bridge Bay, Canyon, Fishing Bridge RV Park, Grant Village or Madison Campground: Contact Xanterra about reservation cancelations and refunds. The NPS asks those who do call to remain patient while staff continues to work on handling many requests.
For people with reservations at backcountry campsites or Indian Creek, Lewis Lake, Mammoth, Pebble Creek or Slough Creek Campground: Yellowstone National Park Staff will reach out to you directly about reservation cancellations and refunds.
And with northern sections of the park expected to remain closed for the foreseeable future while recovery and cleanup efforts continue, there are still plenty of things to see and do in the southern areas of the park and the park's gateway communities.
CLICK HERE TO GET THE FOX WEATHER UPDATE PODCAST 
Those communities include Gardiner, Silver Gate, Cook City and West Yellowstone, in Montana. Also, Cody and Jackson, Wyoming.
There are also several surrounding areas around the Greater Yellowstone Ecosystem.
For more information about any of the above locations, click here.
Be sure to download the FOX Weather app to track any storms in your area and receive potentially life-saving weather alerts issued by the National Weather Service. The free FOX Weather livestream is also available 24/7 on the website and app and on your favorite streaming platform. The FOX Weather Update podcast also provides weather information for the entire country.