Video shows waterspout spinning off the coast of Pensacola
FOX Weather radar showed some shower and thunderstorm activity in the area starting around 8:30 a.m. in the Gulf of Mexico
PENSACOLA, Fla. – Early morning thunderstorms produced at least one waterspout off the coast of the Florida Panhandle on Monday, with several people capturing nature's beauty on camera.
HOW TO WATCH FOX WEATHER ON TV
Photos and videos from witnesses showed the waterspout near Naval Air Station Pensacola, but many people near the Pensacola Lighthouse also saw it as it spun offshore.
FOX Weather radar did show some shower and thunderstorm activity in the area starting around 8:30 a.m. in the Gulf of Mexico before moving toward Fort McRee and Fort Pickens, and the Pensacola Lighthouse.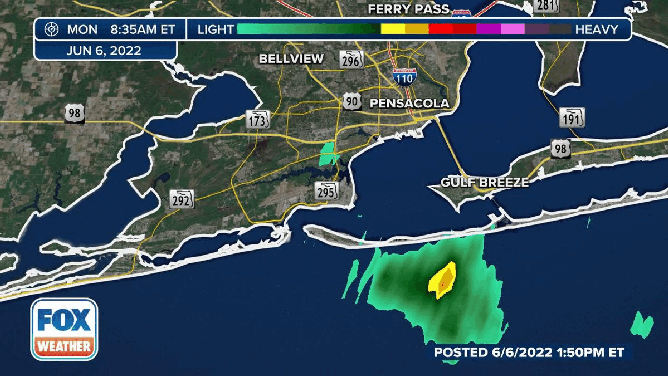 FOX Weather meteorologist Cody Braud said the radar couldn't pick up the waterspout's velocity because it was reasonably dry.
According to the National Weather Service, there are two types of waterspouts – fair weather and tornadic.
THIS IS WHAT YOU SHOULD DO IF YOU'RE DRIVING AND THERE'S A TORNADO ON THE GROUND
A tornadic waterspout typically begins as a tornado spawned by a thunderstorm over land, which then moves out over the water, where it becomes a waterspout.
Tornadic waterspouts may be large and can cause considerable damage to anything in their path. As was the case in Fort Myers Beach, Florida, in March when a waterspout moved onshore and sent beachgoers running for cover.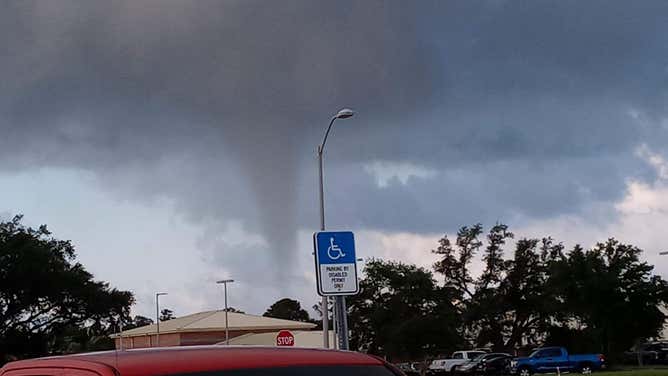 WHAT YOU SHOULD DO IF YOUR PROPERTY SUSTAINED TORNADO DAMAGE
Fair weather waterspouts can form during calm weather and usually aren't associated with thunderstorms. Monday's waterspout was likely a fair-weather event.
CLICK HERE TO GET THE FOX WEATHER UPDATE PODCAST
According to the National Weather Service in Mobile, Pensacola's forecast was hot with temperatures in the upper 80s with a chance of thunderstorms in the afternoon.