Dozens rescued from flash flooding in 2 states after nearly a foot of rain falls
Concerns grow that water could rise again as more rain falls across the region
MUSKOGEE, Okla. – Dozens of people in at least two states needed to be rescued from flash flooding after nearly a foot of rain fell overnight.
The National Weather Service in Tulsa, Oklahoma, issued Flash Flood Warnings for parts of eastern Oklahoma and northwestern Arkansas Thursday morning after 4 to 10 inches of rain fell, with additional heavy rain expected through the day.
"The biggest concern is the rain we still have coming to our area this morning," Muskogee Public Information Officer Lynn Hamlin said on FOX Weather Thursday morning. "Our streets are still flooded."
HOW TO WATCH FOX WEATHER ON TV
According to police, first responders have responded to about 50 water rescues so far.
"Those started out of vehicles. People would drive through the water that was too high and get stranded in their vehicles," she said.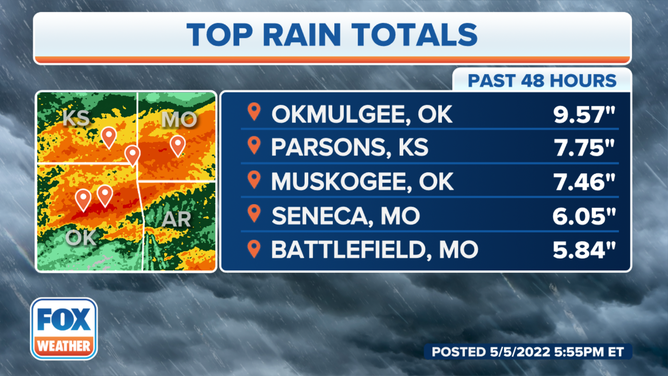 Rescues have also been taking place at homes in the Meadows neighborhood.
"It took not much longer after that started happening that they started receiving calls about people stranded in their homes. So, they began going to people's homes in different areas of the city and doing water rescues from there."
And while water has receded some, Hamlin fears it could rise again.
EXPLAINING FLOOD ALERTS ISSUED BY THE NATIONAL WEATHER SERVICE
"Our concern is that it will get worse again because we already have such a high level of saturation, so there's nowhere for the water to go," she said. "I would expect that it would rise again, just hopefully not to the degree that we saw overnight."
The NWS says this additional rain will worsen conditions and warned people not to drive across flooded roadways.
Ongoing water rescues were underway in Fayetteville, Arkansas Thursday morning.
The Fayetteville Fire Department reports that since 1:30 a.m. its crews have made multiple swift water rescues with people trapped in their cars. First responders have conducted more than 60 water rescues so far in Washington County, about half of those are in Fayetteville.
MORE ROUNDS OF HEAVY RAIN ADD UP TO POTENTIAL FLOOD RISK FOR CENTRAL US
Heavy rain is expected to continue to fall across the region on Thursday as the system slowly shifts to the east.
As it does, the threat of flash floods is greatest from northeastern Texas through the Mississippi and Ohio valleys and parts of the Central Plains.
7 FACTS YOU SHOULD KNOW ABOUT FLASH FLOODS
Schools in the area have also been closed because of the flooding.
Muskogee Public Schools announced Thursday morning that classes would be held virtually, and all teachers and students should stay home.
Okmulgee Schools have also announced that they, too, will hold classes virtually on Thursday.
The flooding has also led to the closure of some highways in Arkansas.
Officials say sections of Highways 12, 37, 38, 62, 112, 166 and 264 will remain closed until the water recedes.
Flooding has also stretched into parts of Missouri as heavy rain drenched the region on Thursday.
Missouri State Police shared images of water covering roads, and even cars that were submerged by the rushing water.
"Any amount of water over the roadway is dangerous," state police warned in a tweet. "Do not drive into water!"
CLICK HERE TO GET THE FOX WEATHER UPDATE PODCAST
Flash flooding is extremely dangerous and kills more people in the United States every year than tornadoes, hurricanes and lightning.
Do not drive on flooded streets or highways. If you can't see the road, it's not good to continue.