Watch: Idalia's powerful bands wallop Florida hours ahead of landfall
Idalia's bands started slamming Florida early on Tuesday in waves. Early Wednesday morning, the flooding storm surge moved in.
Even hundreds of miles offshore, powerful Hurricane Idalia clobbered Florida. Floridians and journalists caught some of the wild weather as the powerful storm closed in.
Heavy rains drowned Marco Island, Florida. In the video above, you can barely see the backyard from the house.
Nearby Fort Myers Beach saw high tide flooding ahead of the storm Tuesday afternoon. The island hit so hard by Hurricane Ian last year is partially underwater again. 
FLORIDA HURRICANE THREAT LIVE TRACKER: FUTURE PATH, WATCHES AND WARNINGS, SPAGHETTI MODELS AND MORE
Along with rain and flooding, thunderstorms took their toll on Southwest Florida. Straight-line winds tore debris off a roof in Fort Myers Beach and sent the panels flying. At the same time, the NWS issued a Tornado Warning for the county to the south.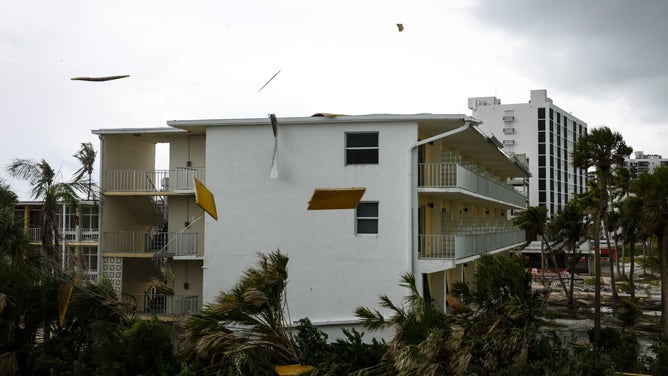 Further north, more flooding put roads and parking lots underwater in Charlotte County.
Buoys in the Gulf of Mexico near Idalia have measured 31-foot waves late Tuesday. And with still 100 miles to go, storm surge started streaming into Clearwater Beach. 
Meteorologist Bob Van Dillen started the afternoon reporting from the sand. By early Wednesday morning, water covered the beach and started flooding roads and sidewalks. This is the start of the forecast of 4 to 6 feet of storm surge. He said the water came up 300 yards.
FOX Weather reporters had to evacuate Madeira Beach Tuesday night. It is easy to see why from the video that the Pinellas County Sheriff's Office shared of fast-moving water headed inland.
WHY IS STORM SURGE SO DANGEROUS?
Areas in the Big Bend area are expected to see up to 16 feet of storm surge.