Virginia community suffers 'catastrophic' damage following apparent EF-2 tornado
Two mobile homes were destroyed, at least 20 homes were damaged and numerous trees were uprooted in the area, according to the National Weather Service
GOODE, Va. – Several residential neighborhoods in the Goode, Virginia, community suffered "catastrophic structural damage" as EF-2 tornado ripped through the town Friday with winds upwards of 135 mph.
TORNADO WATCH ISSUED AS SEVERE STORMS STRIKE EAST COAST
Two mobile homes were destroyed, at least 15 homes were damaged, and numerous trees were uprooted in the Crockett Road area as the storm blew through about 7:30 a.m., according to the National Weather Service.
HOW TO WATCH FOX WEATHER ON TV
Luckily, there were no reports of fatalities but at least three people suffered injuries.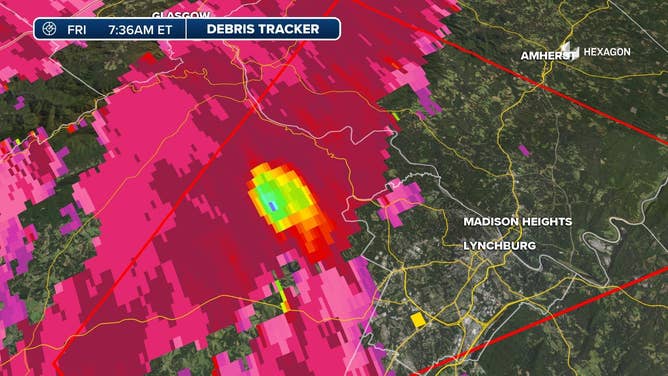 First responders performed an extensive search and rescue to make sure every residence was thoroughly searched.
A temporary shelter was set up at the Bedford County fire station in Goode for anyone who has been displaced from their homes as a result of the storm.
CLICK HERE TO GET THE FOX WEATHER UPDATE PODCAST
Be sure to download the FOX Weather app for the latest forecast and weather alerts for your exact location, plus the 24/7 livestream of America's Weather Team.