Threat for severe storms lingers over East Coast
Severe weather is possible Friday from the Carolinas northward into the mid-Atlantic
Scattered severe thunderstorms with a threat of wind damage and possibly a couple tornadoes are expected to develop Friday from the Carolinas northward into the Mid-Atlantic.
The Storm Prediction Center has issued the following watches:
Severe Thunderstorm Watch until 7 p.m. Eastern for Delaware, eastern Maryland, southern and western New Jersey, southeastern Pennsylvania and coastal waters.
Tornado Watches are indicated in red. Severe Thunderstorm Watches are indicated in yellow.
(FOX Weather)
---
This comes as a cold front slowly advances east toward the East Coast. The slow-moving storm system should then gradually begin to edge offshore of the Mid-Atlantic and Northeast by Sunday as a weak area of high pressure builds in across the Ohio and Tennessee Valleys, the National Weather Service said.
MEMORIAL DAY TRAVEL FORECAST: WHERE RAIN COULD DAMPEN YOUR SUMMER KICKOFF
The front will interact with a very moist and unstable airmass advancing up across the coastal plain and should result in numerous areas of heavy showers and thunderstorms across the Mid-Atlantic and Southeast. 
Severe weather outlook for Friday, May 27, 2021.
(FOX Weather)
---
There will be a concern for some severe weather from the Carolinas northward into the Mid-Atlantic that may result in damaging winds and a couple of tornadoes. Some storms may also produce heavy rainfall rates of 1 to 2 inches per hour resulting in localized flash flooding.
HOW TO WATCH FOX WEATHER ON TV
Excessive rainfall outlook for Friday, May 27, 2021.
(FOX Weather)
---
High temperatures will be in the 70s to near 80 degrees in the Northeast, while the Southeast should manage the lower to mid-80s.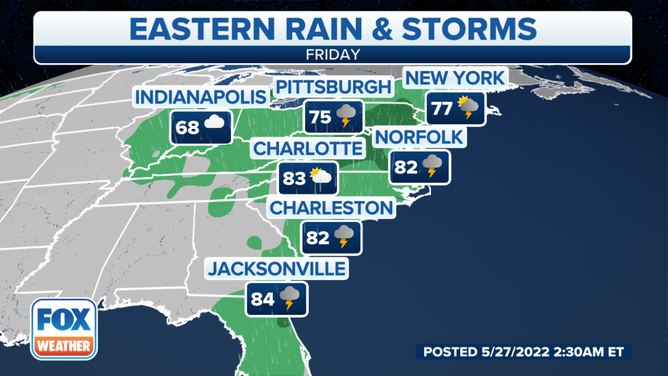 The heavy rain and storms will linger across the Northeast on Saturday. While most of the activity will be off the coast, a few intense storms will move through New England potentially containing 60-plus mph winds and hail.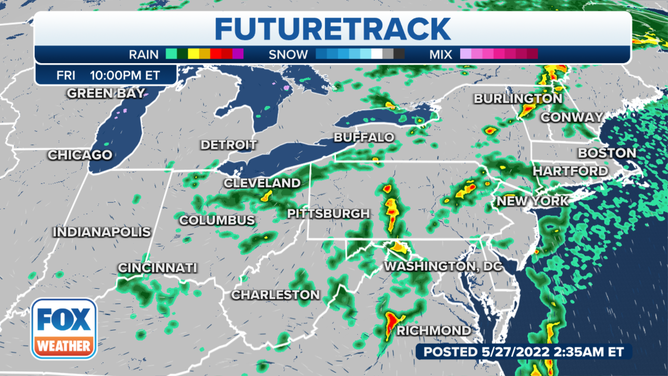 Much nicer conditions are expected Sunday and Memorial Day.
CLICK HERE TO GET THE FOX WEATHER UPDATE PODCAST
Be sure to download the FOX Weather app for the latest forecast and weather alerts for your exact location, plus the 24/7 livestream of America's Weather Team.