Temperatures in US have warmed more than 2 degrees since the first Earth Day
In recent years, climate change has been the focus of Earth Day as temperatures continue to rise across the globe
Friday marks the 52nd anniversary of the first Earth Day, and average temperatures across the U.S. have risen significantly over the past five decades.
Earth Day is celebrated on April 22 and is the largest civic observance in the world. More than 1 billion people in more than 190 countries participate in environmental activities on this date every year.
The first Earth Day was established in 1970 to raise awareness of environmental issues impacting the planet. In recent years, the focus has been on climate change as temperatures continue to rise across the globe.
THE 7 GREENEST STATES IN THE NATION – AND THE 7 LEAST GREEN
According to data compiled by independent research group Climate Central, average temperatures across the U.S. are 2.4 degrees warmer than they were 52 years ago for the first Earth Day.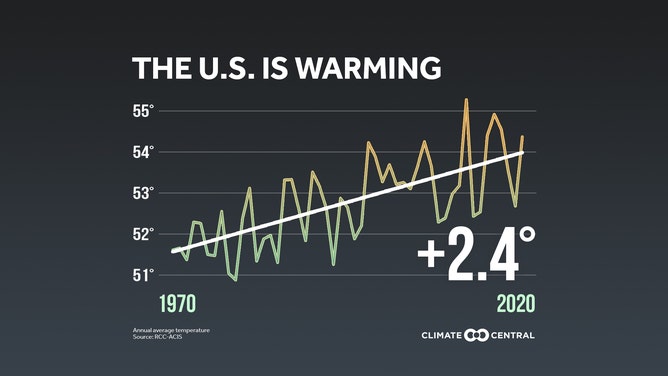 In fact, 98% of the 246 cities analyzed have reported an increase in their annual temperatures since 1970. Among those, nearly two-thirds have warmed by more than 2 degrees and 27% have warmed by more than 3 degrees.
Most of the fastest-warming cities are in the southwestern U.S., but a few locations outside that region also rank among the 10 cities with the greatest temperature increases.
STUDIES FIND WINTER IS FASTEST-WARMING SEASON IN U.S. HERE'S WHY THAT'S BAD NEWS
Reno, Nevada, is by far the fastest-warming city in the nation since 1970. Its average annual temperature has increased by 7.6 degrees over the past five decades.
Las Vegas ranks second among the cities with the greatest temperature increases since the first Earth Day, with its average annual temperature rising from about 66 degrees in 1970 to nearly 72 degrees by 2020.
Interestingly, one of America's snowiest cities ranks among the 10 locations experiencing the fastest rate of warming. Erie, Pennsylvania, the second-snowiest city in the nation, which averages 104.3 inches of snow each year, has seen its average annual temperature increase by 4.3 degrees since 1970.
THESE ARE THE 7 SNOWIEST CITIES IN THE U.S.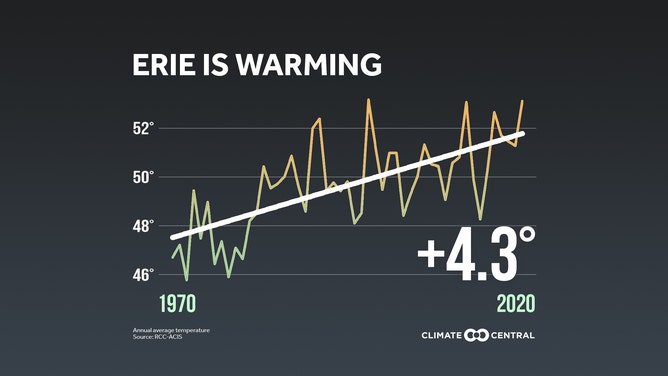 Last year marked the 25th consecutive warmer-than-average year for the U.S., ranking as the fourth-warmest on record. In fact, each of the Lower 48 states reported above-average temperatures last year.
According to the National Oceanic and Atmospheric Administration, the six warmest years on record for the contiguous U.S. have all occurred since 2012, while nine of the 10 warmest years have all occurred since 1998. The Dust Bowl year of 1934 is the only year among the 10 warmest to occur prior to 1998.
NOAA: U.S. ENDURED 4TH-WARMEST YEAR ON RECORD IN 2021, FUELED BY 2 RECORD-WARM MONTHS
Climate change has caused temperatures across the country to increase at an average rate of 0.16 degrees per decade since official recordkeeping began in 1895.