Ukraine war refugees dealing with spring temperature extremes
The Russia-Ukraine War has lasted more than two months
MEDYKA, Poland – As the flood of refugees continues from war-torn Ukraine into nearby nations, medical experts say they are seeing impacts of rollercoaster-like weather on people seeking shelter from the hostilities.
FOX medical contributor Dr. Janette Nesheiwat is one of many U.S. physicians volunteering to help Ukrainians once they arrive across the border in Poland.
Because the long days can be sunny and warm, the family and emergency medicine doctor said dehydration, weakness and fatigue are of concern.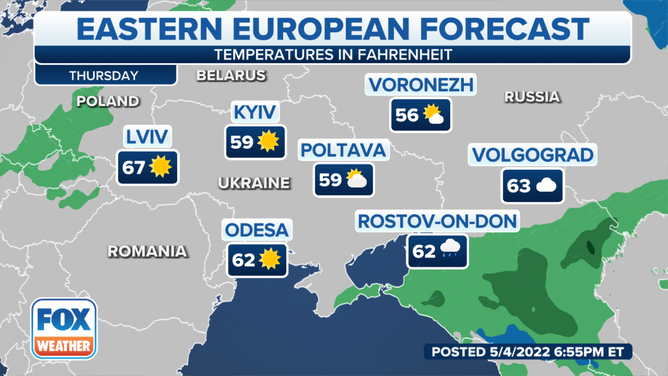 After sunset, temperatures are cold enough that the doctor has spotted people chopping wood for fires in order to stay warm.
When the body is exposed to prolonged cold temperatures, there is a threat of hypothermia, medical experts warn.
On a typical day in May, temperatures usually start out in the 40s or 50s and only reach the 60s under mostly sunny skies.
HOW TO WATCH FOX WEATHER ON TV
"For the most part, people are well enough to flee, and their symptoms are not life-threatening," Nesheiwat stated.
However, the doctor is seeing some refugees that require significant medical care.
"I had a man with burn wounds to his legs, and he needed continuous IV antibiotics," Nesheiwat said.
SPACE-BASED INTERNET HELPS REFUGEES FLEEING UKRAINE
The doctor says she'll be in the region for two weeks before heading home from her most recent mission in Eastern Europe.
Despite nearly 6 million refugees fleeing the country, Nesheiwat believes medical facilities where she is along the Poland-Ukraine border are prepared for additional waves.
"I don't think the hospitals are overwhelmed, but I tell you they're nothing like what are in the United States," Nesheiwat said.
Despite active operations continuing for more than 70 days, military experts see no immediate end to the conflict.