Trio of Pacific storm systems fueled by atmospheric rivers to bring heavy rain, mountain snow to West Coast
The strongest storm in the trio will dump several inches of rain and multiple feet of Sierra snow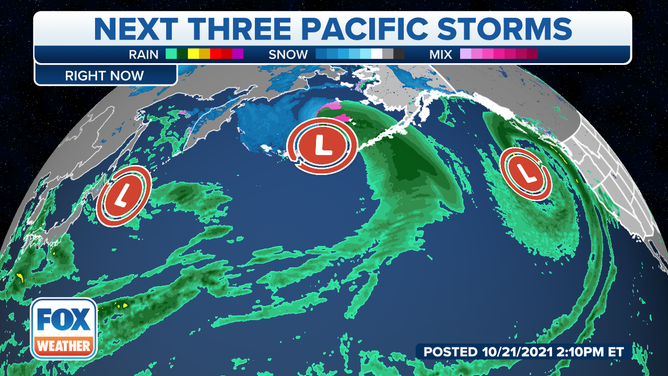 A trio of Pacific storm systems fueled by atmospheric rivers will bring additional rounds of much-needed rain and mountain snow to the drought-stricken areas of California and the Northwest into next week.
The first storm sent a surge of moisture toward the West Coast on Thursday as it became a "bomb cyclone" well offshore. That means it underwent "bombogenesis," defined as a rapid pressure drop of at least 24 millibars in 24 hours or less – indicative of a very intense storm.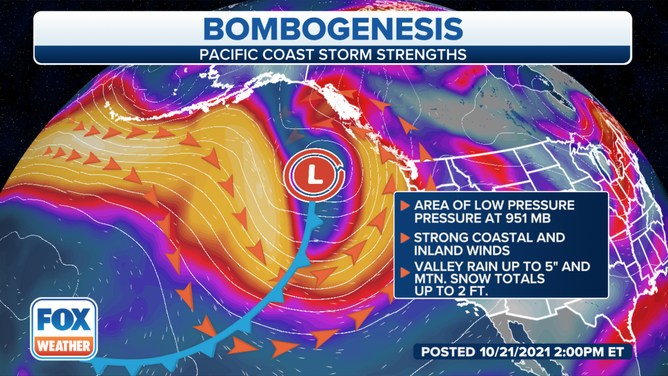 Rain and mountain snow from this system were ongoing from Northern California to Washington early Friday, but the storm will weaken as it tracks farther inland through the day, reaching the northern Rockies by Friday night.
However, the burn-scar areas in the northern Sierra Nevada will remain susceptible to flash flooding, rapid runoff and debris flows as periods of rain and mountain snow continue through the first half of the day Friday.
A second storm system will roll in off the Pacific Ocean on Saturday, bringing another round of beneficial precipitation to Northern California and the Northwest.
Similar to Friday's storm, rainfall rates could be excessive at times on Saturday, yielding another risk for flash flooding, rapid runoff and debris flows in the burn-scar areas.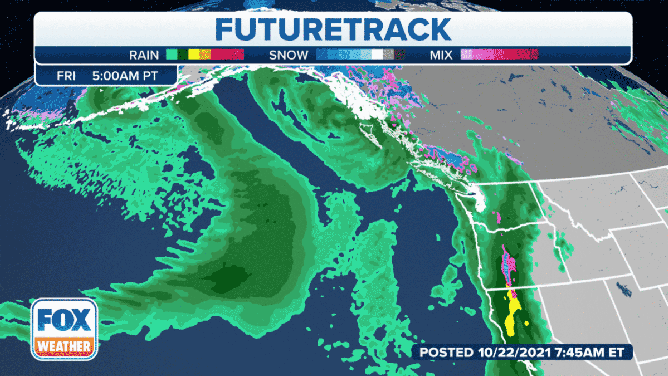 A third Pacific storm will impact the West Coast Sunday into Monday, and this one is poised to be the strongest one yet. This rapidly intensifying low-pressure system will direct a powerful atmospheric river squarely at the West Coast and deliver a fire hose of rich subtropical moisture into California.
In fact, some computer forecast model guidance suggests the storm could attain "double bomb" status, meaning it might double the 24-millibars-in-24-hours criteria for bombogenesis.
Snow levels will be low enough to blanket the Sierra Nevada in heavy snow Sunday into Monday as prolonged periods of heavy rain soak the coast and valleys of Northern and Central California. Strong winds are also possible for the coast and inland along mountain ridges.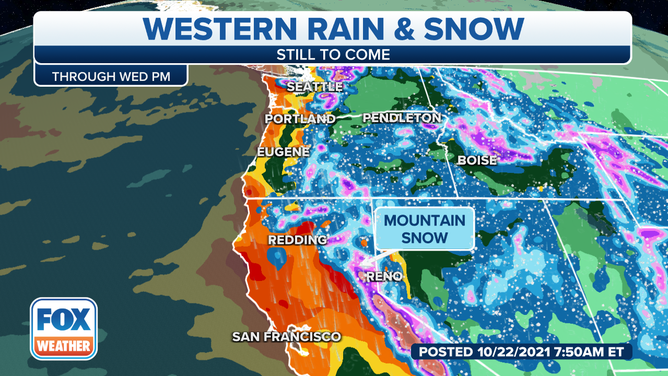 This impressive atmospheric river will yield heavier rain in a shorter amount of time, resulting in a heightened threat of flash flooding, mudslides and debris flows in the burn-scar areas of California. Urban and small stream flooding is also possible Sunday into Monday.
Flood Watches have been issued in Northern and Central California from Saturday evening through Monday evening to alert residents of the upcoming heavy rain event.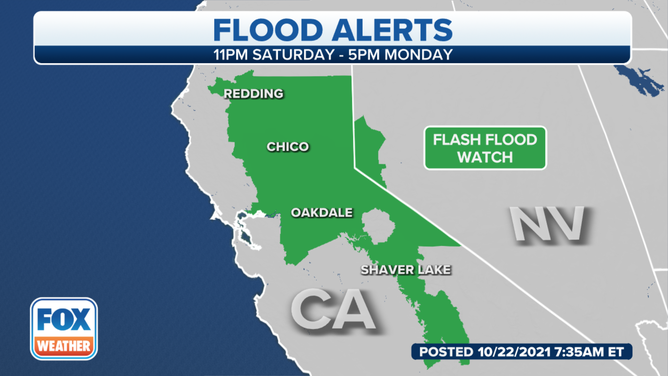 When combining rainfall from all three storm systems, many places from Northern and Central California to western Washington will pick up 4 to 8-plus inches of rain through Tuesday.
Isolated totals of 8 to 12 inches are possible in Northern California, where rain will be the most persistent Sunday into Monday.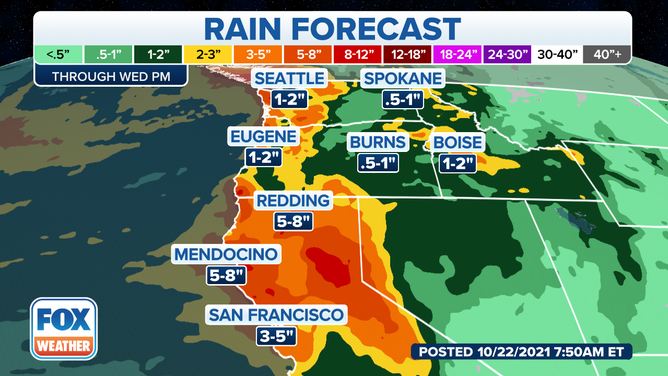 The higher elevations of the Sierra Nevada and Cascades will receive multiple feet of snow from this parade of Pacific storms. The National Weather Service said snow totals in excess of 2 to 3 feet are possible above 9,000 feet.  
Winter Storm Watches are in effect above 6,000 feet in the northern Sierra from Sunday morning through late Monday night.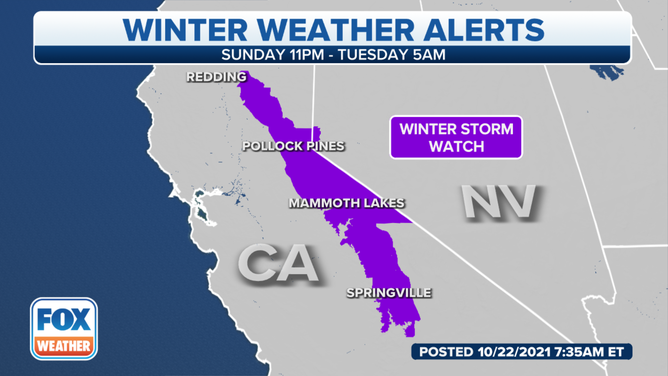 "The early-season heavy snow will make high Sierra hiking dangerous or impossible late Sunday into Monday," the NWS said. "Roads above 9,000 feet will become impassable."
Additionally, winds in the highest Sierra ridges could gust as high as 100 mph during the height of the storm, according to the NWS.