'Bomb cyclone' expected to undergo explosive development off West Coast
A former tropical storm is expected to put on quite a show of explosive development this week once its remnants interact with an active jet stream off the West Coast.
SEATTLE – A system in the western Pacific Ocean that was once Tropical Storm Namtheun last week is now expected to put on quite a show on its journey across the ocean. This week, an explosive development will occur as it interacts with an active jet stream as it approaches the West Coast. 
 Starting Wednesday, the storm will undergo what's known as "bombogenesis" -- defined as when a center of low pressure rapidly strengthens by a drop of at least 24 millibars in 24 hours. Once the storm has achieved the feat, it's known as a "bomb cyclone." 
This storm will easily qualify, with some forecasts showing a drop of 50 millibars! Wednesday morning analysis has this storm at 1001 millibars and is forecasted to drop to around 951 millibars by Thursday morning.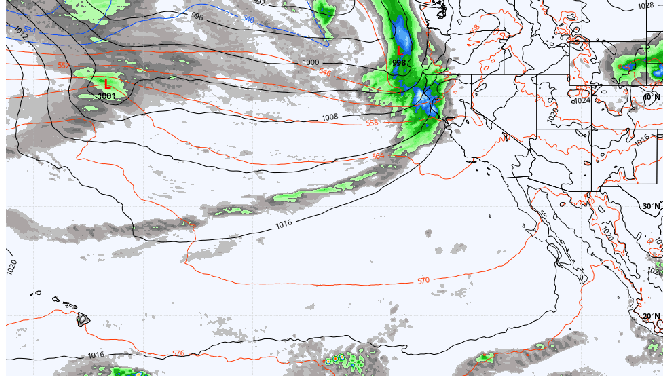 Those readings would put the storm's center pressure equal to a strong hurricane had it been a tropical system. However, it's important to remember that while this is like a tropical system, there are no tropical characteristics, meaning that it does not strengthen or organize like tropical systems typically do. 
Nonetheless, some forecasts show potential wind gusts around the heart of the storm, reaching 100 mph. 
"Bombogenesis is fairly common in the Pacific Ocean region because there is enough water surface area for strengthening. It has happened a few times on the Atlantic coastline; however, it is not as common there," said FOX Weather Meteorologist Stephen McCloud. "Forecasting this phenomenon is rather difficult to do especially when there are changes in forecast model runs. Most of the time, this happens in real-time situations. It is easy to pick out, especially on the satellite when you see bombogenesis occur."
 A storm of that strength making landfall along the West Coast would cause significant and widespread damage with high winds. But there is good news is after the storm undergoes bombogenesis Thursday, it will weaken and head north, staying well offshore.
 That path will keep it far enough from land to cause any significant wind issues. The storm will eventually sweep through the Northwest late Thursday but only bring a blustery day with periods of moderate rain and gusty winds that are routine for mid-October.
It's just one of many storms this week for the Pacific Northwest
The former tropical storm may be getting the headlines, but it's far from the only weather event to affect the Northwest this week.
The jet stream will remain active across the northern Pacific Ocean, steering at least five storms into the Northwest in rapid succession over the next 8-10 days, bringing only hours-long breaks in steady rains before the next system arrives. 
These rainy stretches are typical for late October into November as autumn progresses and the jet stream sags closer to the region. 
November is traditionally the wettest and stormiest month for western Washington and Oregon -- just three months removed from their driest period of early August -- and is when the Pacific Northwest truly earns its rainy reputation.