Travel forecast: Holiday travelers may see flight delays due to weather, staffing shortages
COVID, winter weather causing delays for airlines passengers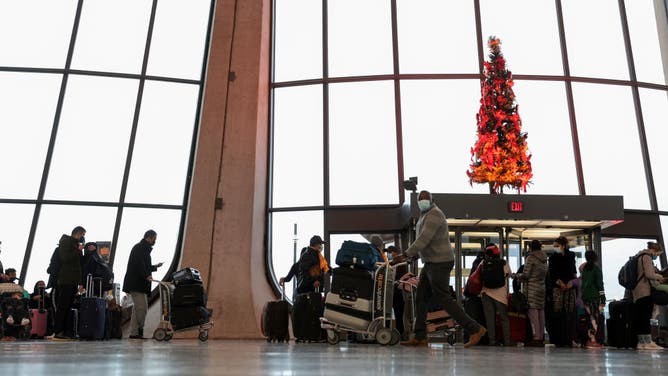 Airline passengers coming home after Christmas or making their way to New Year's celebrations this week could be affected by flight delays and cancellations due to winter weather and COVID-19 staffing shortages.
According to aviation tracker FlightAware.com, more than 718 flights had been canceled into or out of the U.S on Tuesday morning. More than 807 flights had been delayed by Tuesday.
According to the Federal Aviation Administration, a ground stop is possible after 10 a.m. at Chicago Midway and O'Hare international airports.
Delays are also possible due to cloud cover and snow in the western and northern U.S.
Snow is expected Tuesday across the Upper Midwest and Great Lakes. Meanwhile, rain is forecast to the south from the Mississippi and Ohio valleys into the mid-Atlantic.
The National Weather Service has issued winter weather alerts from the Colorado Rockies south into New Mexico and to the west into the Sierra Nevada, where snow continues to fall in the region.
Alaska Airlines wrote in an update Monday that its largest hub is at Seattle-Tacoma International Airport continues to be impacted by snow and freezing weather.
"We had to, unfortunately, cancel 214 mainline and regional flights," the airline said Monday. "With forecasts calling for bitter cold temperatures throughout the week and snow on Thursday more flights could be canceled throughout the next several days."
No significant delays were reported by the aviation website FlightAware.com as of Tuesday morning.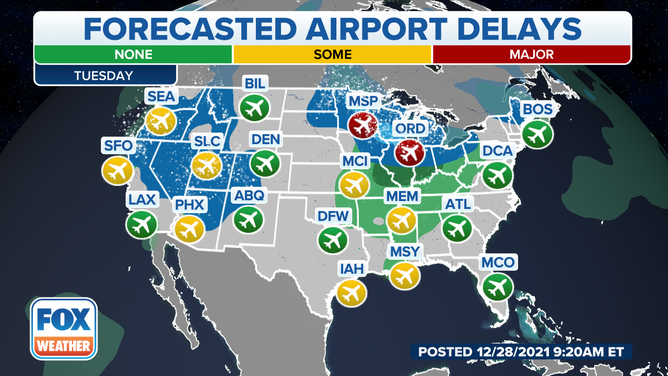 Ahead of the Christmas holiday, United Airlines and Delta Air Lines announced the cancellation of dozens of flights due to impacts from rising Omicron variant cases.
Delta said in a statement 161 out of 4,155 total mainline flights were canceled Sunday, and it expected to cancel 40 flights Monday. Delta canceled 375 mainline and connection flights on Christmas Day and 212 flights on Friday.
"Winter weather in portions of the U.S. and the omicron variant continued to impact Delta's holiday weekend flight schedule," Delta said in a news release.
Travelers should check with their airlines before heading to the airport.
DOWNLOAD THE FOX WEATHER APP FOR IOS AND ANDROID
Air travel is up compared to 2020, according to data from the Transportation Security Administration. 
On Sunday, the day after Christmas, TSA agents screened more than 2 million travelers at U.S. airports compared to 1.2 million on the same day last year. Between Dec. 22 and 23, the TSA screened 5.8 million travelers compared to 2.5 million during the same period in 2020.
Take a closer look below at the forecast for each day through the rest of the week leading up to New Year's Day.