Another round of winter weather ahead for Midwest, Northeast
Upper Midwest could pick up more than a half-foot of snow
Another round of winter weather could make for some treacherous travel from the Midwest into the Northeast on Tuesday into Tuesday evening.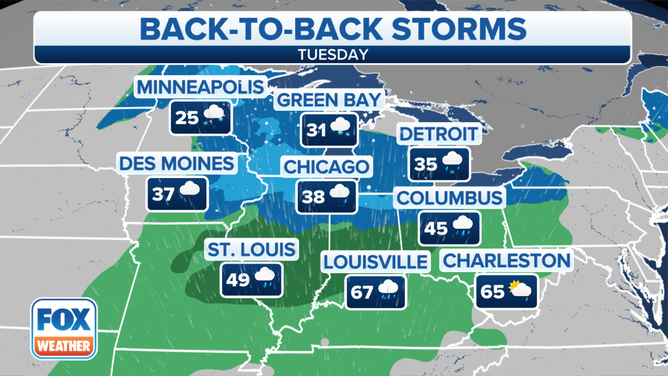 Two areas of low pressure will be developing in the Plains. To the north, snow is expected across the Upper Midwest and Great Lakes. Rain is expected to the south from the Mississippi and Ohio valleys into the mid-Atlantic.
Temperatures will be in the mid-20s in the Minneapolis area, while other areas like Green Bay, Detroit, Des Moines and Chicago will see temperatures in the 30s.
To the south, places like St. Louis, Louisville, Columbus and Charleston will see rain from this event.
The system will be moving into the mid-Atlantic and Northeast by Tuesday night. Areas of northern Pennsylvania, New York State and Massachusetts, will see some snow but will be a mostly rain event across West Virginia, southern Pennsylvania and New Jersey.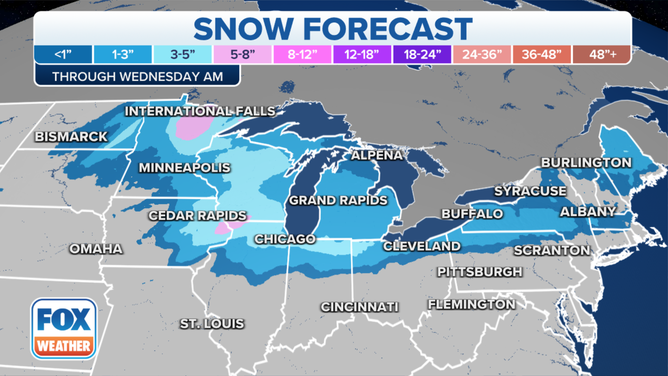 Parts of northern Minnesota could pick up more than a half-foot of new snow. The rest of the Upper Midwest and Great Lakes will likely see less than a half-foot of snow. The Northeast won't see a lot of snow with this system, as most areas will likely see less than 3 inches.