Snow continues to pile up across western US
Several feet of new snow expected in the higher elevations
Winter weather alerts remain in effect across the western half of the United States as snow continues to fall in the region.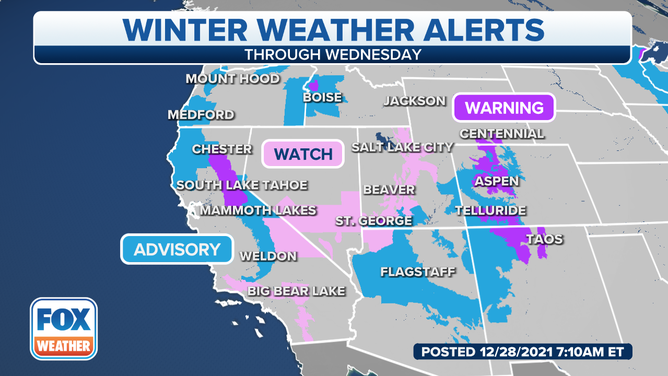 Those weather alerts extend from the Colorado Rockies south into New Mexico and to the west into the Sierra Nevada.
Most of the snow has been contained to the higher elevations, but lower elevations, like Seattle, will also see the flakes fly as storm systems continue to batter the region.
Snow will be falling starting on Tuesday morning from Montana into the Pacific Northwest and California. The snowfall will continue into Wednesday morning, where heavier snow will be seen.
More flakes will be falling in southern Idaho and southern Oregon by Wednesday afternoon. Another storm system will move into the Pacific Northwest Wednesday night into Thursday morning, bringing more snow to Seattle and Portland.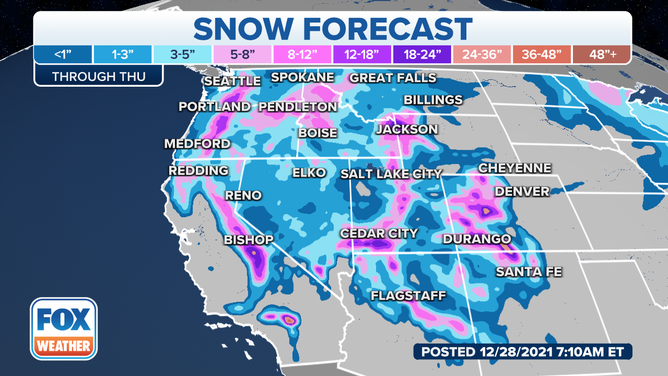 The Sierra Nevada Mountains could pick up another 3 feet of snow by Thursday. 
Elsewhere in the mountains from California to Washington, 1-2 feet is expected.
The Rockies will also bring a few feet of new snow, which is good news for skiers. But there's also the risk for avalanches.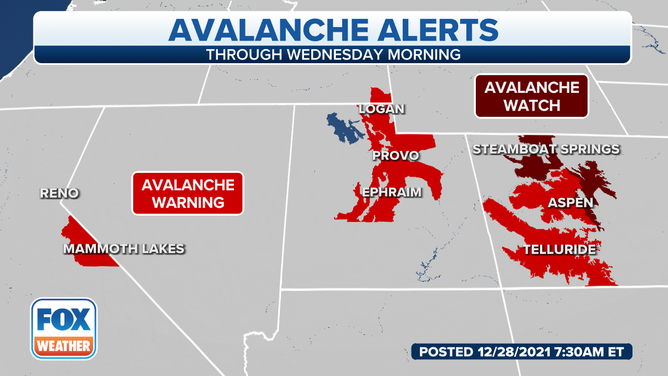 The National Weather Service in Salt Lake City said the Utah Avalanche Center had issued a Backcountry Avalanche Warning through 6 a.m. Wednesday. Anyone traveling in those areas is advised to be aware of conditions and prepare to take action.
LEARN: Dangers of avalanches, and how to stay safe on the slopes
An avalanche is a rapid flow of snow down a mountain, hill or any steep incline. They can trigger from below or from a distance.
Avalanches can happen anytime there is snow, but the risk is increased at certain times of the year.