Another one-two punch in store for water-logged California
California's snowpack is sitting just shy of all-time records. The addition of several of several feet of snow could propel the state to near all-time records.
A stretch of sunny, clear days over the Golden State may quickly end as the FOX Forecast Center warns of the potential for more rain and snow for parts of the West Coast, including water-logged California.
Forecast models show at least two storm systems will impact the region starting on Sunday and could last through mid-workweek.
The events will be similar to previous storm systems, but meteorologists say they will vary in severity.
"We've seen about three to four days of dry time. That's been good at letting the river levels kind of subside. But again, more rain is on the way," said FOX Weather meteorologist Brigit Mahoney.
YOSEMITE NATIONAL PARK TO REOPEN WEEKS AFTER BEING BURIED IN 15 FEET OF SNOW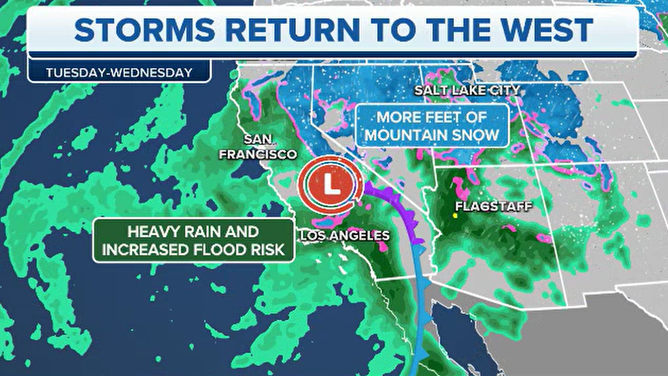 Tracking the first storm system
Plenty of clouds and showers are starting to move onto the West Coast and the pattern will intensify through Sunday.
Colder, higher cloud tops on the satellite animation usually indicate the potential for heavier precipitation.
As the storm system pushes onshore, wind gusts to 40 mph are possible along the coast with breezy conditions extending inland.
Multiple storm systems are expected to move through the West late this weekend into early next week.
(FOX Weather)
---
The National Weather Service has already issued a hoist of winter weather alerts for the higher elevations of the Sierra Nevada. Winter Storm Warnings are in effect for western slopes and the eastern are under a Winter Weather Advisory.
Elsewhere, floods alert are in active for several communities around the state that continue to deal with high river levels and snowmelt.
WHAT CALIFORNIA'S EXCESSIVE SNOW, RAIN MEAN FOR STATE'S RESERVOIRS
Forecast impacts from Sunday-Monday
The first of two storm systems is expected to arrive on Sunday and will impact Washington, Oregon and Northern California.
Forecast models show 2-3" of rain will be likely in valleys and a few feet of snow in the higher elevations, mostly above 5,000 feet.
The FOX Forecast Center warns that some flooding issues could arise where rain is the heaviest.
Due to this system being the weaker of the two future events, more widespread impacts are expected to occur during the second, more potent storm system.
Here's a look at the city rainfall forecast in California.
(FOX Weather)
---
Significant impacts from second storm: Tuesday-Wednesday
The FOX Forecast Center believes the second system to impact the West Coast will be more California-centered and be capable of producing heavy rain, snow and gusty winds.
Forecast models show impacts could start early on Tuesday and last through at least Wednesday.
"L.A. you could see 2 to 3 inches. San Diego, not quite as much, but 1 to 2 inches is possible. That's where we have the flooding threat all the way up through L.A., Bakersfield, Mariposa. It's not an extreme threat, but even just a little bit is of concern because many of these communities and many of the homes still reeling from some of the devastation for this season," said Mahoney.
Another series of storms to the region will only serve to increase the risk for flooding and widespread impacts.
(FOX Weather)
---
CALIFORNIA REELING FROM MUDSLIDES, WIND DAMAGE AFTER LATEST ATMOSPHERIC RIVER TO PUMMEL STATE
Where temperatures are cold enough, mostly above 3,500 feet, precipitation will fall in the frozen form, and there could be plenty of it.
The FOX Forecast Center expects snowfall totals could exceed four feet in the Sierra Nevada, likely making travel difficult to impossible in the higher elevations.
Interstate 80 and Highway 50 through mountain passages have been highlighted by officials as routes that will likely face significant disruptions during the height of the storm. 
The FOX Forecast Center expects snowfall totals could exceed four feet in the Sierra Nevada, likely making travel difficult to impossible in the higher elevations.
(FOX Weather)
---
In addition to the precipitation, winds are expected to be gusty, which could lead to power outages.
The series of storm systems will move away from the Golden State by Thursday, allowing for a few days of cleanup and recuperation before more rounds of wet weather return late in the forecast period.