Significant coast-to-coast storm to impact millions this week with snow, ice, flooding and severe weather
Cities such as Minneapolis, Chicago, Detroit and Buffalo are all in the expected to be in the impact zone during the workweek. Tuesday, Wednesday and Thursday appear to be the days with the most potential for disruptive travel impacts. Millions have the potential to see rain, snow, sleet and freezing rain north of Interstate 80.
The FOX Forecast Canter is tracking a significant, long-duration coast-to-coast storm that will sweep across the country this week bringing heavy snow, ice, flooding rain and severe weather to millions of Americans.
The winter weather is expected to start Monday in the West and quickly spread across the county, producing hazardous travel on Tuesday, Wednesday and Thursday for many communities north of Interstate 80.
"As we go into Wednesday morning, this is when things really begin to ramp up. Low pressure ejects out of the Rockies, and we start to see that snow belt extend across the northern tier from Nebraska, up across into Wisconsin," said FOX Weather meteorologist Jane Minar.
Unlike with a classic dip in the jet stream, where cold air reaches far south, the flow across the country will allow warm air to be present, keeping the southern tier of the U.S. quite warm and leading to a sharp boundary for who sees what form of precipitation.
Key storm points.
(FOX Weather)
---
Western U.S. up first
The impending winter storm system is expected to be part of a prolonged period of cold weather in the West.
The FOX Forecast Center expects 8-12" of snow to fall in the highest peaks of the Northern Rockies before the main storm system's impacts begin to be felt.
Starting late Monday, heavy snow will be possible in the Mountain West and rain will likely be in the lower elevations and along the Pacific coast.
Threats by day.
(FOX Weather)
---
Forecast models show the threat of snow lingering for much of the workweek, despite the main storm system exiting eastward.
Accumulations could approach 2 feet in some of the Cascades, and snowfall gauges could reach several feet in the Rockies.
Despite the center of the storm system exiting quickly to the east, the unsettled weather pattern is expected to remain in place through Friday.
IS SPRING COMING EARLY? NOAA PREDICTS LINGERING LA NINA TO IMPACT WEATHER ACROSS US THROUGH MAY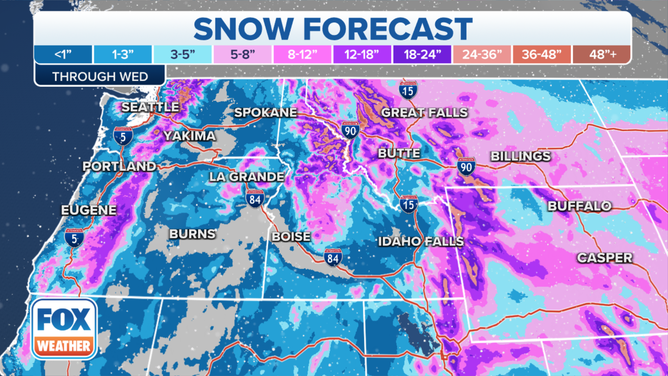 Midwest in bull's-eye for significant winter weather impacts
The FOX Forecast Center will be tracking temperatures closely to determine where the freezing line sets up.
Communities around the 32-degree mark could see a significant threat of ice accretion, with those to the north seeing heavy snow and those farther to the south seeing all rain.
Based on the latest forecast models, the freezing line appears like it will stretch from Des Moines, Iowa, to New York and parts of New England. With this outcome, major metros such as Chicago, Milwaukee, Detroit and Cleveland could see a threat of ice.
This set up puts cities such as Sioux Falls, South Dakota, Minneapolis and Green Bay in the colder zone, and they'll likely be the recipients of moderate to heavy snow.
Due to warm air being in place not too far away, communities in the central Mississippi and Ohio valleys are only expected to see liquid precipitation and possibly a lot of it. The FOX Forecast Center said 2-3" of rain could fall in these regions by Thursday.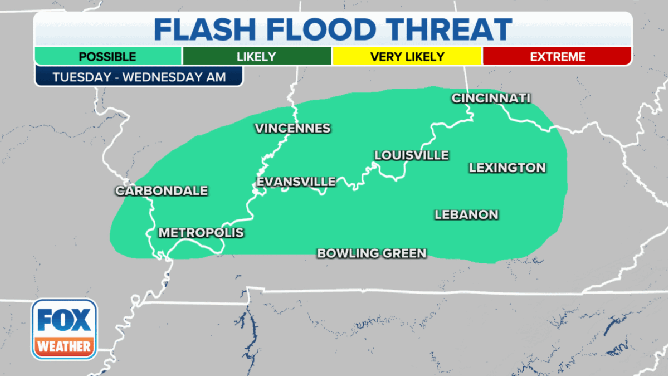 Because of the heavy rain, there is a risk of flooding.
On Tuesday and Wednesday morning, the flash flood threat will be centered across portions of northern Kentucky, southern, Illinois, southern Indiana and extreme southwestern Ohio.
A larger area will be at risk of flash flooding on Wednesday and Thursday morning.
Areas at risk stretch from northeastern Texas to the Mississippi and Ohio valleys.
Severe weather could also be an issue on Wednesday.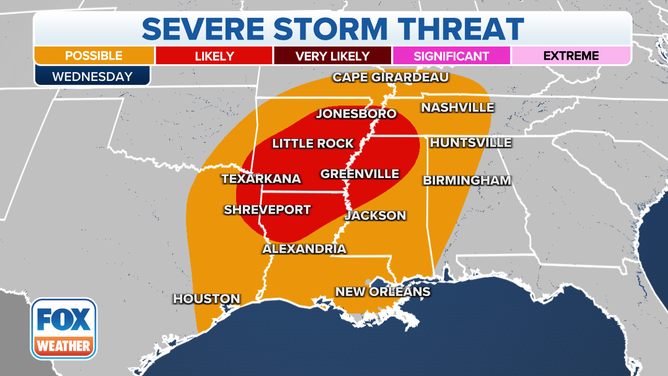 The FOX Forecast Center says there is the risk of severe weather from West Texas, including the Houston area, across the Mississippi Valley and into portions of the Tennessee Valley.
However, areas seeing a higher risk of severe thunderstorms on Wednesday include portions of northern Louisiana, most of Arkansas, northwestern Mississippi and parts of southwestern Tennessee.
HOW FORECASTERS US THE WINTER STORM SEVERITY INDEX TO WARN OF HAZARDOUS WEATHER
Northeast heavy ice potential
As the storm system traverses the country, its precipitation shield is expected to start impacting Northeast states on Wednesday.
Due to warm air in place, not all precipitation is expected to fall in the frozen variety, but many communities in New York and southern New England could see significant ice accretions.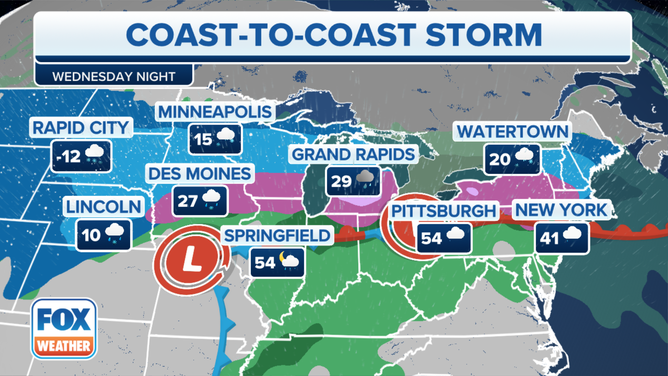 Generally, ice accretions of less than a quarter inch are considered to be a nuisance, but totals that close in on a half an inch or more can lead to widespread problems such as power outages and tree damage.
"We could see a little bit of snow across the interior portions of the Northeast, but it won't be good enough for that I-95 corridor. We are anticipating just too warm of temperatures," said Minar.
In addition to the threat of rain, snow, sleet and freezing rain, the storm system will also help knock temperatures below average for millions in the country's northern tier.