Tropical Storm Estelle in final hours as it fizzles in Eastern Pacific
Estelle is expected to last until about Thursday when forecasts show the storm will weaken to a remnant low. It remains no threat to land.
Tropical Storm Estelle is in its final hours as a named storm in the Eastern Pacific as what was once Hurricane Estelle days ago off the southwestern Mexico coast is about to become nothing more than a remnant area of low pressure. 
HOW TO WATCH FOX WEATHER ON TV
As of the most recent reports from the National Hurricane Center, Estelle has sustained winds of around 40 mph and is 920 miles from the southern tip of Baja California.
Tracking Estelle: Forecast Cone
 
---
Estelle is spinning off to the west/northwest at 13 mph, and the National Hurricane Center said that movement is expected to continue as the storm lives out its final hours.
Forecasters said Estelle will continue to weaken and is expected to be nothing more than a remnant low by later Thursday. 
WATCH: COLOSSAL WAVES FROM HURRICANE DARBY REMNANTS CRASH OVER 2-STORY CONDO IN HAWAII
Tracking Estelle: Pacific Water Temperatures
 
---
HOW ARE HURRICANES RATED? THE SAFFIR-SIMPSON HURRICANE WIND SCALE EXPLAINED
Once Estelle is no longer a trackable feature, meteorologists will continue to monitor the basin for the next chance of tropical cyclone development. 
Forecasters are monitoring an area of disorganized thunderstorms well off the coast of Central America and are giving it just a 10% chance of forming into a tropical system in the next two days and a 30% chance of eventually developing into a formal tropical system by the weekend, though again its track does not appear to threaten land. If the system develops into a tropical storm, it would be named Frank.
Activity in the Eastern Pacific has far outpaced the Atlantic basin because of a lack of sinking air and plenty of disturbances that have taken advantage of an uptick in warmer sea surface temperatures.
The hurricane season in the Eastern Pacific runs through November 30.
CLICK HERE TO GET THE FOX WEATHER UPDATE PODCAST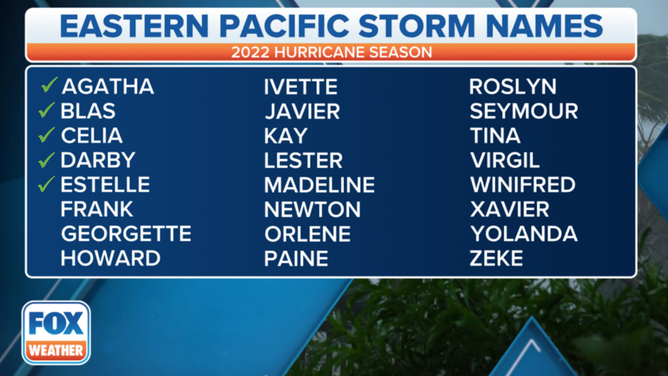 Be sure to download the FOX Weather app to stay up-to-date on everything in the tropics this hurricane season. The free FOX Weather livestream is also available 24/7 on the website and app and on your favorite streaming platform. The FOX Weather Update podcast also provides weather information for the entire country.
FOX Weather Hurricane Specialist Bryan Norcross also has a podcast, Tracking the Tropics with Bryan Norcross, available now on FOX News Audio. You can download it on your device by clicking here.