Softball-sized hail reported in Arkansas on Friday
There were no initial reports of fatalities
JONESBORO, Ark. – A round of severe storms triggered warnings and even tornado emergencies in northern Arkansas on Friday, leaving behind damage and softball-sized hail.
National Weather Service meteorologists warned some of the storms were life-threatening and capable of producing catastrophic damage as they made their way east and southeastward through the state.
A storm spotter reported a large tornado was on the ground near the town of Hardy, just after 7 p.m. CDT.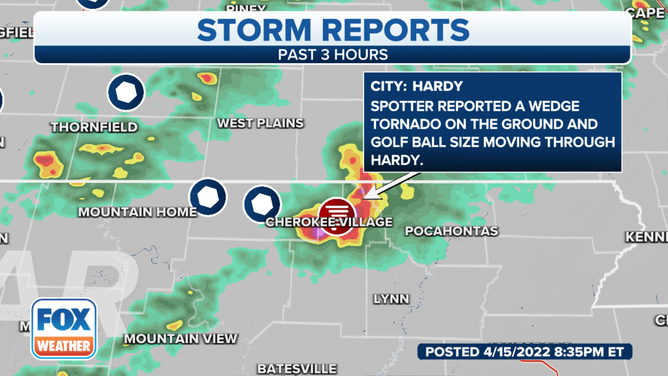 HOW TO WATCH FOX WEATHER ON TV
Not far away, residents in Walnut Ridge took photos of hail covering the ground, which resembled a scene out of a snowstorm.
Hail was a common sight throughout the northeastern part of the state, and the NWS said they even received a report of ice the size of softballs.
Because of the timing of the storms, damage reports were limited but identified trees, roofs and vehicles as seeing the biggest impacts from the storms.
PowerOutage.US reported nearly 4,000 electric outages centered around Fulton, Sharp, Lawrence and Craighead counties.
HOW METEOROLOGISTS DETERMINE IF A TORNADO IS TO BLAME FOR STORM DAMAGE
National Weather Service meteorologists will likely survey damage paths to determine if tornadoes were to blame for the damage and the strength of the twisters.
There were no initial reports of fatalities from the severe weather.
The storm system that produced the severe weather is expected to keep the South unsettled through the weekend, with multiple rounds of showers and storms possible through the Easter holiday.