'We started hearing sound that wasn't normal': Survivors recount deadly EF-4 tornado
Seven people died in the storms while some survivors said they made it to safety just moments ahead of the tornado.
WINTERSET, Iowa -- Multiple destructive tornadoes roared across Iowa Saturday, including a monster EF-4 tornado that killed six people and sent neighborhoods scrambling for safety as the storm approached.  
Some just barely made it in time.
"We were watching TV and knew storms were coming," Pete Sullivan, whose house suffered damage in Winterset, Iowa, told FOX News. "We went out to the little deck off our bedroom…and then we started hearing sound that wasn't normal."
He went across the home to another larger deck to check.
"Got out there, and… (tornadoes) really do sound like a freight train," he said. "I ran inside, got the dogs, and as we were heading downstairs, the deck (was hit). I got through the kitchen, and a tree fell on the house and we made it downstairs just in time."
Josie Beeson, 17, also narrowly escaped the tornado's wrath, though one of her pets didn't make it.
"We were trying to get my dog inside; we barely made it to the basement," Beeson said. "I had just gotten through the door to the basement when (the tornado) hit the house."
Unfortunately, her dog didn't survive.
"He ran outside right before (the tornado hit)," she said.
Jenn and Adam O'Neil of PepperHarrow Farm in Winterset said they assumed the stormy weather would be similar to the stormy days that frequently blow through.

They did retreat to their basement when the Tornado Warnings were issued but said they were downstairs chatting and laughing, thinking the storm was just going to blow over.
"It's not unusual for these storms to happen," Adam O'Neil said. "It happens each year -- multiple times each year."
But this storm made a direct hit.
"We literally felt the air and dirt coming into our basement and we literally thought our house was going to fly away," Jenn O'Neil said.
The tornado caused damage across their farm, though their home was spared from significant damage.
The National Weather Service storm survey team found the tornado was on the ground for nearly 70 miles while estimating the tornado's peak wind speed at 170 mph -- the first EF-4 in that area since Oct. 2013.  The 69.5-mile tornado track is the longest in the state since a tornado in June 1984 traveled for 117 miles.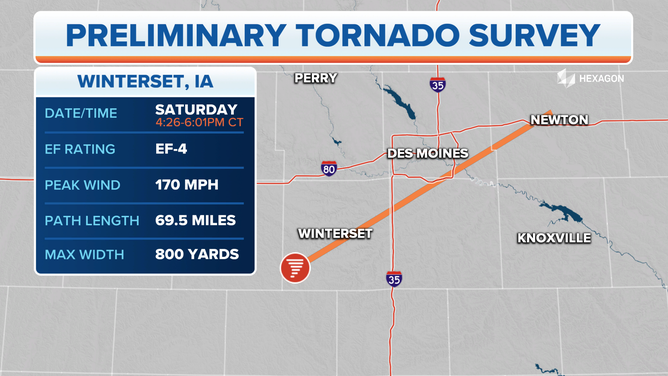 LEARN: How are Tornadoes Rated? The Enhanced Fujita Scale Explained
"Tornadoes are powerful -- it's amazing what they can do in a matter of 30 seconds," Sullivan said. "Been through the derecho, but that lasted 30 minutes… this was 30 seconds."
Eight tornadoes have been confirmed so far, with an overall death toll of seven, including two children and at least four injured. Madison County Emergency Management says that at least 25-30 homes were damaged from the storms.
To make matters worse, heavy snow moved into the region in the wake of the tornadoes, leaving wreckage covered in 3-5 inches of snow and slowing recovering efforts to a crawl.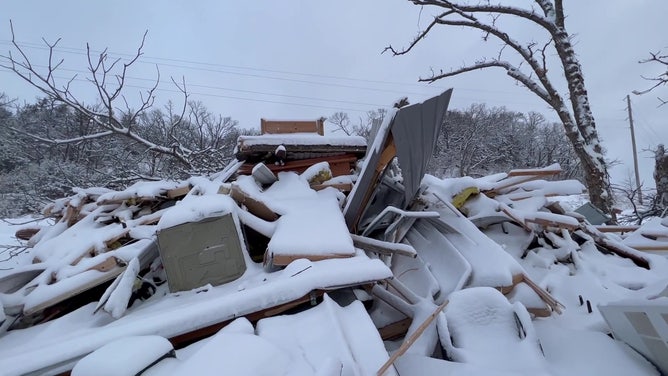 The survivors say their communities are strong, and they'll bounce back.
"People are asking us how we're going to adjust and how we're going to start again," Jenn O'Neil said. "It's one foot in front of the other; we're going to bite off one thing at a time and we're going to rebuild."
In the meantime, future storms will never feel the same.
"The impact of how close it was, was very real for us; we know we were very lucky to have lived," Jenn O'Neil said. "It was very scary. And I might have a little of trauma for that for storms coming through (in the future)."