EF-3 tornado causes extensive damage to a Pfizer medicine processing facility in North Carolina
Meteorologists with the National Weather Service said the 600-yard wide tornado formed east of Raleigh and impacted communities along I-95. It produced damage associated with winds estimated to be at least 150 mph. Sixteen injuries were reported and no deaths.
DORTCHES, N.C. – A strong tornado that tore across central North Carolina Wednesday and left a nearly 17-mile-long trail of significant damage, including a large pharmaceutical research facility, was the first EF-3 tornado ever observed in the state in the month of July.
Meteorologists with the National Weather Service said the 600-yard-wide tornado formed east of Raleigh around 12:25 p.m. and spent the next 33 minutes sweeping through communities along I-95 near Rocky Mount. A storm survey team found the twister produced damage associated with estimated winds of at least 150 mph, giving the tornado the EF-3 rating on the Enhanced Fujita Scale.
No one died, but there were 16 injuries.
North Carolina Pfizer facility severely damaged in tornado
The tornado severely damaged a Pfizer facility in Rocky Mount, according to company officials.
"We can confirm that the Pfizer Rocky Mount facility was damaged by the tornado," the company said in a statement. "At this point, there are no reports of serious injuries. We are assessing the situation to determine the impact on production. Our thoughts are with our colleagues, our patients, and the community as we rebuild from this weather incident." 
The plant is a major employer in Nash County.
On Thursday, Pfizer CEO Albert Bourla shared a statement on Twitter saying that despite the damages to the building, all employees survived, and no serious injuries were reported.
"Our colleagues at the site do incredibly important work manufacturing sterile injectable products used by hospitals and health care providers around the world," Bourla continued. "We already have teams on the ground assessing the damage and supporting our colleagues, and we are working urgently to determine the best way to get back online as quickly as possible, while ensuring the safety of our people."
According to HealthCare Ready, the Rocky Mount Pfizer location provides about 25% of sterile injectables used in U.S. hospitals and is one of the largest sterile injectable facilities in the world. The Nash County Sheriff said he received reports that 50,000 palettes were damaged in the storm.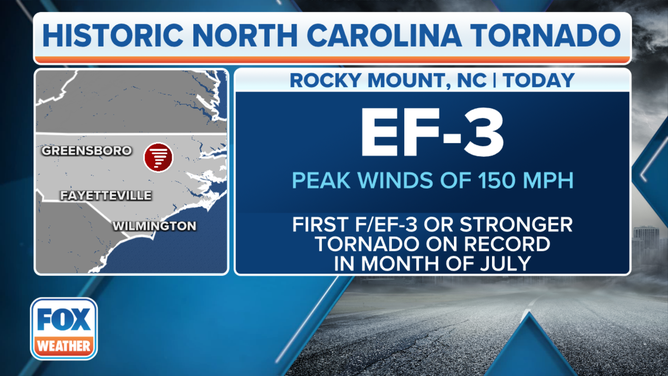 The facility handles a wide range of medical products, including anesthesia, therapeutics, anti-infectives and neuromuscular blockers.
Disaster response nonprofit HealthCare Ready will be at the plant surveying the extensive damage.
Interstate 95 takes a direct hit by tornado
Several dozen other structures sustained damage from the EF-3 tornado. An initial count in Nash County had 89 homes and buildings damaged, county spokesperson Anthony Edwards told FOX Weather. However, that count could go higher as more damage assessments continue.
The Nash County Sheriff's Office said it received numerous reports of trees and debris covering roadways, including blocking Interstate 95 as the tornado swept by. A 5-mile stretch of the interstate was closed for several hours as crews with the North Carolina Department of Transportation worked to clear several downed trees.

At least one shelter was opened at a local college for storm victims.
During the height of the storm, at least 1,500 outages were reported in Nash and Edgecombe counties, according to data from PowerOutage.us.
HOW YOU SHOULD PREPARE FOR A TORNADO
More severe thunderstorms possible Thursday
As Dorchester and Rocky Mount areas clean up Thursday, they'll need to remain weather-aware. More thunderstorms that could reach severe levels are forecast to sweep through late Thursday evening into Thursday night. 
Current Severe Weather Forecast for Thursday
(FOX Weather)
---
While the tornado risk is low, damaging wind gusts and large hail is possible.