Tornado damages 4 homes in Nebraska early Monday
Emergency managers said four homes in Grand Island, Nebraska, sustained EF-1 tornado damage just before 1 a.m. Monday
GRAND ISLAND, Neb. – Four homes were damaged after a tornado moved through Grand Island, Nebraska, early Monday.
Emergency managers said homes in the southeastern part of the city sustained tornado damage just before 1 a.m. Monday.
HOW TO WATCH FOX WEATHER ON TV
The National Weather Service in Hastings conducted a storm survey Monday morning and found that the EF-1 tornado traveled nearly 10 miles in Hall County and had winds of up to 110 mph. 
"Along its path, it damaged over a half dozen homes, including windows blown out,shingle and siding damage, and at least one home with part of its roof deckingtorn off," forecasters said after the survey. "Other outbuildings were destroyed, including a 100+-year-old barnin Merrick County."

There were reports of considerable damage to a home, a garage separated from a house and power lines down within the area. Emergency managers say a significant number of trees were down too.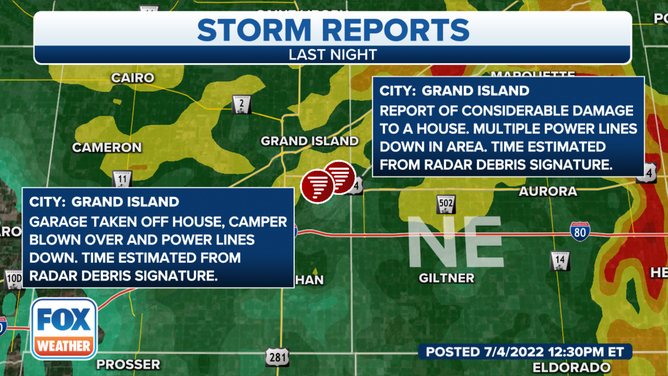 Nobody was injured in the storm.
TORNADO SAFETY: HOW TO IDENTIFY THE SAFEST PLACES INSIDE YOUR HOME
Be sure to download the FOX Weather app to track any storms in your area and receive potentially life-saving weather alerts issued by the National Weather Service. The free FOX Weather livestream is also available 24/7 on the website and app and on your favorite streaming platform. The FOX Weather Update podcast also provides weather information for the entire country.