Tornado damage to Kentucky agriculture will impact farms outside path of destruction
Donations, supplies needed to help Kentucky agriculture industry rebuild
Before the sun came up, showing the total catastrophic damage in Kentucky along the more than 200-mile scar left by a tornado outbreak, farmers were trying to help their neighbors.
After nightfall on Dec. 10, a severe weather system churned out at least 50 tornadoes across the mid-South, destroying homes, full communities and causing widespread damage to farmlands and livestock facilities.
Kentucky and Arkansas agriculture department officials told FOX Weather the extent of the damage and the lasting impacts are still being assessed as insurance adjusters are on the ground.
Farmers along the wreckage didn't wait for help to arrive. They got to work.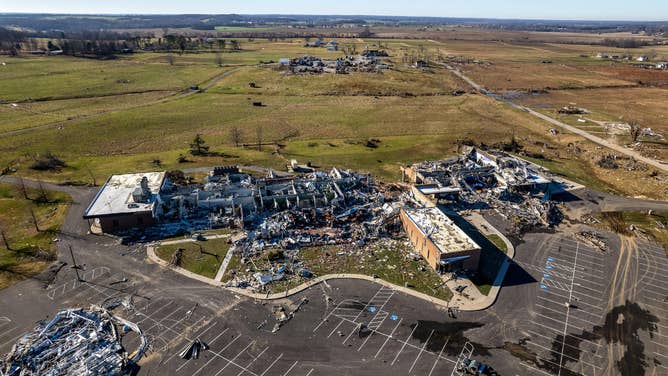 Kentucky Lt. Gov. Jacqueline Coleman described a Taylor County cattle farmer who was in the process of taking 40 cattle to the stockyards after the tornadoes ripped out fences and pulled the roof of his barn. She said he felt he had no choice but to sell all his cattle. 
"All of his grain had been exposed, the feed had been exposed, and so he had nothing to feed the cattle with and couldn't even be certain that he could keep them enclosed," Coleman said.
She described how the same farmer went to his neighbors and pulled not one but two families from the rubble, saving their lives.
Kentucky Department of Agriculture commissioner Dr. Ryan Quarles said those stories are not unique.
"Farmers are resilient people, and they're going to take care of others before they take care of themselves." 
Another blow to the agriculture community is the loss of the University of Kentucky Research and Education Center, which took a direct hit.
Aerial footage of UKREC shows debris on top of tractors and pickup trucks that look like they were picked up and thrown around like ragdolls.
Despite the traumatic devastation, UKREC staff worked after the storm to secure and care for animals, and the Center continues providing resources and aid to the agriculture community. UK President Eli Capilouto said the university is committed to rebuilding the facility.
Meanwhile, farmers not in the 12 Kentucky counties impacted have been loading up their trucks and heading west with chainsaws, crews and fencing supplies.
Quarles said damage assessments are still underway, but teams on the ground face unique challenges because of the sheer scale of the damage zone.
"The storm basically ripped through farms from the Mississippi River all the way to basically Louisville, Kentucky," Quarles said. "We have dead cattle and barns down 200 miles away from when this tornado touched down."
The Kentucky Department of Agriculture is working to prioritize resources, rebuilding fences to begin sorting cattle and covering grain silos with tarps to prevent further spoilage.
Poultry industry is among the hardest hit 

Graves County, one of Kentucky's hardest-hit areas, suffered significant injuries to agriculture businesses that will have implications for the rest of the region.
In Mayfield, adjacent to the candle factory where at least eight died, a tornado destroyed a hatchery. The facility lost about 8 million eggs that would supply almost 200 farms in the region.
"Kentucky is known for bourbon, racehorses and Kentucky Fried Chicken, and of those three our poultry industry is the largest industry in Kentucky and perhaps the hardest hit industry due to these storm systems," Quarles said.
RELATED: Mayfield tornado upgraded to EF-4, NWS says
Also, in Graves County, a feed mill that supplied poultry farms with grain was hit by a tornado. Quarles estimates the mill won't be producing for eight months.
"Even those farms that had no damage, they're going to be affected by this to supply chain disruptions," the commissioner said.
An extensive effort is underway for animal safety, and welfare after about 30 chicken barns collapsed or are beyond repair.
Quarles said a lot of cattle are still missing. Kentucky is the largest beef cattle supplier, east of the Mississippi River. Less than a week after the destruction, at least 200 cattle were confirmed dead.
"We expect that to be a conservative estimate, but the path of destruction simply cannot be underestimated the utter devastation across Kentucky," Quarles said.
MORE COVERAGE: New pictures, video show tornado damage in Mayfield, Kentucky
The department is working with the U.S. Department of Agriculture to ensure animal welfare comes first.
The Department of Agriculture is also feeding people displaced by the widespread tornado event.
A food bank in Graves County was destroyed, Quarles said. The Department of Agriculture works with school systems and food banks and pantries to keep Kentuckians fed.
Help for Kentucky farmers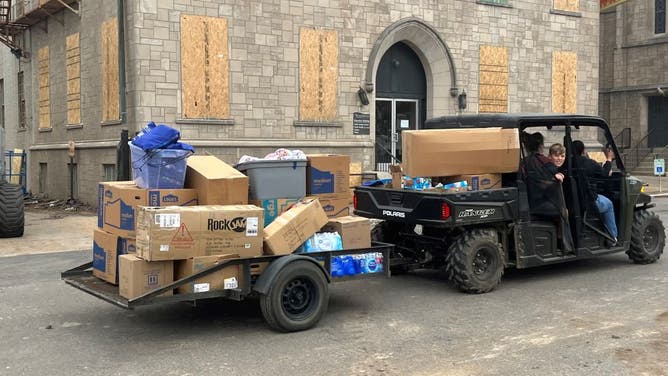 Donations of farm supplies and offers to provide services have been pouring in, but there is still a long way to go.
The Kentucky Department of Agriculture rolled out a resource page for the farming community in response to the tornado. This tip sheet includes instructions for immediate actions after the storm.
Crop and livestock producers who need immediate help should contact their local University of Kentucky extension office.
Quarles said farmers should report their losses to the USDA Farm Service agency.
"We're asking our farmers to document everything with pictures of losses, whether its animal loss or structure loss," Quarles said.
The department partnered with the Kentucky Farm Bureau Federation to launch a fund for farmers impacted by the tornado outbreak. The money collected will be administered through grants.
To donate to the Kentucky Agriculture Relief Fund, click or tap on this link.
Crossroads ahead for some farmers 
Beyond rebuilding businesses and communities, Quarles said Kentuckians are experiencing physical and emotional exhaustion.
"We want to let people know that we're here for you and that this is not a situation that can be cleaned up and rectified in the few days, that this is probably a couple of years worth of rebuild," the commissioner said.
Some producers will be made whole again and are working to return to the crops and livestock they have been growing and raising. However, Quarles said this could leave other farmers at a "crossroads."
"If their major livestock facilities are completely wiped out, they may have to make a hard choice about what to do next to rebuild, or you go a different direction."
Quarles said it's too early to give a timeline for recovery.
"Kentucky agriculture is going to survive this, and I think this is an opportunity for us to come back stronger than ever."