Flight cancelations, delays disrupt 4th of July travelers
By Monday afternoon, more than 1,200 commercial flights have been delayed
Millions of people traveling for the Fourth of July holiday are facing busy airports, flight delays and cancellations due to a pilot shortage and even some weather impacts. 
According to the AAA, more than 3.5 million people are expected to fly over the weekend. 
HOW TO WATCH FOX WEATHER ON TV
By Monday afternoon, 1,400 commercial flights have been delayed, and nearly 200 flights were canceled, according to FlightAware.com. Travelers in New York City, Chicago and Los Angeles faced the worst airport delays, according to the flight tracking site.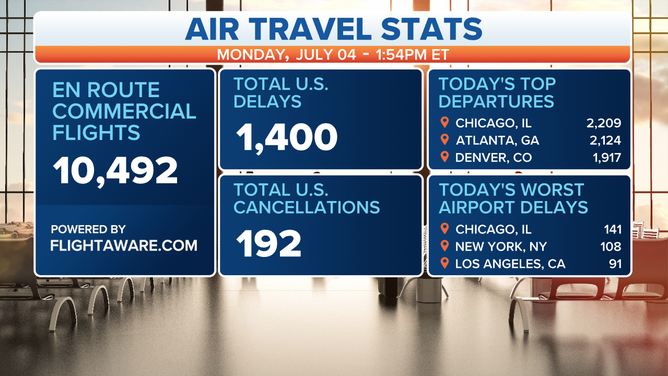 Even airports more than 100 miles away from the severe weather could be impacted if air routes are blocked by thunderstorms in their path. 
During the July Fourth weekend, the AAA forecasts more than 42 million will drive versus only 3.55 million who opt to fly.
FALLING GAS PRICES WELCOME NEWS FOR FOURTH OF JULY TRAVELERS LOOKING TO AVOID AIRPORT DELAYS
AAA said those opting to drive are concerned about recent issues with air travel like long delays and canceled flights due to staffing shortages and poor weather conditions.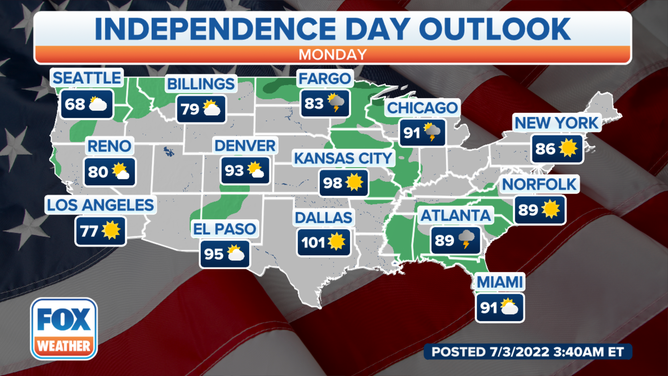 Pre-pandemic travel expected
Despite drivers outnumbering air travelers this holiday, airports across the U.S. were packed this holiday weekend.
Miami International Airport is one of the busiest in the country. The airport expects to see 145,000 travelers daily through the holiday weekend.
CLICK HERE TO GET THE FOX WEATHER UPDATE PODCAST
By Friday afternoon, MIA parking garages were full.  
Chicago O'Hare International forecasts more than 1.6 million travelers through Monday, which is expected to be the busiest holiday weekend since the pandemic began. 
Across the U.S., airport officials were warning travelers to plan ahead and get to the airport three hours before their flight. 
CLICK HERE TO GET THE FOX WEATHER UPDATE PODCAST
Be sure to download the FOX Weather app to track any storms in your area and receive potentially life-saving weather alerts issued by the National Weather Service. The free FOX Weather livestream is also available 24/7 on the website and app and on your favorite streaming platform. The FOX Weather Update podcast also provides weather information for the entire country.