The sun won't set after 7 p.m. again until March 2022
Many cities have to wait nearly 6 months for the next sunset after 7 p.m.
You know fall has arrived when darkness sets in shortly after dinner.
Many cities across the United States had their last 7 p.m. sunset of the year already. For those still watching the sun dip below the horizon after 7 p.m., your time is coming soon too.
It's the sad reality of late September and October: Days get shorter and nights grow longer as the Northern Hemisphere continues its annual descent toward the shortest day of the year on the winter solstice in December.
New York City saw its last 7 p.m. or later sunset back on Sept. 17. Seattle reached this milestone just a few days ago, on Sept. 25.
If you're one of the lucky folks who can brag about your sunset still holding off until after 7 p.m., your time to "shine" is also running out.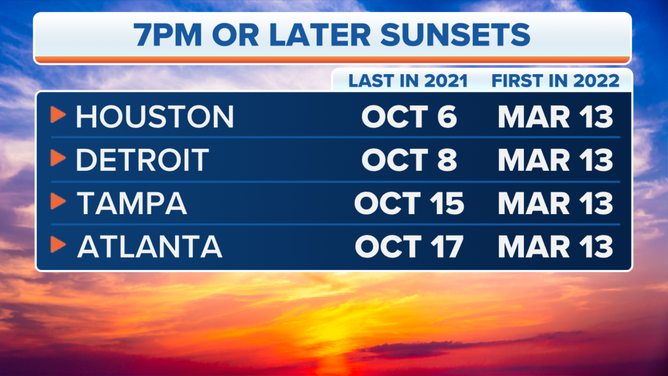 Houston, Detroit, Tampa and Atlanta are just a few examples of cities that will start having sunsets before 7 p.m. over the next few weeks.
However, you might notice that the cities on the graphic above will all have their first 7 p.m. sunset of 2022 on the same day: March 13.
That's because Daylight Saving Time – when we turn the clocks ahead one hour – returns that day. In many parts of the U.S., the sun will set around 6 p.m. on March 12, then around 7 p.m. on March 13 because of the time change.