Texas, Oklahoma have 'enhanced risk' of severe storms this weekend
More severe storms are possible on Tuesday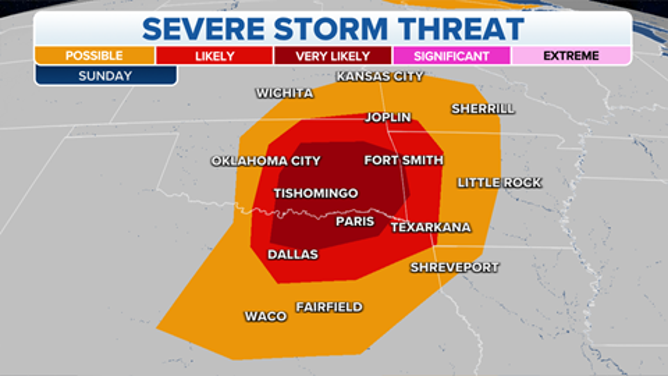 Forecasters at NOAA's Storm Prediction Center said portions of Oklahoma and Texas are under an "enhanced risk" for severe weather on Sunday, and more storms are possible early next week.
The SPC said a cold front will be sweeping across western portions of the Southern Plains and could reach parts of central Oklahoma and North Texas Sunday afternoon.
Dew points will be in the mid- to upper 60s, and that combined with daytime heating will aid in thunderstorm development by late afternoon.
Initial storms could quickly become supercells, and the SPC said large hail and damaging winds are expected.
There's also a risk for tornadoes in the area.
The risk for severe weather will continue into Sunday evening and begin to diminish into the overnight hours.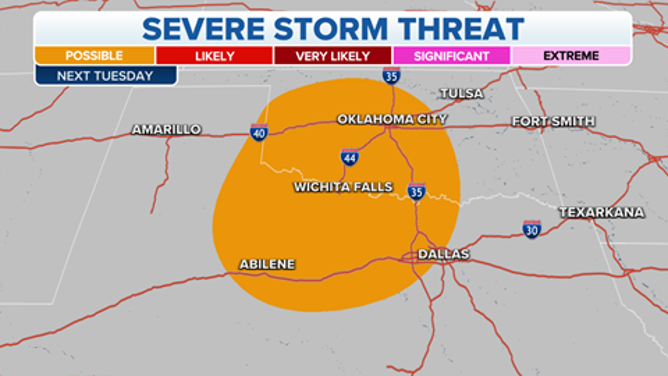 Then again Tuesday, there is another risk for severe weather.
A low-pressure system in the area of northern Arizona will combine with an advancing cold front. That could produce more severe weather in areas of southwestern Oklahoma and northern Texas.
The timing and intensity of the storms will depend on the speed of the advancing systems. Still, the SPC said conditions would be supportive for severe and rotating thunderstorms.