Texas urges residents to conserve energy after generating stations go offline during heatwave
The summerlike heat will send the mercury into the 90s and 100s across the Lone Star State
AUSTIN, Texas – The combination of summerlike heat and the temporary loss of energy from six generating stations has the agency responsible for managing Texas' power grid warning residents to conserve electricity through the weekend.
The Electric Reliability Council of Texas (ERCOT) sent out a notice Friday evening urging residents to set their thermostats to 78-degrees or above and avoid using large appliances during peak usage hours.
ERCOT said six power generation facilities tripped offline during the afternoon, which resulted in the loss of 2,900 MW of electricity.
The council believes there is enough electricity generation through the use of reserve resources to get the Lone Star State through the heatwave but are encouraging residents to cut back on usage over the weekend, especially during the hours of 3 p.m. to 8 p.m.
HOW TO WATCH FOX WEATHER ON TV
During the afternoons, temperatures are usually at their warmest, and, for the next several days, an ongoing heatwave will push the mercury to near or above record territory for millions of Texans.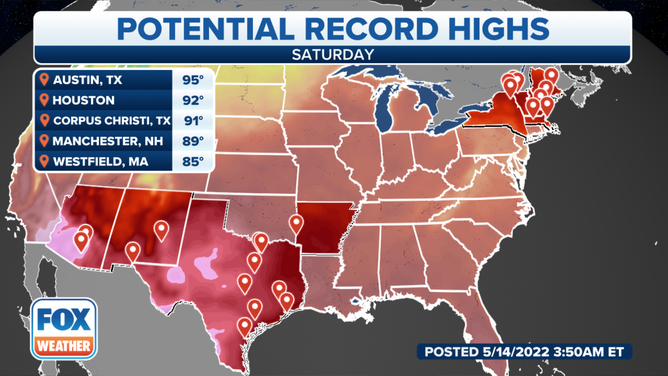 Nearly the entire state will see temperatures in the 90s, and spots could reach 100 degrees through the weekend and into the workweek.
ERCOT has been the subject of reviews and widespread criticism after a winter storm disrupted the power grid, leaving some residents without heat for days.
Since the event, ERCOT leaders have said work has made the grid more reliable and better able to handle disruptions.
On Friday, the demand for electricity was well below the agency's all-time usage record of 74,820 MW.
Demand peaked at around 66,000 MW during the afternoon as Texans cranked up their air conditioners and tried to stay cool in the record heat.