Temperatures to plummet in eastern half of US as weekend nears
Temperatures will swing from above average to 10 to 20 degrees below average, with highs only in the 30s by Thursday and Friday
After unseasonably warm temperatures made a return to start the week, cold air is now rushing into the Plains for the second half of the week behind a big storm tracking across the country.
Temperatures will swing from above average to 10 to 20 degrees below average, with highs only in the 30s by Thursday and Friday. As temperatures drop behind the cold front, the season's first snow is expected in Minnesota and the Dakotas.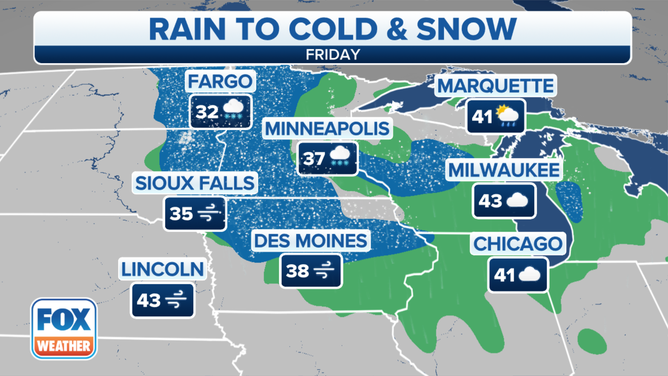 As the low-pressure system tracks through the upper Midwest, an area of high pressure will develop back to the west over the Northern Plains and Rockies. Strong winds are going to become an issue due to the orientation of these two systems.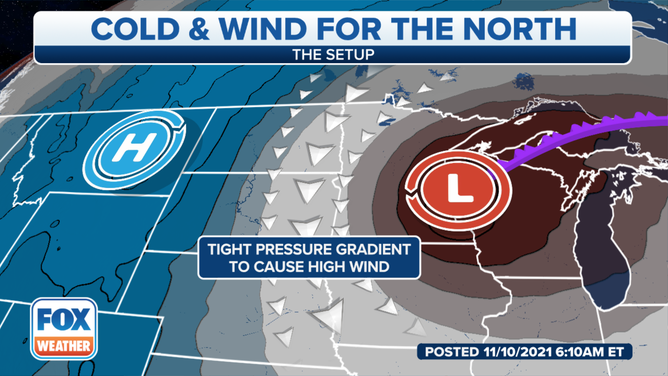 With low-pressure systems, the winds rotate counterclockwise, while with high-pressure systems, the winds rotate clockwise. These opposing wind circulations will create a very strong pressure gradient, kicking up strong winds as cold air filters into the central U.S. from Canada.
COAST-TO-COAST STORM TO BRING SNOW, SEVERE STORMS AND STRONG WINDS TO PLAINS, MIDWEST AHEAD OF VETERANS DAY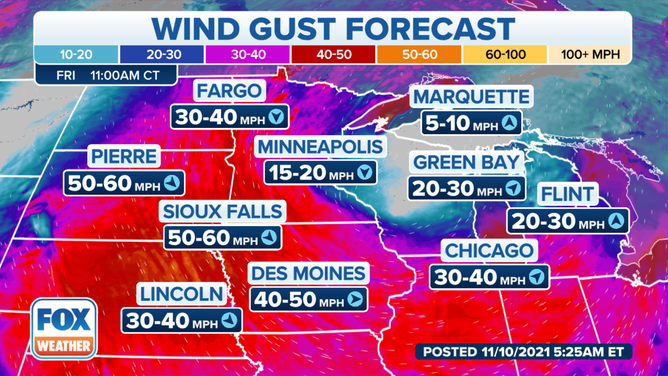 Gusty winds of 30 to 50-plus mph will push wind chills down into the teens and 20s. By Friday morning, it's going to feel like 13 degrees in Minot, North Dakota. In Green Bay, it's going to feel as though it's in the upper 20s.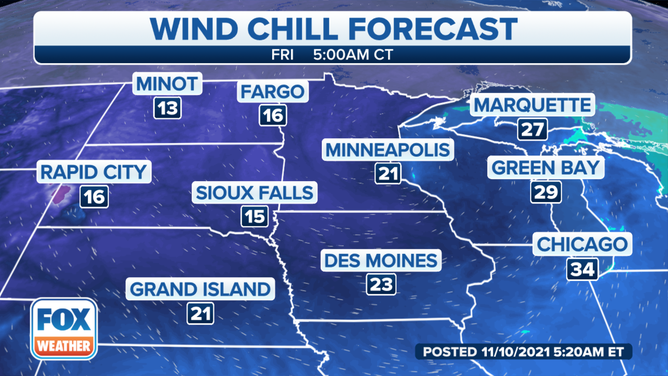 In Minneapolis/St. Paul, the average high for this time of year is about 45 degrees. On Wednesday, the Twin Cities will reach a high of 53 degrees. After this cold front moves through, it's going to feel rather chilly, topping out only in the mid-30s by the weekend.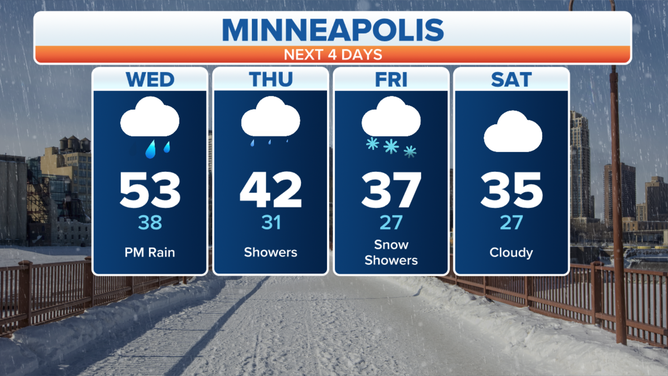 This storm eventually shifts farther east and will bring lake-effect rain and snow showers to the Great Lakes region and the northern/central Appalachians to end the week. By Friday, the front will reach the East Coast, bringing rain and an end to the warmer-than-average temperatures in this region too.