Temperature tumble: Arctic air invading Northern Plains, Northeast this week
Many areas will stay below freezing for most of the week
Another blast of arctic air will bring frigid temperatures to the Northern Plains and Northeast for most of the week.
A large dip in the jet stream will allow the colder air to invade from Canada. As a result, temperatures will struggle to stay above freezing across much of the northern United States.
Let's begin in the Northern Plains.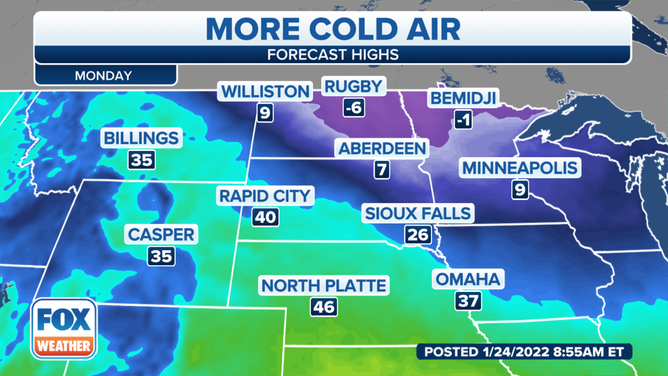 Starting off the week, cold air will build in from the north. Temperatures will be below zero in northern Minnesota and northern North Dakota on Monday. Bemidji, Minnesota, will fall just below zero, while Rugby, North Dakota, will be minus 6 degrees.
Don't leave any of these items in your car this winter
Surrounding areas will barely get above zero degrees.
Minneapolis will get to around 10 degrees. Aberdeen, South Dakota, will be around 7 degrees. It will be a bit warmer in Sioux Falls, South Dakota, as temperatures Monday will get into the mid-20s.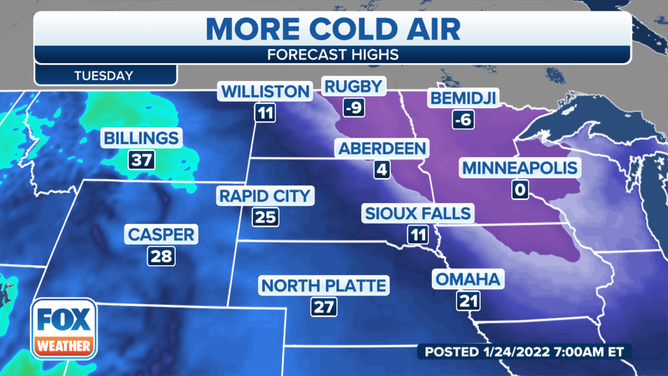 Temperatures on Tuesday will stay below zero for a large part of the upper Midwest. Minneapolis should only reach zero degrees. 
Areas to the north, like Bemidji, will have a high temperature of 6 degrees below zero. Rugby, North Dakota, will be even colder, as it's expected to be nearly 10 degrees below zero.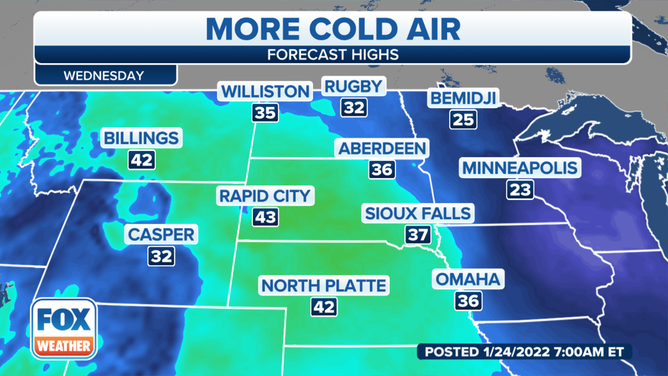 The Central Plains will escape most of the frigid air on Wednesday. But just to the east, cold air will be widespread. 
'Not worth the risk': The dangers of tossing hot water into freezing air
Minneapolis will see higher temperatures than the day before. It's expected to get to around 23 degrees.
It will finally get above zero degrees to the north, where subzero temperatures were more prominent. Bemidji will see a nice warmup, as it's expected to get to about 25 degrees.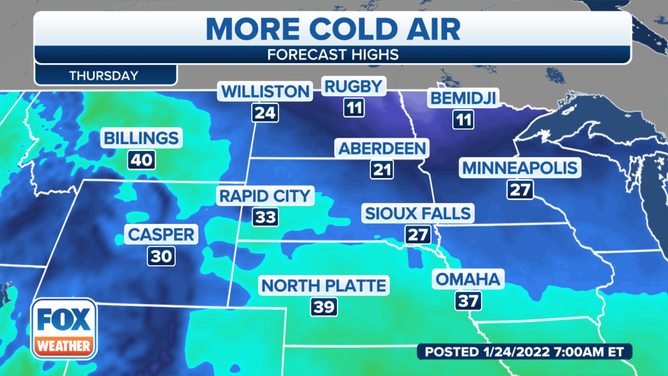 But what goes up must come down. 
While it's not expected to be as cold as expected earlier this week, the Northern Plains and upper Midwest can expect another drop in temperatures. 
Bemidji, which will enjoy temperatures in the 20s, will drop to about 11 degrees on Thursday. Rugby will see a significant drop. It will be about 20 degrees colder than Wednesday.
Now, let's move on to the Northeast.
It's expected to be cold on Monday for much of the Northeast, but get ready. By the middle of the week, it will feel a lot colder.
Bangor, Maine, and Burlington, Vermont, will stay in the upper teens on Monday. That cold air will streets across to Buffalo, New York, where it's likely to remain in the lower 20s. That holds true for areas to the south, like Pittsburgh, where the city will see temperatures hover around 28 degrees on Monday.
Major cities like Boston, Providence, Rhode Island, and New York City will hover around the freezing mark on Monday.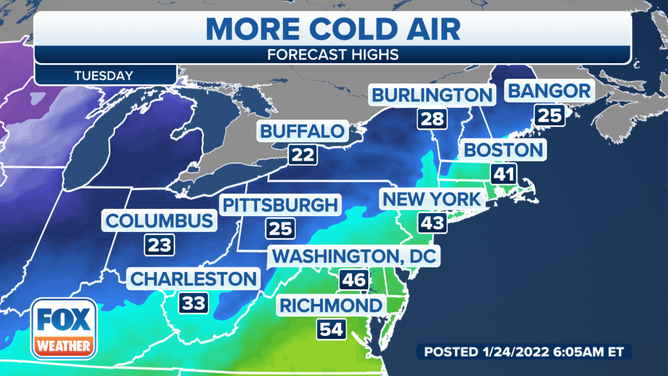 While southern New England will enjoy a brief warmup on Tuesday, the cold temperatures will remain across much of the northern areas of the Northeast.
Bangor and Burlington will also see a warmup, but it will stay below freezing. Buffalo will see temperatures around the same as Monday, as it's expected to be around 22 degrees. The cold temperatures will also remain in the upper Great Lakes and Ohio Valley on Tuesday.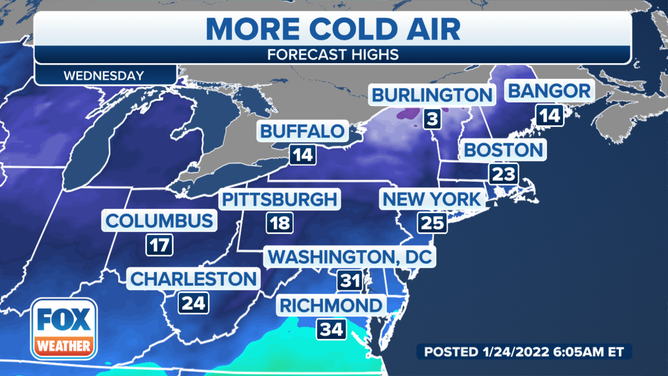 By the middle of the week, the cold air comes back with a vengeance. Areas that enjoyed mild temperatures on Tuesday, like Boston, Providence and New York City, will see temperatures plummet below freezing. Boston is only expected to get to about 23 degrees, and New York City will be around 25 degrees.
Even Washington will fall below freezing on Wednesday.
It gets much colder the farther north you go.
Bangor will be about 14 degrees. Burlington and extreme northern New England will see temperatures in the single digits. Buffalo, which has been cold all week, will only get to about 14 degrees.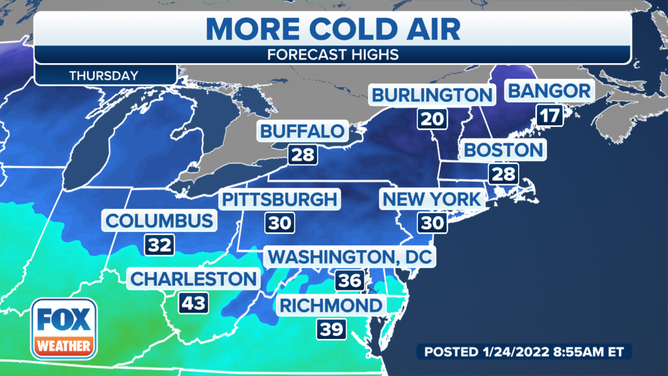 It will feel a bit warmer by Thursday, but it will still be very cold.
Temperatures will get above freezing in Washington, but just barely. It's only forecast to get to about 36 degrees.
Unfortunately, it will stay below freezing in New York City and Boston. The Big Apple will be around 30 degrees on Thursday, while Boston will be about 28 degrees.
Most of northern New York and Vermont will be in the 20s, with some colder temperatures forecast for higher elevations. 
Bangor will only be a few degrees warmer than Wednesday, as it's forecast to get to about 17 degrees.