Sunday Funday: Check out the forecast for 10 locations related to the Big Game
Super Bowl LVI could be the hottest game on record
Super Bowl LVI between the Cincinnati Bengals and the Los Angeles Rams is Sunday at SoFi Stadium.
And while it has the potential to be the hottest Big Game on record, that's not the case in other parts of the country.
It's still winter, and some cities across the country will be cold when the teams take the field.
Here are the forecasts for some locations across the lower 48 that have names related to the Big Game.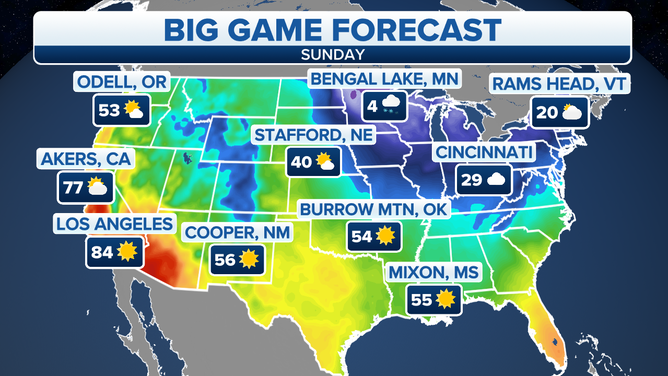 Rams Head, Vermont
Heading outside to gill up some appetizers for the game? Bundle up. It's going to be wicked cold with a temperature of 20 degrees and mostly cloudy skies. 
Cincinnati, Ohio
The Bengals' home field will also be cold, with temperatures around 29 degrees on Sunday. It will also be cloudy. Good thing they're playing in Los Angeles. 
Bengal Lake, Minnesota
It will be frigid in the Land of Ten Thousand Lakes this weekend. Expect a temperature of 4 degrees with snow showers.
Stafford, Nebraska
Chilly, but not terrible this Sunday. It will be 40 degrees and mostly sunny.
Burrow Mountain, Oklahoma
There will be plenty of sunshine for the Big Game. Mild temperatures, too. It will be 54 degrees.
Mixon, Mississippi
A nice day to get outside before the game! It will be around 55 degrees and sunny.
Los Angeles, California
This could be the warmest Super Bowl game on record. The City of Angels is expected to reach 84 degrees for the game, and there will be plenty of sunshine.
Cooper, New Mexico
It will be 56 degrees on Sunday with sunny skies.
Akers, California
It will be partly cloudy heading into Northern California with temperatures around 77 degrees.
Odell, Oregon
It will be around 53 degrees in the area with mostly sunny conditions.