Subtropical Storm Wanda uses last name on 2021 list, no threat to land
Subtropical Storm Wanda is not expected to impact land.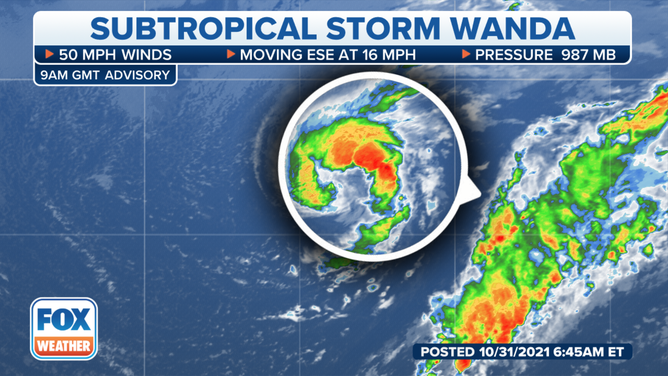 For the first time since early October, meteorologists are tracking a named system in the Atlantic basin.
The National Hurricane Center began advisories on Subtropical Storm Wanda on Saturday evening.
Wanda was located more than 800 miles off the coast of Newfoundland and has sustained winds around 50 mph.
Meteorologists say the subtropical storm will not threaten land as it continues to meander in the North Atlantic over the next several days.
The cyclone formed from remnants of the nor'easter that impacted New England over the past week.
Wanda gained the designation of a subtropical storm because the system is deriving its energy from sources that aren't warm and tropical in nature.
HERE'S WHY THE ATLANTIC HURRICANE SEASON RUNS FROM JUNE TO NOVEMBER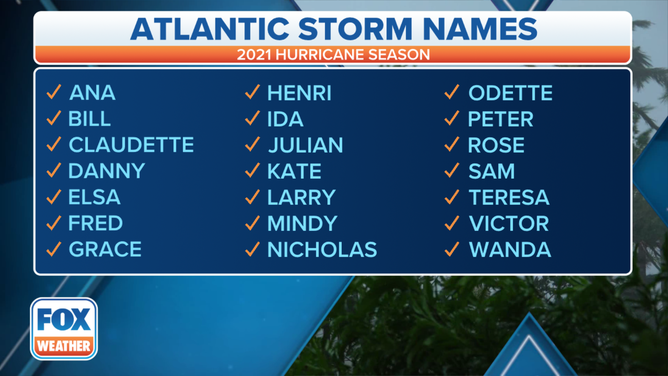 Wanda is the final name on the 2021 hurricane season list.
If an additional named storms form, the NHC would start on an auxiliary list of 21 names.
The NHC is also monitoring a disturbance not far from the coast of Africa, but it has a low chance of development over the next couple of days.
Meteorologists say the disturbance will run into upper-level winds, which will prevent significant organization.
The development window for the Atlantic basin to produce tropical cyclones is quickly winding down.
The tropical season will end on November 30.