Power restoration could take days after powerful nor'easter slams New England
Pressure on Nantucket dropped 28 millibars in 24 hours, officially making it a 'bomb cyclone'
BOSTON - A powerful nor'easter slammed the Northeast and New England with hurricane-force wind gusts and knocked out power to more than a half-million utility customers Wednesday, and it could take crews days to get the lights back on for everyone.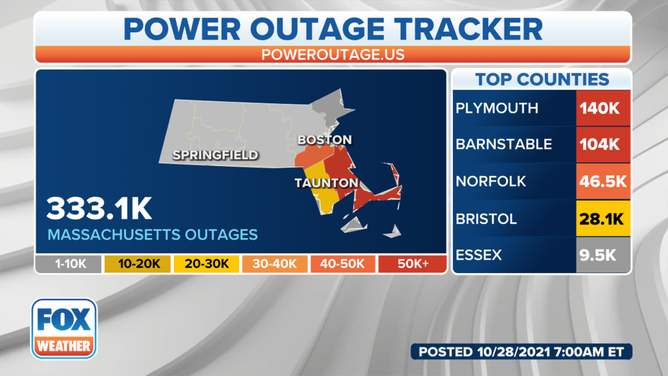 As of Thursday morning, more than 330,000 utility customers in Massachusetts alone were without power. The majority of those outages were located in Plymouth and Barnstable counties. More than half of Cape Cod was without power.
At a news conference Wednesday afternoon, utility company Eversource said 600 crews out across Massachusetts were working to restore power, and that number would eventually grow to 1,500. Massachusetts Gov. Charlie Baker asked residents to try and stay off the roads unless necessary to give crews the space they need to work.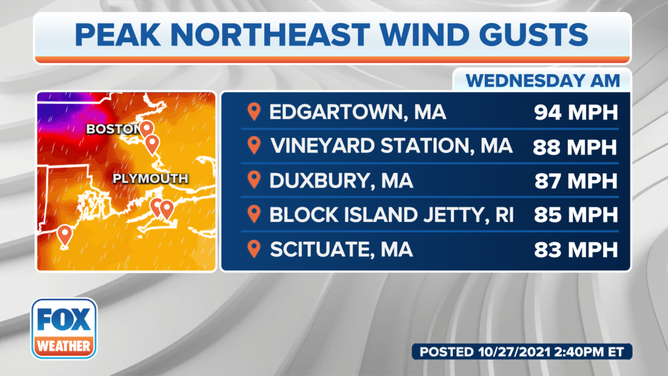 The massive storm officially became a "bomb cyclone" off the coast of New England and produced hurricane-force wind gusts in several areas of Massachusetts. Edgartown, which is located on Martha's Vineyard, saw the highest gust at 94 mph.
The name "bomb cyclone" comes from the meteorological term "bombogenesis" or "explosive cyclogenesis" when a storm strengthens at least 24 millibars within 24 hours.
In the case of Wednesday's storm, the pressure on Nantucket dropped 28 millibars in 24 hours. It went from 1008 millibars to 980 millibars.
The last "bomb cyclone" to affect New England was just over two years ago on Oct. 17, 2019.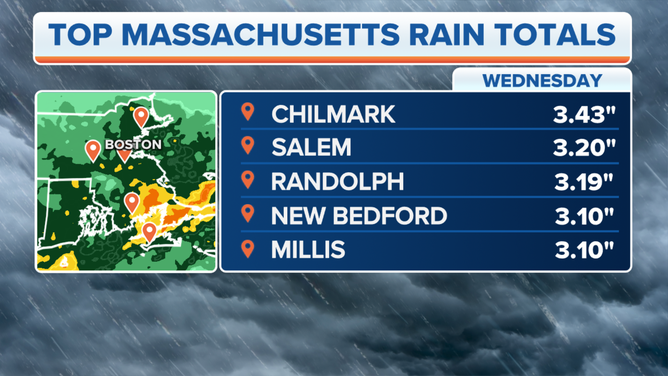 Heavy rain and flooding were also an issue across the area, with several locations picking up more than 3 inches of rain on Wednesday.
Chilmark, located on Martha's Vineyard, picked up nearly 3.5 inches of rain. Farther north in Salem, just over 3 inches fell.
It's not out of the question this nor'easter could acquire some tropical or subtropical characteristics as it continues to eastward away from the New England coast.
HERE'S WHY THE ATLANTIC HURRICANE SEASON RUNS FROM JUNE TO NOVEMBER
The National Hurricane Center has given the system around 30% chance of development during the next five days. If it becomes a named storm, it would earn the final name on this year's naming list for the Atlantic: Wanda.